Americans love nostalgia. Just check the program listings nearly any day on VH1.
Retro is big in sports, too. Throwback jerseys are wildly popular. John Thompson and Patrick Ewing have Georgetown in the top 10. Danny Ainge and Kevin McHale join forces to make the Celtics the beast of the East. Joe Gibbs piloted the Redskins into the playoffs. The Los Angeles Clippers stink.
But all of these examples pale in comparison to this blast from the past: "Rambo" opens in theaters across the country Friday. That's right, 61-year-old Sylvester Stallone plays John Rambo, who's still rampaging his way across Asia.
Why stop at "Rambo"? Here are some other potential movie sequels from back in the day that we'd like to see.
"Bull Durham 2008"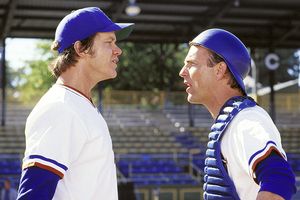 Kobal Collection/Getty Images
Who could predict what would happen to Nuke LaLoosh and Crash Davis?
Synopsis:
Former Cy Young winner Nuke LaLoosh finds himself in a storm of controversy after being named in the Mitchell report for allegedly using HGH in the twilight of his career. Nuke denies the claim. His case is damaged, however, by the presence of a third ear which grew out of his forehead during the 2007 All-Star break. He was also once accused of 'roid rage after body slamming a charging Don Zimmer in 2003.
Meantime, Crash Davis has become a successful major league pitching coach and amateur electrician. Crash is widely lauded for successfully repairing malfunctioning light towers at Camden Yards before a playoff game. Annie Savoy split with Crash in 1991 after a three-year romance and now works as a sideline reporter for Fox Sports.
Larry Hockett, tired of the unpredictability of minor league coaching, returned to work at Sears, where he once again sells Lady Kenmores.
"Revenge of the Nerds -- Where Are They Now?"

Synopsis: Louis Skolnick and Gilbert Lowell have become ultrasuccessful executives since graduating from Adams College, climbing into corporate vice president roles at Google. They are both happily married to former Adams cheerleaders and reside in Silicon Valley. As a hobby, they maintain statistical operations for one of the BCS computers.
Booger owns a chain of clothing stores in the Boston area and is the exclusive wardrobe provider for Bill Belichick. Booger also writes a nationally syndicated column on manners. Meantime, Arnold Poindexter is a celebrated violinist with the Munich Symphony Orchestra. He also ranks among Germany's best-selling solo artists and is scheduled to open for David Hasselhoff on a 15-city summer tour there.
Stan Gable was well on his way to stardom as an NFL quarterback until he sustained a career-ending knee injury on a late hit by Rodney Harrison in a preseason game. He now peddles ab sculpting devices on late-night informercials. Ogre is currently playing defensive tackle in the CFL after being expelled from the NFL for multiple violations of the steroids policy.
Coach Harris missed out on a $2 million bonus last season when Adams was mysteriously snubbed in one of the polls and passed over for a trip to a BCS bowl. The Atoms instead settled for a trip to the Brut Sun Bowl, where they were subsequently blown out by Directional State.
"Fast Times at Ridgemont High -- The 25-Year Reunion"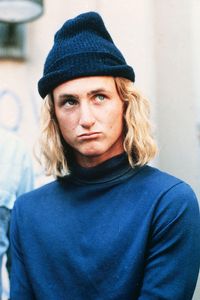 Kobal Collection/Getty Images
There's a pizza here for the junior senator from California.
Synopsis:
Newly elected Sen. Jeff Spicoli, D-Calif., and wife Brooke Shields are making a splash on Washington's social scene. After a wildly successful pro surfing career, Spicoli entered the world of politics with plans to "legislate some cool rules pronto." He's already known for ordering pizza during filibusters.
Charles Jefferson, the biggest star in Ridgemont football history, is a forgotten, broken-down former NFL pro football player trying to get an injury settlement from the NFLPA players' union to pay the mortgage on his trailer home in El Cajon, Calif.
Mark Ratner is still counting his substantial royalties after writing "Windows for Dummies" and other computer books. He and Stacy remain a couple, although they still haven't "gone all the way." Linda Barrett hosts a popular Los Angeles radio show on relationship advice. Brad Hamilton has become a successful entrepreneur and owner of 17 All-American Burger franchises.
Mr. Hand remains convinced everyone is on dope.
"Police Academy 8: Cincinnati Vice"

Sgt. Carey Mahoney has been recruited by the Cincinnati Police Department to head up a special unit charged with investigating criminal activity among the city's athletes.
Sgt. Moses Hightower infiltrates the Bengals by landing a job as defensive coordinator. Players become suspicious, however, when the team holds four consecutive opponents under 30 points. Sgt. Larvelle Jones is on assignment in Indianapolis, where he investigates disturbances at strip clubs and creates crowd noise at Colts games.
Sgt. Eugene Tackleberry is retired from police work and now leads a rural Arkansas militia. In addition to maintaining a vast underground weapons cache in anticipation of the fall of the federal government and subsequent anarchy, he also successfully orchestrated a coup to topple former Razorbacks football coach Houston Nutt.
"Caddyshack III"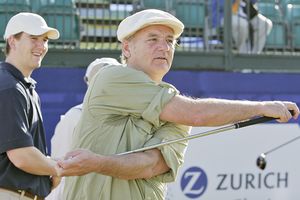 AP Photo/Alex Brandon
After achieving personal success, Carl Spackler grew weary of the hangers-on who began to stalk him.
Synopsis:
Carl Spackler uses his revolutionary Kentucky bluegrass/Northern California sinsemilla hybrid as a springboard into a successful career as a course designer. He soon finds himself on a spiritual journey during a visit to Tibet and decides to give up his riches to become a Himalayan looper in order to ultimately receive total consciousness.
Danny Noonan now caddies for PGA Tour pro John Daly. Lacey Underall -- Playboy's Miss January 1988 -- took over her uncle's stake in Bushwood Country Club upon his death in 1992. Ty Webb sold his stake in Bushwood to Underall in 1993. He returned to work for her in 1994, however, after a brief stint as host of an ill-conceived, late-night talk show.
Al Czervik is currently confined to house arrest for his role in illicit activity at a tournament, which he showed up "to play" without his clubs.
"Riskier Business"

Synopsis: Armed with a BS from Princeton and an MBA from Harvard, Joel Goodsen made a tidy living on Wall Street for more than a decade. But it's not stimulating enough. He craves the spotlight. So he starts an online pharmacy as a way to gain access to the world of professional athletes.
Guido the killer pimp now works as a major league clubhouse attendant, drumming up leads for Goodsen. Business is brisk until Guido is snared in a federal investigation and reluctantly offers up the names of clients Nuke LaLoosh and Sidd Finch, who are later named in the Mitchell report.
Lana decides to stop dodging the law and purchases a brothel in rural Nevada. She retires after turning a $4 million profit during the 2007 NBA All-Star Weekend.
Bob Seger and the Silver Bullet Band make a cameo, performing "Old Time Rock and Roll" at the after party for the release of the Mitchell report.
"The Karate Kid -- Yet Another Sequel"

Synopsis: Former youth karate champion Daniel LaRusso gives up a lucrative career as an attorney to relive the thrill of competition on the mixed martial arts circuit. Daniel finds quick success, ultimately earning a title shot against Rampage Jackson. Along the way, he becomes a fan favorite and capitalizes on his fame by opening a chain of "Wax On, Wax Off" hair removal studios.
Things didn't turn out as well for Daniel's boyhood rival, Johnny Lawrence, who entered a personal freefall after losing in the All-Valley Tournament. First, he became a small-time drug dealer and served two years in prison. Now he cleans urinals at a Las Vegas casino to pay off a sizable debt incurred when he took the Patriots and laid the points in each of their past five games. At his current pace, Johnny will be all square shortly after he turns 90.
Cobra Kai sensei John Kreese went missing in Tijuana, Mexico, circa 1994. His current whereabouts are unknown.
M.C. Miyagi has released five consecutive platinum albums on Death Row Records chock full of explicit lyrics and resides in Long Beach, Calif., with his longtime girlfriend, Ali Mills.
"Silence of the Lamb Chops"

Synopsis: Still one step ahead of the feds, yet brazen as ever, Hannibal Lecter comes out of hiding to make his mark on the competitive eating circuit under an assumed identity. FBI agent Clarice Starling follows a trail of clues -- chili cheese fries and corned beef hash to be exact -- which set up the dramatic final scene at the Nathan's Famous Hot Dog Eating Contest in Coney Island.
Hannibal goes on to defeat Joey Chestnut to win the coveted mustard belt, and flees the scene moments ahead of Clarice by hitching a ride with an unsuspecting Isiah Thomas.
Thomas Neumann is an editor for Page 2. You can contact him here.