Commentary
Dara Torres makes a splash with Page 2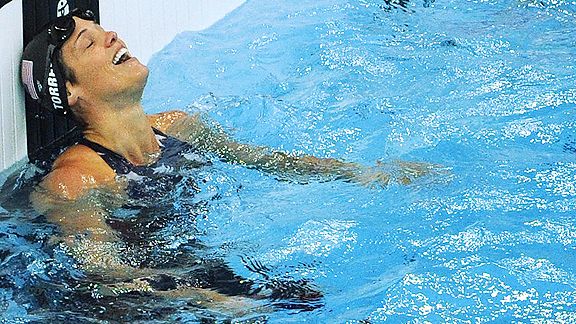 Pedro Ugarte/AFP/Getty ImagesDara Torres savors the moment after earning a silver medal at age 41 in the 2008 Olympic Games.
At first glance, Van Halen and Dara Torres would seem to have little in common.
Van Halen is one of the best-selling rock bands in history. Torres is a decorated Olympic swimmer.
In 1984, Van Halen belted out memorable songs such as "Panama" and "Hot for Teacher," selling millions of albums in the process. The same year, Torres competed in her first Olympic Games at age 17 -- and recorded mix tapes featuring the band's songs.
In 2008, Van Halen completed the highest-grossing tour in the band's history. The same year, Torres competed in her fifth Olympic Games at age 41 -- and still rocked out to the band's music.
There's the common thread -- extraordinary longevity.
[+] Enlarge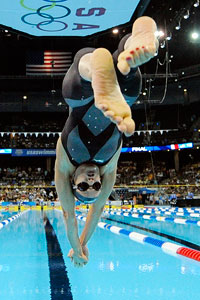 AP Photo/Mark J. TerrillTorres owns eight relay medals
and four individual medals from her 24-year Olympic career.
On a recent visit to ESPN, Torres talked to Page 2 about her longevity, parenthood, steroid suspicions, Miley Cyrus and the 2012 Olympics.
Torres is the only American to swim in five Olympics -- this despite not going out for the 1996 and 2004 teams -- and she has 12 medals (four gold, four silver, four bronze) to show for it. In Beijing two years ago, she won silver in the 50-meter freestyle, finishing a mere hundredth of a second behind Olympic record-setting winner Britta Steffen of Germany.
Said Torres: "If Jack Nicklaus can win a Masters at 46 and Nolan Ryan can pitch a no-hitter at 44, why can't a 41-year-old mom compete in the Olympics? ... I had the experience. I knew what to expect. I knew how to handle certain situations, and young kids don't have that like I have. So, in a way, if you look at the mental aspect of it, it completely worked to my advantage."
Of course, many people refuse to believe someone can do what Torres has done at her age without the help of performance-enhancing drugs. Does Torres, now 43, feel obligated to address accusations and rumors as they come up, or would that tack merely serve to dignify them?
"I feel like you have to address them," Torres said. "Because of [accusations], I went to the head of [the U.S. Anti-Doping Agency] and said 'This is what's going on, and I want to prove that I'm clean. I'll do whatever it takes. I'll take every test you have to show that I'm doing this the right way.' That's what I've done, and there's really nothing else I can do."
Indeed, prior to coming back for the 2008 Olympics, Torres volunteered to undergo a broader array of drug testing through USADA than the typical screening required of Olympic athletes. The head of USADA, Travis Tygart, told The New York Times, "I think a dirty athlete would be crazy to volunteer for this program."
"There's no doubt about it that I've put my heart and soul into swimming," Torres said. "I've done everything the right way and wanted to be a good role model for other women. When you hear [accusations], it's a very hurtful thing to have to deal with -- especially now that I have a child who's eventually going to read some of this stuff someday."
The duties of parenthood, however, don't leave Torres time to dwell on the naysayers. Her daughter, Tessa, recently turned 4. Unlike Dara, who was a self-described tomboy as a youth, preferring to wear "OP shorts and tube socks," Tessa is a girl in every sense of the word.
"I never pictured myself having a daughter that's so girly," Torres said. "She has to wear a dress to school. She takes dance, and she wears a tutu. ... It's all very, very new to me."
Of course, Torres didn't remain a tomboy. She became the first athlete to pose for the Sports Illustrated swimsuit edition, and pin-up photos of her abound on the Internet. She's also an author, model, television personality and motivational speaker.
Torres has ordinary moments, too. Like most of us, she has guilty pleasures -- gossip magazines and Rice Krispies treats. She recently admitted via Twitter that she cried in the theater while watching the Miley Cyrus movie "The Last Song." When asked about it, she reluctantly confirmed the story while breaking into an embarrassed smile.
[+] Enlarge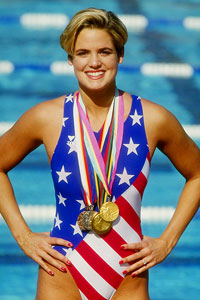 Tony Duffy/Getty ImagesTorres poses with her first four Olympic medals after competing
in the 1992 Games at Barcelona.
"I was crying and blowing my nose and expecting someone to turn around and say, 'Old lady ... Shhhhhh!'" Torres chuckled.
Meantime, Torres' training regimen is anything but ordinary.
In order to prepare for the 2008 Olympics, Torres changed her workouts to focus more on balance than weightlifting and reduced her time in the pool from previous Olympic training. She also adopted a strict routine of resistance stretching and massage, a habit she calls her "secret weapon," to help recover from workouts. Admittedly, endorsement income allows her the luxury of employing full-time trainers.
"When I decided I was going to come back, I decided I wanted a gold medal," Torres said. "There were no ifs, ands or buts. I wound up winning the silver by a hundredth of a second. I don't think I would've even medaled if I didn't think in my head that I wanted a gold medal. It didn't matter if it was conceivable or not."
That leads us to 2012, because the idea that someone could swim in the Olympics at 45 is inconceivable to most.
Torres is excited about the prospect of trying to make the next Olympic team, but she will carefully consider whether her body is up to the task. Since the end of 2008, she's had thumb surgery, three knee operations and a shoulder procedure. She's had more than 15 orthopedic surgeries in all.
"And I know I have to get my other shoulder fixed if I want to get back in and swim," Torres said.
Currently, Torres is recovering from a reconstruction and cartilage transplant on her left knee. She's halfway through the estimated one-year rehabilitation period, and if all goes well, she might decide as soon as August whether to begin planning for her sixth Olympics.
She declared her status with U.S. Swimming as "inactive" rather than retired in order to stay in USADA's testing program. She must alert USADA to her whereabouts at all times. If she fails to do so and misses a test, it's considered a failed test. But, if she does come back in 2012, there won't be any questions about ducking tests while rehabbing her knee.
"I'm thinking if I do decide to go for this one, I'll take it with a grain of salt and know that I'm more susceptible to injury. Now that I'm a little bit older, it's going to be even harder than when I was 41."
Here's hoping Torres is rocking out to "Top of the World" on her Walkman iPod in 2012 -- instead of "Somebody Get Me a Doctor."
Thomas Neumann is an editor for Page 2.