Commentary
Jennie Finch plays hardball with Page 2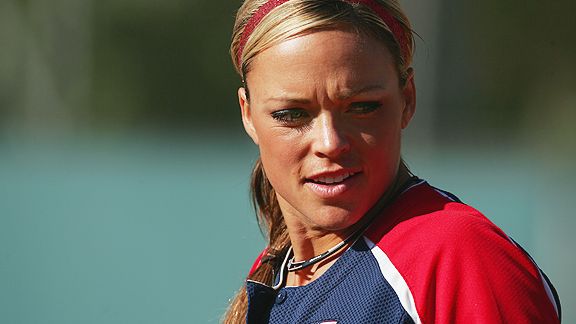 Robert Laberge/Getty ImagesJennie Finch is the face of softball to many, but the two-time Olympian is retiring from competition.
To many sports fans, Jennie Finch is the face of softball.
After all, she's won a gold and silver medal in the Olympics. She's won the World Cup, world championships and Pan-Am Games multiple times each. She captured an NCAA championship and won 119 games -- including 60 in a row -- as a pitcher at Arizona.
Perhaps most importantly, she was also the first winner of Page 2's "Hottest Female Athlete" contest in 2003.
Finch, 30, was in the news this summer for announcing her retirement from competition and also pitching in the celebrity softball event at the MLB All-Star Game -- where she allowed a home run to ... wait for it ... MC Hammer.
Ouch. That would send us unflinchingly into retirement, too.
Page 2 caught up with Finch, who's married to pitcher Casey Daigle, on her recent visit to ESPN and talked about retirement, competition, her alma mater and, yes, MC Hammer. Here's what transpired:
How do you expect your life will change in retirement?
I'm looking forward to the next phase of my life. ... I've got clinics and speaking engagements for the next three or four months. So it's going to be busy, which is a good thing. I'll just try and maintain that business. I run my own camps and clinics nationwide, and that's been amazing to see it develop. That's my passion. I love being out there with young softball players, and hopefully inspiring them and sharing my love and passion for the game. I'm looking forward to running that and building that.
[+] Enlarge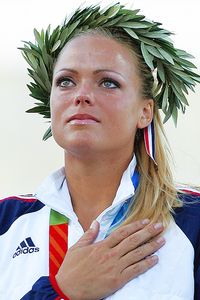 Omar Torres/AFP/Getty ImagesFinch tears up as the national anthem is played to fete the gold-medal winning U.S. team
at the 2004 Olympics in Athens.
What will you miss most about competing?
The camaraderie, for sure, and being surrounded by 15 other amazing women and traveling the world with them. The good thing is that we stay in touch, because there are relationships that go way beyond the playing field. There's something about striving for one goal together as one and all the crazy places you travel. Those experiences are unforgettable.
You've won a lot of championships and awards during your career. Which one of your softball accomplishments are you most proud of?
The 2004 Olympics -- winning the gold. I grew up looking up to Lisa Fernandez, Laura Berg and Leah O'Brien. Eight years before, I was asking them for autographs. Then, there I was sharing a podium with them. It was just kind of a surreal moment for me.
You played in the All-Star celebrity softball game recently ...
... and got lit up.
So is it a coincidence, or did allowing a home run to MC Hammer make you decide to retire?
It made me realize I have no future in slow-pitch softball. ... You're [pitching] way too close to the hitter, and I'm no good at it.
You also competed on "Celebrity Apprentice." Can you give us your candid impression of Donald Trump?
Luckily, he's a sports fan. So I had an in from day one because he was always interested in talking sports. I was [impressed] with his professionalism. ... The minute he walked on set, it was "boom," and he brought his A-game every single time. One take and it was there. He expected excellence from the crew and everybody around him. He's intense. He definitely has a presence.
What would mean more to you as an Arizona alum -- a ninth softball national championship, a second men's basketball title or a first Rose Bowl appearance for the football team?
I have to choose? We're really in desperate need of a trip to the Rose Bowl, but I gotta stick with my softball girls.
[+] Enlarge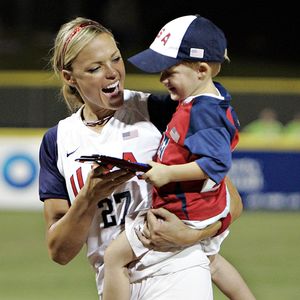 AP PhotoFinch celebrates winning the 2009 World Cup
of Softball in Oklahoma City with her son, Ace.
Your son, Ace, is 4 now. Does he play baseball yet?
He doesn't, but he's got the full get-up -- stirrups, batting gloves, belt, undershirt, Phiten necklace, wristbands. He looks like a big leaguer, but he doesn't really play yet. ... It's so funny, after the World Cup, the Japanese team [which knows him from previous events] surrounded him and was pitching to him and he was loving all the attention.
Where do you keep your Olympic medals?
Normally, they're at home in a safe. Right now, we're traveling a bunch. So they're wherever I stash them. They're actually in a golf bag. ... I think, too, the best part of having them is sharing them. The best thing is to see a little girl with one in her hands, and she's grinning ear to ear. So, now they're beat up and scratched, but I'd still rather share the experience.
Where do you rank yourself among the greatest players in softball history?
Oh, I can't go there. No comment.
What's the most inspirational piece of advice you've ever received?
My dad always told me not to compare myself to anyone else, and just to be the best that I could be.
What athletes or athletes would you pay to watch compete in their prime?
Orel Hershiser, who I kind of got to see, so I don't know if that counts. ... Babe Ruth. Jackie Joyner-Kersee. Michael Jordan.
Is there a sport that you're a fan of that would surprise people?
I love beach volleyball. I played volleyball in high school, so I know how hard it is. I can appreciate it. Oh, and we've been watching a lot of monster truck rallies. Ace is big into that.
Thomas Neumann is an editor for Page 2.