Commentary
Page 2 dreams up NBA deadline trades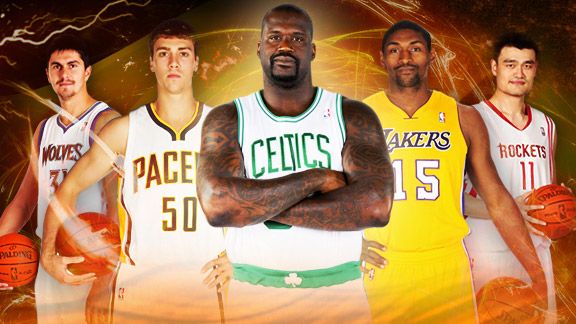 ESPN.com Illustration
The 2011 NBA trade deadline has come and gone, but Page 2 envisions 10 blockbuster deals that could've reshaped the very foundation of the league.
We used ESPN.com's NBA Trade Machine to make sure our transactions work from a financial standpoint -- even if the thought process behind them is completely unbalanced. These trades might be implausible, but they're nevertheless feasible.
So suspend your basketball disbelief and explore the following 10 potential deadline trades with Page 2. (Click on the blue trade headlines for salary details.)


Phoenix sends center Robin Lopez to New Jersey in exchange for center Brook Lopez.
The skinny: The Suns make a significant statistical upgrade in the post, while the Nets get younger at the center position -- albeit only by about a minute. Win-win!


Detroit sends forward Tayshaun Prince and guards Ben Gordon and Tracy McGrady to Portland for forward Marcus Camby and guards Andre Miller and Rudy Fernandez.
The skinny: The Blazers acquire McGrady ... and get younger. Plus they clear cap space with Prince's expiring deal. Fernandez demanded a trade last offseason, so enjoy Detroit, fella! Meantime, the Pistons get out from under Gordon's contract and acquire two grizzled vets. John Hollinger's analysis formula predicts this trade will reduce the Pistons' win total by six and the Blazers' win total by eight. Lose-lose!


New Orleans sends guard Chris Paul to Dallas for guards Jason Kidd and J.J. Barea, center Ian Mahinmi and forwards Shawn Marion and Brian Cardinal.
The skinny: This maneuver would allow the Hornets to get three-plus seasons of Marion plus additional value for Paul, who likely will sign elsewhere (cough, New York, cough) after next season anyway. The Mavericks acquire a bona fide superstar and become Y2K compliant at the point guard position.


Orlando sends guards Jason Richardson and forward Ryan Anderson to Dallas for forward Caron Butler and guard DeShawn Stevenson.
The skinny: The Mavs aren't done dealing yet. Dallas replenishes its roster after going all out to land Paul, while the Magic bring in two vets for a playoff run. If necessary, Dallas can sign and ship the corpse of Keith Van Horn to Orlando to complete the deal.


Charlotte sends guard Gerald Henderson to Indiana for forward Tyler Hansbrough.
The skinny: These two players will be forever linked after their bloody on-court encounter in 2007. This deal would give the Pacers a fourth Duke alum on their roster, while providing Michael Jordan with a coveted Tar Heels legend for his Bobcats. Seriously, if Joe Wolf isn't available, can you do better than Hansbrough?


Boston sends centers Shaquille O'Neal and Kendrick Perkins to the Los Angeles Lakers for forward Ron Artest and center Theo Ratliff.
The skinny: We know, we know. This trade has a snowball's chance in Marina del Rey of getting done. Still, isn't it amusing to imagine the dynamic of Shaq playing second third eighth fiddle to Kobe Bryant? This deal would fortify the post for the Lakers, and the Celtics would ... umm ... never make this deal in a million years. Moving on ...




Utah sends forward Andrei Kirilenko to Denver; Denver sends forward Kenyon Martin to Milwaukee; Houston sends center Yao Ming to Utah; Milwaukee sends guard Michael Redd to Houston.
The skinny: Hey bartender, expiring contracts all around!


Minnesota sends center Darko Milicic to Miami for guard Mike Miller.
The skinny: The Timberwolves acquire a solid shooting guard in Miller, a South Dakota native who returns close to his childhood roots. The Heat fortify their interior with Milicic, adding the No. 2 pick from the 2003 draft to a roster that already boasts the No. 1, No. 4 and No. 5 selections from '03. Miami can also lean on the playoff wisdom of Milicic, who was the first player from that group to win a ring and the only one to make two NBA Finals appearances.


New York sends forward Amare Stoudemire to Sacramento for center Samuel Dalembert's expiring contract.
The skinny: Hey, who gave Isiah the code for the conference call?!


Los Angeles Clippers send forward Blake Griffin and guards Eric Gordon and Baron Davis to Oklahoma City for forward Nick Collison, guard Daequan Cook and center Nenad Krstic.
The skinny: Donald Sterling decides to give away the farm in order to get out from under the contract of Davis, whom he heckled about being out of shape earlier this season. Seriously, would this be that out of character for an owner who once actually asked his head coach at the time, Paul Silas, to tape players' ankles himself in order to save the team money?
Thomas Neumann is an editor for Page 2.