By Skip Bayless
Page 2
By Skip Bayless
Page 2 columnist
The mission here each NFL Sunday is to identify the moment that most made you say, "
Damn!
"
Not, "Damn, why did I bet the vacation money on the 49ers covering at Philadelphia?" Nor, "Damn, why I did play Peyton Manning in my fantasy league?"
No, we're talking an awestruck, holy-cow, gotta-pick-up-the-phone-and-call-somebody "damn" -- and one game Sunday had me dialing four or five times.
In the end, Carolina 27, New England 17 had Tom Brady and Bill Belichick saying "damn," for all the wrong reasons.
Then again, I think that was Brady and Belichick out there at Charlotte's Bank of America Stadium -- though you began to suspect you were watching "Invasion," and other Patriots were telling Brady and Belichick, "You smell different."
This was the worst game Brady and the Patriots have played -- and Belichick has coached -- since Brady took over at quarterback in the 2001 season. Were 10 days or preparation between Games 1 and 2 just not enough time for the Patriots' braintrust? This shockingly out-of-sync and out-of-character performance sent this Week 2 message to the NFL: The throne-room door is open.
This did not look like a team poised to win a record third straight Super Bowl and fourth in five seasons. This game wasn't so much about how strong Carolina looked as how vulnerable the Patriots were.
And are.
The Patriots jumped to a 7-0 lead only because the Panthers' Ricky Manning Jr. blew the coverage on Troy Brown, who turned a three-yard dink from Brady into a 71-yard gain. But the Panthers roared back to tie -- or did they? As Stephen Davis fought through the pile toward the end zone, he attempted to extend the ball over the goal line and lost the handle.
Replays showed the ball did not break the plane. Belichick could have contested the touchdown call. Yet he went Mike Tice and just stood there. No challenge. Earth to Bill ...
Damn!
The Patriots scored their other touchdown only because Panthers quarterback Jake Delhomme did what he does just about every Sunday. Delhomme threw The Most Inexplicable Pass of the Week, this one right to Patriots linebacker Mike Vrabel in the flat. Twenty-four yards later, the Patriots had another gift touchdown, and Carolina's lead had melted to 20-17.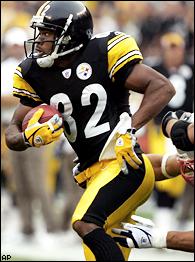 Randle El is about to run straight into a lateral hazard here.
But on the next series, Panthers defensive end Mike Rucker beat two blockers on Brady's blind side and swatted the ball loose as Brady cocked to throw. The refs immediately ruled that the ball had not started forward -- fumble! The Panthers' Julius Peppers advanced it to New England's 12, setting up Carolina's clinching TD.
But on replays, Brady's arm appeared to have started forward a split-second before the ball was hit -- making it an incomplete pass. At the very least, with the game teetering, it was worth a challenge. But Belichick just stood there.
Damn! Dialing.
Speaking of Brady, was that Tom, Dick or Harry Brady? Yes, his second-quarter interception was more of a terrific play by linebacker Will Witherspoon than a poor decision by Brady. Otherwise, Brady was as consistently off-target as he has ever been for four NFL quarters -- wild high, wild low, wild behind. He completed just 23 of 44 passes.
Arm trouble? Fight with girlfriend? Wavering faith in plays called by Belichick, who apparently has replaced Charlie Weis as offensive coordinator?
Brady's astonishingly off-target incompletions prompted six or seven, "Damns."
But life wasn't imitating art. Again and again, you saw Brady's credit-card commercial in which his offensive linemen follow him everywhere, acting as metaphors for the card's "five levels of protection."
But during the game, the linemen didn't exactly make you want to dial up and order this card, because they often couldn't protect Brady -- who began yelling at his linemen and yelling at referees and generally losing his cleft-chinned cool.
Damn!
Yet Brady received very little help from his receivers, who dropped more passes in this game than I can remember all of last season. You know the Pepsi machine commercial featuring the defending champs? The one in which the machine has "great hands"? Brady could have used it Sunday.
Did I mention the New England Patriots had 12 penalties?
Or that Air Bill called just 16 runs to those 44 passes -- while Peyton Manning's attack featured 38 runs to just 28 passes in Indy's 10-3 bruising of Jacksonville?
Or that, for the second straight week, Corey Dillon hasn't been able to get untracked, which could mean he's about to become as uncoachable and unwanted as he was in Cincinnati?
Speaking of Cincinnati, you now have a chance to win the AFC, Bengals. You, too, Steelers. Even you, Chiefs. And certainly you, Colts.
Hot damn.