Commentary
Travis Pastrana takes on the Big Bucks
Updated:
October 19, 2010, 2:47 PM ET
By
Rod O'Connor
| Special to Page 2
CHICAGO -- Travis Pastrana is dressed to kill. The X Games god is covered in camouflage, sporting a bandolier filled with Red Bull energy shots. He and Alex Derhohannesian, who looks like Pacino from "Serpico," grab two shotguns. Soon, they are pumping furiously, their gun barrels darting up and down in unison, blowing away giant wildebeests as they lumber across the screen.
Pastrana, 27, has made a career out of escaping dangerous situations, including skydiving without a parachute and flipping his dirt bike into the Grand Canyon. But in his first match of the Big Buck Hunter World Championship, the action sports star may have run out of luck.
Derhohannesian, a wiry 30-year-old TV producer from New York City whose hunting uniform consists of skinny jeans and a tight gray T-shirt, is one of the top-ranked Big Buck players in the country. While he confidently picks off buffalo, Pastrana struggles to find his rhythm. Pastrana hangs in there. But when he hits a defenseless doe, a no-no in the world of Big Buck Hunter, his gun locks up. His counterpart takes his sweet time stalking the remaining antelope. POP! POP! POP! Game over.
[+] Enlarge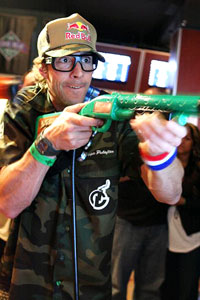 Mary Clare Glabowicz/Big Buck Hunter Travis Pastrana takes his virtual hunting seriously.
"That's the thing about this game. You shoot one doe, and you could be screwed," says Derhohannesian.
It's the last weekend of the 2010 MLB regular season, and the lights at Wrigley Field will soon be extinguished after another lost summer. But a power surge is under way across the street at the Cubby Bear Lounge. A Chicago-area company called Play Mechanix, which created Big Buck Hunter, has transformed the cavernous sports bar into a video-game battleground.
Eight sparkling new Big Buck Hunter World machines, which combine Big Buck Hunter Pro and the African hunting-themed Big Buck Safari, stand behind a velvet rope, ready for more than 100 top players to take their shots. Several more consoles are spread around and rigged for free play. The Big Buck Girls -- the scantily clad women who pirouette across the screen during games -- have come to life, peddling T-shirts and beer cozies.
TV displays are attached above each machine to facilitate spectator viewing. And there are plenty of spectators, consisting mostly of wives, girlfriends and hangers-on who scream things like: "Light it up!" and "Kill those critters!"
Most of the tournament players are 20- and 30-something white men. But there are a handful of females, such as Makanalani "Lani" Thatcher, a sales consultant from Redondo Beach, Calif., who competes in 6-inch heels. At 5-foot-1, she claims the shoes are a necessity. "It's the only way I can see the screen," she says.
According to industry magazine RePlay, Big Buck Hunter and its sequels are the nation's top coin-operated bar games. Top earners make more than $3,000 a week. The game consists of various animal "adventures" consisting of three increasingly difficult "treks." Size, distance and accuracy impact your score. A single shot to the proper part of the body brings your trophy down, while hits to the gut require three shots.
Some machines are connected to an online network so players can check the stats of other crack shooters around the country. The ensuing smack talk culminates once a year at the championship. "It's nice to play somebody you've been chasing online, so you can say: 'I am better than you,'" explains Kevin Naumann, an excitable 24-year-old from Royal Oak, Mich. He's wearing a headband and a T-shirt that reads: The Name of the Game Is Big Buck Hunter, Not Big Doe Hunter. "This is like a cult. It's the new Golden Tee [the golf video game]."
"Today is opening day for [hunting] white tail deer in Michigan," adds Eric Naumann, 28. "We skipped it to come here. This is our digital opening day."
---
When Travis Pastrana arrived, photographers lined Clark Street to capture the event's first-ever celebrity participant. But the game's true superstars are Jared and Nick Berg. The Minneapolis brothers have taken every top prize since the tournament began two years ago. The rumor is that they were taught to shoot by their uncle, a SWAT team sniper. Everyone in the room is itching to take them out. An image on the bar's TV screens features the Bergs' floating heads and reads: "Wanted: Dead or Alive."
Like many top guns, the Berg brothers are real-life hunters whose marksmanship translates to the virtual world. "We shoot fast," says Jared, 34, the shaven-headed, reigning Big Buck Safari champ, in between sips of a Banzai energy drink. "If something gets up, we're after it."
[+] Enlarge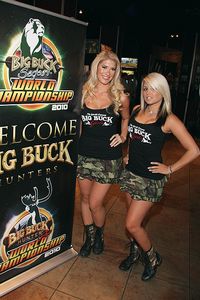 Mary Clare Glabowicz/Big Buck Hunter The Big Buck Hunter Girls are definitely for real.
When asked which Berg is the superior player, Nick, 26, who has more hair and a wispy goatee, is quick to give props to his bro. "He's more consistent," he says. "But he knows on any given day I can beat him. That's what makes this game fun."
Andy Lin, 32, a photographer from New York City, represents another archetype: the hipster sharpshooter. A former vegetarian, he discovered Big Buck Hunter while bartending at Mama's Bar in the East Village. He has never picked up a Remington, but loves the rush of popping caps in digital mammals. Nicknamed the "Big Buck Ninja," Lin estimates he's dropped $8,000 pursuing his passion, although he's won about $3,000 of that back in tournaments. He credits his success to Zen meditation and breathing techniques. "It helps keep my body calm and instills responsiveness," he says.
If anyone can defeat the Bergs, it's Trevor Floren, 26, a clean-cut, athletic-looking business analyst from Lake Villa, Ill. Last year, he was the Big Buck Hunter runner-up. A cerebral player, he studies animal proclivities and the location of "critters," bonus-point targets like foxes or rabbits. "I have the screens memorized," he says. Floren practices at home on his very own console, which he won in a local tournament. (He earned $9,200 playing Big Buck in 2009.)
Before his first match, Floren appears calm. But when pressed, he acknowledges the pressure. "I still get the jitters," he says. "There's 10 grand on the line."
---
To the dismay of his car sponsor, Pastrana is blowing off a practice run at the U.S. RallyCar Rallycross Championship in Millville, N.J., to engage in his latest gnarly pursuit. ("I'm probably not on great grounds with Subaru right now," he admits.) He commandeered a tour bus from Red Bull, filled it with his buddies from Maryland and the film crew from his MTV show "Nitro Circus," and headed to Chicago.
"Street Bike" Tommy Passemante, Pastrana's plus-size sidekick, is here as well. In fact, Street Bike is the better shot. Both have been obsessed with the game ever since Pastrana bought a Big Buck machine a few years ago after getting whipped by fellow Subaru Rally Team USA driver Dave Mirra.
"Dave was like, 'I'll play you for a drink.' By the end of the day I was down $2,500," Pastrana recalls. "The next day, I bought a Big Buck for my house [to practice]. I've almost made back my investment."
His real-world hunting experience, however, is limited to clay pigeons. "I've never killed an animal, no," he says. "Hunting and fishing in the woods? I'm too ADHD."
Pastrana regularly takes his console on the road. He pulled spectators out of the stands to play against him before last year's New Year's Eve jump. When he and Street Bike Tommy caught wind of the Big Buck Hunter World Championship, they squeezed in matches during the August qualifying period at a D.C. bar called Recessions. The name of their hunting party is "Team Whiskey Throttle."
"Whiskey Throttle is when you lose control and fall off the back [of a motorcycle] and you're wide open," Pastrana explains. "Our hunting technique is kind of like that. [There's a] loss of control involved."
[+] Enlarge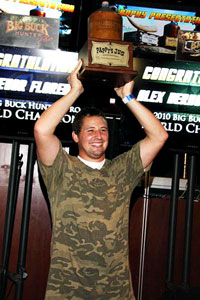 Mary Clare Glabowicz/Big Buck Hunter In the end, third time was a charm for $10,000 winner Trevor Floren.
Luckily for Team Whiskey Throttle, the championship is a double-elimination affair. The first few rounds of the Friday night regionals are a blur of collapsing bucks and exploding birds. Plastic shotguns click with each pump and reload. Eyes are locked and intense, faces bathed in unholy light. Metallica and Pantera blare, fueling the increasingly caffeinated hunters, their forearms sore from hours of gunplay.
Pastrana finds his groove and racks up enough points to participate in Saturday's finals round. At one point, he beats the Berg brothers in consecutive contests. Street Bike Tommy also shows his skills, eking out a win over Eric Naumann by 40 points. "That's one critter," points out Street Bike's wife, Jasmine, a leggy Burmese hottie. But eventually, both "Nitro Circus" stars run out of steam. Pastrana ends the day in eighth place in Big Buck Hunter Pro and in 10th place in Big Buck Safari.
Meanwhile, Pastrana's first-round opponent, Derhohannesian, battles to victory over Chris Fream of Minneapolis in Big Buck Safari, winning the trophy called King Shaka's Tusk and a check for $10,000. And in a rematch of 2009, Floren bests Nick Berg to take home Pappy's Jug and his own $10,000 for Big Buck Hunter Pro. Afterward, Floren's sizable posse -- all wearing "Team Trevor" gear -- carries him on their shoulders.
"This was intense," says Pastrana before catching a private jet for the next day's rally car race, where he'd be knocked out due to engine trouble. "These guys are ridiculous. Every shot they take kills something. Me, I killed a lot of does."
Street Bike Tommy is more defiant: "We're going to be back next year. And everybody should be very scared."