Commentary
Foolproof slump remedies for Big Papi
Updated:
May 13, 2009, 12:12 PM ET
By
Page 2
Red Sox slugger David Ortiz is mired in one of the worst slumps of his career. He's batting .224 this season with zero homers and an OPS of .666.
The Red Sox haven't followed Big Papi into a tailspin … yet. But how long can the team be expected to carry him?
Ortiz clearly needs some advice on how to escape the doldrums of ineptitude, so Page 2 imagines what words of assistance current and former stars might have.
"Stay cool and keep your head in the game."
-- Ted Williams
"Here, try this on … You're welcome."
-- Jason Giambi
[+] Enlarge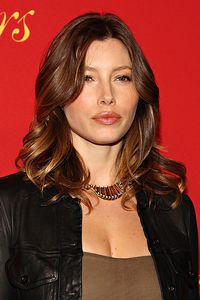 Bryan Bedder/Getty ImagesIs this a transparent excuse for Page 2 to use a Jessica Biel photo? You be the judge.
"Let yourself be great."
-- Jessica Biel, in the 2001 baseball blockbuster "Summer Catch"
"Here, take a look at this instructional DVD … Whoops, THAT'S the wrong DVD. Try this one. Oops, not that one, either."
-- Hideki Matsui
"Focus on the fundamentals … and wear a trucker cap."
-- Fred McGriff
"Demand a trade to the Rockies."
-- Dante Bichette
"Make sure I'm hitting behind you."
-- Manny Ramirez
"Get your finances in order and the hits will follow."
-- Lenny Dykstra
"Don't change a thing."
-- Chris Carter, first baseman, Pawtucket Red Sox
"Baseball is more than hitting. Let your glove do the talking."
-- Ozzie Smith
"If they're going to use the shift against you, consider slapping the ball the other way. It's not like you're hitting for any power anyway."
-- Ichiro Suzuki
"I'll tell you for $9.99. We don't even have to box first."
-- Jose Canseco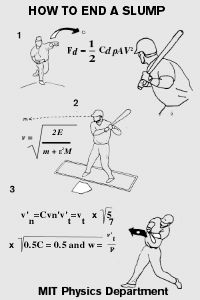 Kurt Snibbe/ESPN.com You don't need to be a rocket scientist to break out of a slump. Or do you?
"If I've told you once, I've told you a thousand times -- you need to scrap the scrap out of the ball."
-- Dustin Pedroia
"Stop mispronouncing my name and I might be willing to help you out."
-- Kosuke Fukudome
"I think it starts with the little things. Just one extra flare a week. Just one. A gorp. You get a groundball, you get a groundball with eyes. You get a dying quail, just one more dying quail a week … and then maybe you'll get on a streak. But you have to respect the streak. You know why? Because they don't happen very often."
-- Crash Davis
"Since we have similar body types, study film of me late in my career. … Then get your retirement papers in order."
-- Mo Vaughn
"Accidentally hit with your practice bat."
-- Sammy Sosa
"Capitalize on your mistakes."
-- Mickey Rivers
"Hitting the ball is easy. Running around the bases is the tough part."
-- Mickey Mantle
"Wake up at the same time every day. Eat chicken before every game. Always take batting practice at the same time. … If that doesn't work, try chugging 64 beers on a cross-country flight."
-- Wade Boggs
"Come hit at Yankee Stadium against Chien-Ming $%@^#* Wang."
-- New York sports radio caller
"You should totally have me pitch to you."
-- Carlos Silva
"I got nothing. Sorry."
-- Jason Varitek
"Miss everything but the ball."
-- Yogi Berra