Commentary
'Johnny Baseball' sings the Sox song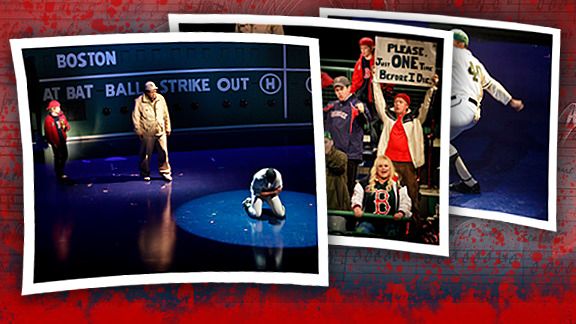 ESPN.com Illustration
Eight-six years
O' losing to the Yankees,
Eighty-six years
Cold hard truth.
Eighty-six years
Cryin' in our hankies,
Eighty-six years
Since we sold Babe Ruth.
-- Lyrics from "Eighty-Six Years," "Johnny Baseball"
By now, the story of Boston's nearly nine-decade World Series drought has been told through virtually every medium imaginable, with baseball fans from Baltimore to Baton Rouge to Bakersfield well-versed in the series of postseason misfortunes that befell the Red Sox so frequently that even skeptics began to wonder if there really was a curse.
"Johnny Baseball" seeks to put a new spin on that time-tested story. What if the scourge had nothing to do with Babe Ruth? What if it was rooted in something bigger than simply shipping an affable, alcohol-loving baseball player off to New York? That's the premise of the two-act musical running through July 11 at the American Repertory Theater in Cambridge, Mass.
It's a risky proposition. First of all, musical theater and baseball rarely go hand in hand.
"The potential for disaster with something like this is tremendous," co-creator Rick Dresser said with such emphasis it was clear he'd spent hours -- if not days -- tormented by such concerns. "I've been such a passionate Red Sox fan for so long, and my greatest fear was that it would be silly."
It's a legitimate worry considering the last successful baseball musical, "Damn Yankees," was penned in 1955.
"That's the only one that you know of," said Burke Moses, who plays Babe Ruth. "There's been other sports musicals; it's just they're somewhere in a cemetery in the Bronx."
The Broadway veteran (and pinstripes fan) paused and added, "But I think if you have the Yankees involved, you have a surefire hit, so we have the Yankees involved."
The play, which concludes with one of the most triumphant moments in Red Sox history -- David Ortiz's walk-off home run in Game 4 of the 2004 American League Championship Series -- was actually born out of one of the team's most tragic postseason defeats.
In 2003, Dresser's collaborator, Willie Reale, a Yankees fan, attended Game 7 of the ALCS with some friends.
"So I'm at the game, and [Boston's] up 5-2 in the eighth inning," Reale said. "And I see all my friends, who are Red Sox fans, and they are literally hunched over holding themselves. I said, 'Hey guys, you've got to lighten up. You've got this one.' And as one, they kind of stared a hole in me."
Three innings later, then-Yankees third baseman Aaron Boone hit a walk-off home run. Reale's friends were crushed, but on the silent D-train ride back into Manhattan, the lyricist found inspiration. The next morning, he called Dresser.
The longtime friends had been looking for a project to do together, and Reale suggested maybe the story of the Red Sox curse was it. Over the next year, they began meeting, doing background research and working to craft a story that would explore the long-suffering history of the Sox. Reale's brother, Robert, joined the pair and composed the music.
Then, in 2004, Boston won it all. As a fan, Dresser was ecstatic. As playwrights, he and Reale were stalled. The curse so central to their project was no more.
"At first, we were like, 'There goes that work,'" Reale said. "And there was a momentary pause in the action. Then we met again and came to the realization that they didn't end our story. They wrote our ending for us. Using the ending as our starting point, we went back, and not only were we chronicling the curse, but the end of the curse."
Things started to fall into place.
He came from Panama,
The place they make the hats.
He throws that evil cutter,
And he breaks the lefty bats.
-- Lyrics from "Not Rivera," "Johnny Baseball"
Colin Donnell, who plays Johnny O'Brien (the titular "Johnny Baseball"), is used to receiving raised eyebrows when talking about the show to people who have yet to see it.
"I'm like, 'Yeah, it's great. There's a song about Mariano Rivera in the second act … where there's actually a bunch of rhymes with Mariano Rivera,'" Donnell said.
That fact alone peaks interest.
"I think it was important for this not to just be a show for baseball fans or Red Sox fans," said Alan H. Green, who plays Willie Mays. "But for those people who know who Bucky Dent is, they're going to get an extra kick out of a show that's really about their world."
Maintaining historical accuracy was paramount. The creators took some dramatic license when warranted, but there was a near obsession with making sure every detail was as true to life as possible, from ensuring the hot dogs truly resembled Fenway Franks to nailing the exact shade of green on the Green Monster.
"When we did our first performance, the audience walked in, and they were in their Red Sox gear," director Diane Paulus said. "I had a moment of, 'Oh my god, I am dealing with something really special.' It's almost like dealing with someone's religion, [and I thought,] 'I better not get it wrong. I hope to God we haven't gotten it wrong.'"
According to audience reaction, the show's been dead on. With several scenes set during the final innings of Game 4 of the 2004 ALCS, "Johnny Baseball" gives new meaning to playoff drama.
"I was there at the game in 2004," George Mitrovich, chairman of the Great Fenway Park Writers Series, said after a recent performance. "I experienced it … and I thought that they captured it wonderfully well. It was reliving one of the epical moments in Red Sox history."
It happens every night.
"When it says, 'Ortiz, a two-run walk-off home run,' they're just applauding, and it's like, 'The show's not over,'" Dresser said of the audience's reaction. "The other night Willie said to me, 'Do you realize that they are cheering for a home run that happened six years ago?'"
But it's not just about pulling for the Red Sox, as Donnell, a St. Louis native, explained.
"What's cool is that every person who loves baseball at all knows that tie-in to their own team," the actor said. "I'm a huge Cardinals fan, and whether it's somebody from Pittsburgh or somebody from Philly, everybody has that tie-in one way or another to something that they love to root for. Really, it's capturing the essence."
There was a recent study,
Conducted in Milwaukee,
A study which I understand
Was read by Mr. Yawkey.
It had to do with athletes
And pigment of the skin,
Concluding that the lighter ones
Are likelier to win.
-- Lyrics from "Mr. Yawkey Has a Vision," "Johnny Baseball"
"Johnny Baseball" is not just about baseball. That was the goal, because -- let's be honest -- crafting a piece of musical theater targeted solely at baseball fans doesn't seem like the best business plan.
Reale and Dresser read numerous books pertaining to the Red Sox and the rivalry with the Yankees while attempting to flesh out their story. One of those books was "Shut Out: A Story of Race and Baseball in Boston," which chronicled the rather ugly history of the Red Sox with regard to African-American players. Boston was the last team in Major League Baseball to integrate, but it's a lesser-known fact that the Red Sox gave Jackie Robinson a tryout in 1945, two years before his debut with the Dodgers. The story goes that while Robinson and two other black players were on the field at Fenway, someone from the team's front office, often speculated to be either owner Tom Yawkey or general manager Joe Cronin, shouted a racial epithet.
Even in the decades following Pumpsie Green's debut with the Red Sox in 1959, the animosity lingered and Boston's treatment of black ballplayers was criticized. The subject resonated with the show's writers and became the foundation for their story.
Beyond what the name suggests, "Johnny Baseball" is the story of a white ballplayer who falls in love with a black woman and of a young black pitcher who invokes God to "deny [the Red Sox] as they denied me." Babe Ruth factors in, but only as a teammate of the show's central character. History, the musical posits, got it wrong.
The Red Sox's troubling past with regard to African-Americans was something owners John Henry, Tom Werner and Larry Lucchino openly addressed when taking over the team in 2002. Such an admission is what Dresser believes made this show possible.
"People are embracing it," Dresser said of the play's portrayal of racial discrimination. "Honestly, if we had done this 10 years ago, I don't know if that's true. I just feel like we're living in a time where you can do things that you couldn't earlier because people are receptive. People want to know the truth about certain things. … I think one of the reasons people are embracing it now is the current ownership, right from the start, acknowledged this legacy of racial intolerance. Those are the words that they used. I think that opened the door for taking a look at the team and the history."
During the process, there was concern that even though the story is rooted in historical fact, it could touch a nerve. "Johnny Baseball" has touched people, but so far not in that negative way.
"There is that part of it that is and might be particularly disturbing to longtime Red Sox fans, but I think it's important to know the history of the Sox as it relates to racism," Mitrovich said. "I think it transcends the Boston Red Sox. It's a story about baseball. It's a story about life in America. Racism is that part of our history under whose shadow we continue to live, and the only way we get beyond the shadow is to understand it and face up to its reality."
It's a history that many people, even longtime Red Sox fans, aren't fully aware of.
"I'm not sure if my generation or the current generation, unless they just have a real head for the history of baseball, would truly grasp that whole [racism] notion," recent theatergoer and longtime Sox fan Diane Tiernan said. "I think this is a very, very interesting piece because, frankly, I don't think we have as clear an understanding of that history. Sure, we've heard about it, but I'm not sure that we understand the impact that it had across all kinds of things including the sport of baseball."
A real source of pride for the musical's creators is the show's ability to not only entertain but also educate and engage fans when it comes to the subject of race in America.
"They did an excellent job portraying both the issue of race and the culture of the community that went through a painful period," said politician and activist Mel King, who, in 1983, was the first African-American to win a preliminary election for Boston mayor. "That was a part of the culture here in Boston. For the story to be told in that way, that people get it, I think is very important for the city, for the country. I'm very pleased that I got a chance to come."
That's the thing about "Johnny Baseball." It's a musical about race and baseball, and it works. Entertainment trade magazine Variety called it a "thoughtful, crowd-pleasing and deftly balanced show that even a Yankee could love."
Given that the play reenacts the pivotal moment of the Yankees' most epic collapse, such a review is high praise.
The A.R.T. production of "Johnny Baseball" runs through mid-July. Then what? One supposes that just as all ballplayers hope to make it to the Show, all musicals hope to open on Broadway.
But how would the Red Sox -- even if it's a singing, dancing musical theater version of them -- play in their hated rivals' hometown?
Moses said he believes the show stands a chance.
"Yankee fans like two things," he said. "They like people talking up the Yankees, and they love people damning the Yankees.
In which case, "Johnny Baseball" is sure to be a smash hit.
Maria Burns Ortiz is a Page 2 contributor and writes for ESPNSoccernet. She can be reached at mariamburns@gmail.com.