Commentary
The most interesting interview
Originally Published:
June 18, 2010
By
Chris Palmer
| ESPN The Magazine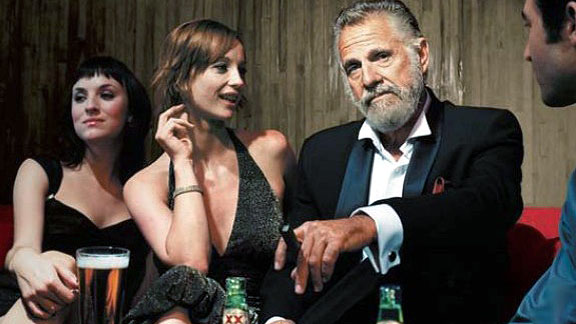 Cuauhtemoc Moctezuma BreweryIf you're looking to live an interesting life, remember to stay thirsty.
His reputation is expanding faster than the universe. Kobe Bryant? Nope. He lives vicariously through himself. T.O.? Probably, but no dice. Sharks have a week dedicated to him. Albert Haynesworth? Wrong again, sports fan.
Of course we're talking about the Dos Equis guy. Better known as the Most Interesting Man in the World. Turns out the worldly fellow in those beer commercials is actually 71-year-old actor Jonathan Goldsmith, a veteran of more than 40 years in Hollywood who starred in '80s hits "Dallas" and "Knots Landing."
He got the role by auditioning at a cattle call with 400 other interesting wannabes and was called back several times before finally winning the part.
The devilishly clever ads can be recited verbatim by nearly every dude who owns a couch and a TV.
They chronicle the amazing accomplishments of a silver-haired adventurer who explores caves with beautiful women and dominates the jai alai tour while dispensing nuggets of advice with an unflappable cool.
Come on, who among us hasn't dreamed about having a drink with him? Well, turns out Mr. Goldsmith is something of a sportsman in real life.
But when you're the planet's most sophisticated playboy, you haven't time for interviews. Still, we managed to get a few words out of him recently. Sadly, not over drinks.
What kind of sports fan are you?
I've always loved all sports. I don't play much anymore, but I competed quite a bit when I was a young man. My earliest memory of competing was winning the Class C league baseball championship as a 12-year-old pitcher in New York. In fact, I just threw out the opening pitch at a Dodgers game.
With the opening pitch, there's a huge opportunity to embarrass yourself.
That's true, but I've been working on my delivery for some time now. I'm not worried at all. I think I'll surprise some people. I'll just need someone to hold me up when I'm at the mound.
(Note: Several days later at an Angels-Dodgers game in Los Angeles, Goldsmith's pitch came in waist-high and just a bit outside prompting the PA announcer to say, "That was the most interesting pitch in the world.")
Where do your rooting interests lie?
Well, I'm a New York guy, so I have a place in my heart for the New York-area franchises, but I've lived on and off out here for 40 years and I've become fond of L.A. I own a sailboat and live out on the water.
Being from New York, can you legally be a fan of the Lakers?
I watch them from time to time. I try to keep an eye on them, sure. I have Kobe over to the house for barbecues all the time. Team sports are great, but I'm more into boxing. You're in the ring by yourself, so if things don't work out you have to figure it out.
Are you concerned at all about where LeBron is going to land? Any pearls of wisdom for him?
I'm really not concerned at all. I think he'll get by. What I'm really concerned with are our Sunday heroes when they can no longer entertain us. What happens when they're past their prime? Who's there for them when they're out of the limelight? That's really what I'm interested in, to tell you the truth.
So how has the Dos Equis campaign changed your life?
It's changed everything. It's been such a blessing. I get better seats in restaurants, and it's opened up all kind of doors for me. We're in our fourth year, and it's just been super.
So what's one interesting thing about you?
Well, for starters, I'm interesting.