Single page view
By Sal Paolantonio
ESPN
A few weeks ago, in the middle of the night, an e-mail from my little sister in California sort of broke my concentration -- which, at that point, was still being held hostage by all things Terrell Owens.
She wrote: "Why all the new books about the Beatles?"
In our nearly 50 years on the planet together, whether it was living in adjacent bedrooms in our parents' house on Long Island in the '60s, or 3,000 miles apart now, we have shared an uncommon determination to channel the Fab Four -- perhaps agreeing a little too much with Dr. Timothy Leary, who said John, Paul, George and Ringo were "wise avatars of the human race."
OK, so that's a little over the top.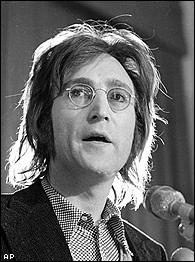 It's hard to believe it's been 25 years since John Lennon was taken from us.
Nevertheless, with the 25th anniversary of John Lennon's murder upon us, it's clear that we boomers still feel an overwhelming desire to reconnect to that music, that time, that place in our consciousness that has never really disappeared -- only on loan, perhaps, to our bosses, our spouses and our children.
And now, just like our parents when they reached this age and were thinking about the '40s -- reviving the dances and the music and all that stuff about the Greatest Generation -- it's our turn to fill up that part of our zeitgeist, and remember what we were all about.
So why do we go back to the Beatles? Well, because they did so much good the first time.
Yes, you can't get through Borders these days without bumping into a shelf overflowing with new Beatles books. But perhaps Lennon summed up the beauty of their message best when he said all the Beatles ever did was say, "Hey, this is happening to us, what's happening to you?"
A very personal message of empowerment. Thus, we all have our private connection to them that cannot really be provided by a book.
I remember the day I met Paul McCartney. He lived up to every expectation I ever had. It was Feb. 3, 2002, Super Bowl Sunday. I was at the Superdome in New Orleans, covering the game for ESPN. Sir Paul was the pregame act.
I had scouted where he would come on the field, and waited, throwaway camera at the ready. While everyone watched the Boston Pops, I had my back turned to the stage. And then he appeared, suddenly, and he moved with the confidence of an astronaut. Right at me.
I introduced myself, and he agreed to take a photo with me -- just before everybody else in the dome realized he was there.
I waited at the 50-yard line while he went out onto the stage and sang "Freedom," his post-9/11 anthem to America. Then he walked back across the midfield stripe, flashed a big thumbs-up and a smile, and said, "See ya, mate."
Two of my closest friends from high school died in the South Tower of the World Trade Center. And meeting McCartney on that day lifted me -- just as the Beatles, when they arrived in February 1964, must have revived this country after John F. Kennedy's assassination four months earlier.
I recently read a column in the New York Times titled "The Age of Skepticism," comparing what we're feeling now about our institutions to what we were feeling during Vietnam.
Sal
Paolantonio
LENNON LIVES