Party of Five requests reorganization
Originally Published:
June 28, 2011
Page 2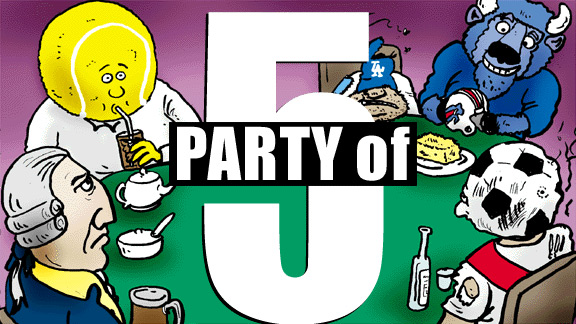 Kurt Snibbe/ESPN.com
Welcome to another edition of Page 2's Party of Five, where five writers tackle five questions that the world needs answered right now.
(Or later, depending on how much time you have to kill.)
Today, we'll discuss the Dodgers' saga, the Wimbledon women's bracket, soccer fans in Argentina, the Buffalo Bills' new uniforms and Jim Riggleman's "Take This Job and Shove It" moment.
1. The Los Angeles Dodgers filed for bankruptcy on Monday. What will happen to the storied franchise when this situation ultimately plays out?
Patrick Dorsey: Inspired by bankruptcy vet Donald Trump, the Dodgers will fight through the turmoil, restore their reputation and, for some reason, hire Gary Busey as bullpen catcher.
Vincent Thomas: Mark Cuban finally gets an MLB franchise -- the Dodgers will be fine. Of a more immediate and conspicuous impact, Jamie McCourt will get a spot on one of the "Real Housewives" franchises, while Frank McCourt and Arnold hit the L.A. streets.
Jim Caple: I'm not sure, but the play-by-play will leave even Vin Scully speechless.
DJ Gallo: I have no idea. I'm just glad Bud Selig wasn't the commissioner in "Major League." Rachel Phelps would have tried to run the team into the ground, and Selig would have seized control of the team. End of movie. Zero laughs. Total running time: about 11 minutes.
Michael Philbrick: I've still yet to have my theory disproved that billionaire/Clippers owner Donald Sterling is paying Frank McCourt to act this way with the promise that he will eventually pick up the tab -- giving Sterling at least six months of not being the most hated owner in L.A. This will all come out in testimony years from now when Sterling faces an international tribunal at The Hague for killing Blake Griffin's career.
2. For the first time since they were both in the draw, Venus and Serena Williams were both eliminated at Wimbledon before the quarterfinals, and No. 1 seed Caroline Wozniacki also lost. What storylines can fans focus on for the remaining players on the women's side?
Dorsey: Rising young American Lizzie Bradbury loses early, but her romance with fading English pro Peter Colt inspires him to fight for a career-capping title. Or is that the plot of a movie?
Thomas: Let's see, Marion Bartoli -- who just ousted Serena -- claims to have an IQ of 175 (higher than those of Beethoven and Albert Einstein), once joked (tongue-in-cheek) that she doesn't have more sponsors because she's "not blond enough" and she jitters around the court between points like an ADD kid after a quadruple shot of espresso ... and some LSD. I'd keep my eye on her.
Caple: I think this is a perfect excuse for another gratuitous photo of Anna Kournikova. Besides, I think her restraining order against Page 2 is no longer in force.
Gallo: I'd pay attention to Bartoli for all the reasons stated above. But I seriously doubt she's as smart as she says. Why would someone so intelligent dedicate her life to playing tennis? We need our best minds working to solve important issues. And although it may seem significant if someday she can explain how the progression of tennis' 0-15-30-40 scoring system makes any sense, the world has greater mysteries.
Philbrick: Personally, I'd stick with Maria Sharapova for the sole reason that her fiancé, Sasha Vujacic, probably will be in the stands, and if we're lucky, we'll see this clip. Probably not, but that's all I got ... and that clip is awesome.
3. In Buenos Aires, some fans rioted and some were in tears after their beloved soccer team River Plate was relegated to the Argentine second division for the first time in its 110-year history. What would have to happen to your favorite teams to elicit such a strong response?
Dorsey: It doesn't matter which one. If any team runs out of media coffee, I go "Airplane II" on it.
Thomas: The Lakers would have to hire Mike Brown.
Caple: Nothing. If we haven't done it yet in Seattle, we're not going to do it.
Gallo: I have to pass on this question. As a fan of the amazing 39-38 Pittsburgh Pirates, I can't in any way relate to a fan base that has negative experiences.
Philbrick: Since I'm a Boston fan, I'm going to say any of our teams coming in second place. Boom! Look at that. … I bet you didn't think you could hate us any more than you already did. You're welcome.
4. The Buffalo Bills unveiled their new uniforms, going back to white helmets after confirming that they had changed to red helmets in 1984 because quarterback Joe Ferguson was color-blind. What's one team that should make a similar accommodation for its star player?
Dorsey: To show support for Ron Artest's name change, the Lakers should get him his own point guard: Willie Warren.
Thomas: Cowboys jerseys should somehow incorporate at least 10 buttons and huge lapels in honor of the great Emmitt Smith.
Caple: To keep Prince Fielder, the Brewers should wear those Tommy Bahama shirts that hide your gut. Probably Dockers, too.
Philbrick: I think the Twins should go the route of the tuxedo t-shirt -- but instead make it look as though everyone is wearing catcher's gear. That way, future first baseman Joe Mauer won't whine as much as he has been about switching positions.
Gallo: First, it must be noted that the Bills' having a color-blind quarterback is the most Bills thing ever. But I guess you need to make the necessary accommodations, no matter how extreme, to get an elite player like Joe Ferguson -- third-round draft pick, no Pro Bowls, 1-3 career playoff record -- on the field. As for a current team that should change its uniform, if the Dodgers aren't already taking the field with price tags on all their clothing and equipment, they should.
5. Washington Nationals manager Jim Riggleman abruptly resigned after a game last week, saying the team wouldn't pick up his contract option for next season. What could he have done to turn this into a legendary "Take This Job and Shove It" moment?
Dorsey: Like George Costanza before him, Riggleman should have driven around the parking lot with the franchise's World Series tro -- oh wait.
Thomas: If an "ultimatum" backfires like that, what do we call it? Maybe like a "triviatum." Nationals GM Mike Rizzo told Riggleman to "talk to the hand." Vindication could have been exacted in Riggleman's exit. He should have quit during his last game against the Mariners, bum-rushed the PA booth, then, with a Radio Raheem-sized boom box -- pumped a breakup song. Just not anything by Adele.
Caple: I'm not sure about an ultimatum, but I think he should have waited until sweeping, say, the Phillies, rather than the Mariners, before delivering it.
Gallo: He should have issued a short news release that said only the following: "Dear Nationals Fans: I decided I could no longer work for a guy who thought it was a good idea to sign Jayson Werth to a seven-year, $126 million contract. I'm sure you understand. All the best, Jim Riggleman."
Philbrick: To make this "legendary"? How is that possible if we're talking about the Nationals? Are the games even televised? With all that working against him, the only way he could reach an audience of legendary status at this point would be a strongly worded Facebook post.