Welcome to the Party of Five
Originally Published:
April 5, 2011
Page 2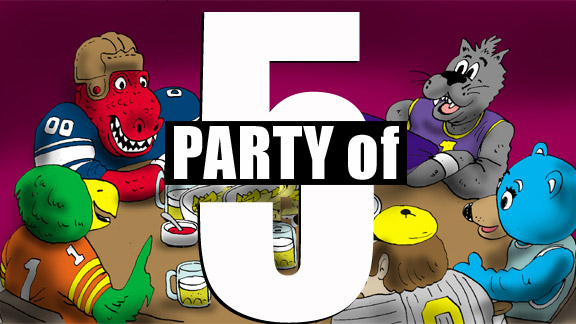 Kurt Snibbe/ESPN.com
Welcome to the inaugural edition of Page 2's Party of Five, where five writers tackle five questions that the world needs answered right now.
(Or later, depending on how much time you have to kill.)
Today, we cover bad college basketball, worse professional soccer, the least militaristic Michael Jackson statue ever unveiled in Europe, where "G-string stuffing" belongs on an expense report, and how to succeed on the supermodel dating scene without really trying:
---
1. Watching Butler score 41 points while shooting 18.8 percent in a national championship game loss to UConn was like: ________.
Patrick Hruby: A great disturbance in the Force, as if millions of bettors who took the over suddenly cried out in terror and then were silenced.
Mike Philbrick: Watching the Hickory-South Bend Central game, except Jimmy Chitwood goes 1-for-14 while Boyle leads the Bears with a triple-double, raises the trophy and eventually stars for the Minneapolis Lakers.
Jim Caple: Watching the Mariners offense try to score a run. I was flipping channels between games and when the Mariners are scoring more often than Butler is, you should have to leave the floor. BTW, I think CBS needs more people at the analysts table.
DJ Gallo: A great opportunity to watch the Pirates-Cardinals game instead. A basketball game is officially bad when the field goal percentage falls below a decent batting average.
Hruby: I like how you used "Pirates" and "decent" in the same sentence.
Thomas Neumann: Watching John Starks shoot 2-for-18 in Game 7 of the 1994 NBA Finals. Or Ray Allen shoot 0-for-13 in Game 3 of the 2010 NBA Finals. Or Kenyon Martin shoot 3-for-23 in Game 6 of the 2003 NBA Finals. Or Kobe Bryant shoot 6-for-24 and the Lakers shoot 32.5 percent from the floor en route to victory in Game 7 of the 2010 NBA Finals.
Lighten up. It happens. UConn just had much more talent. The alternative is Duke in the title game every year.
Philbrick: It was my understanding before this debate started that there would be no math.
---
2. English soccer club Fulham unveiled a statue of Michael Jackson outside its stadium, with team chairman Mohamed Al Fayed telling fans who don't appreciate the homage to "go to hell" and root for another Premier League team. Putting the sheer, gaze-upon-me-and-despair awesomeness that is being a rich professional sports owner aside, what other music-themed statues should be raised outside sports venues?
Hruby: Luther Campbell outside the former site of the Orange Bowl.
Neumann: Neil Diamond outside Fenway Park.
Gallo: A Shaq-Fu statue outside the Orlando Magic's arena.
Caple: The Village People at every stadium, but inside. With "YMCA'" playing on a continuous loop. And preferably with conservative, luxury suite-dwelling fans dancing along with no sense of irony.
Hruby: A giant, animatronic, fire-spitting Jason Taylor outside Wembley Stadium. Oh wait -- that already happened. Did Mothra win?
Philbrick: MC Hammer outside Oakland Coliseum or Mindy McCready outside the House of Clemens. That is if they aren't hanging out there already.
Hruby: MC Hammer outside the Georgia Dome. 2 Legit!
Neumann: Jon Bon Jovi outside the Meadowlands.
Hruby: Chris Gaines outside Petco Park.
Neumann: Josh Groban outside Rich-Rod's house.
---
3. During a recent tryout with Kansas City's new MLS team, Cincinnati Bengals receiver and former high school soccer player Chad Ochocinco demonstrated that he's: (a) very fast; (b) not very good at the other football. What other professional athlete would you like to see take a stab at a second sport, and why?
Gallo: I'd like to see a PGA golfer try to make it in the PBA. Then we could debate if he's a two-sport athlete, a one-sport athlete (1/2 sport + 1/2 sport = 1 sport) or still not an athlete at all.
Philbrick: I'd like to see the Red Sox pitching rotation give baseball a try instead of just practicing for the Home Run Derby.
Hruby: How about Jose Canseco trying his luck with celebrity boxing?
Caple: I'd like to see Ichiro figure skate, just to see what his costume would look like.
Neumann: I would pay cash money to see Bartolo Colon run a marathon.
---
4. Marko Jaric married a Victoria's Secret model. Sasha Vujacic is engaged to Maria Sharapova. According to recent reports, J.J. Barea is dating Miss Universe 2006. What gives?
Hruby: What gives is that if you're a teenage American male and not learning how to shoot a basketball or play guitar, you're probably wasting your time.
Gallo: Oh, to be from another country, weird-looking and good enough at basketball to barely make an NBA roster. That's living the dream. Had Brian Scalabrine's parents been on vacation overseas in March 1978, he'd be a supermodel polygamist right now.
Neumann: I feel like The Mamas & the Papas taking the stage after Hendrix at Monterey trying to follow up that line.
Philbrick: This is just the tip of the injustice iceberg. The surgeon general needs to issue an official warning that the combination of house music, designer T-shirts and body spray can seriously damage the frontal lobe of a woman's brain.
Caple: Did none of you ever see a cheerleader hooking up with a goofy-looking QB? Good lord. If you're an athlete, are famous or have money, it doesn't matter what you look like. I thought we all learned this lesson in high school.
Hruby: Yeah, but don't we spend our adult drinking lives trying to forget the lessons of high school?
---
5. On a 10-point Dog-Ate-My-Homework scale, score and judge fired Fiesta Bowl CEO John Junker's claim that a $1,200 strip club bill for himself and two others was justified because "we are in the business where big strong athletes are known to attend these types of establishments. It was important for us to visit, and we certainly conducted business."
Hruby: A 9.0. Gary Payton once blew off a SARS warning to attend a Toronto gentlemen's establishment. So Junker has a semi-legitimate point.
Gallo: He deserves a 10. You have to give him some credit for trying to add strip clubs to golf courses as locations wealthy businessman can pretend they are getting real work done. Only rich guys can try this. Your average working schlub can't say to his boss: "Hey, I know you wanted me make those sales calls today, but I thought it might make more sense to play some golf and then head over to The Love Shack."
Neumann: I'm going with a 2. Just where exactly do you expect these gentlemen to conduct business if not at a golf course or a strip club? Hello, it's Phoenix!
Hruby: Is it just me, or does the phrase "big strong athletes" make anyone wonder what kind of strip club we're talking about?
Gallo: It makes me wonder, too. It also lets me know that kickers and punters don't like strip clubs. Interesting fun fact.
Philbrick: A 5, because Junker and Co. were acting more out of burden than desire. Today's uber-wealthy executives are duty-bound to carry the mantle handed down to them from the Don Draper "Mad Men"-era. It's like all those crazy fight songs and rivalry trophies -- they make little or no sense in 2011, but we keep them around because of the sanctity of tradition.
Hruby: In other words, "conducting business" at a strip club is ... a tradition unlike any other?
Caple: I give him a 0.0 because he plagiarized. That's the same line I used when ESPN accountants asked me about my expense reports from spring training.
Neumann: Which took place ... in Phoenix!