Party of Five on the top issues
Originally Published:
April 5, 2011
Page 2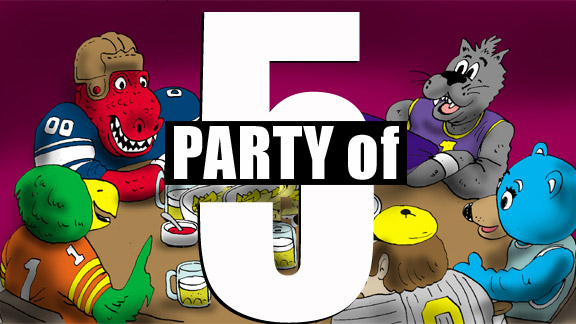 Kurt Snibbe/ESPN.com
Welcome to another edition of Page 2's Party of Five, where five writers tackle five questions that the world needs answered right now.
(Or later, depending on how much time you have to kill.)
Today, we cover in-stadium sports betting, Jose Canseco-as-baseball-zombie, Kobe Bryant's failure to realize that YouTube works across the Pacific Ocean, the end of Manny's long infertility nightmare and the political prospects of the man with the largest number of embarrassing video clips to consider running for public office since Donald Trump:
1. Retired track star Carl Lewis reportedly is going to run for the New Jersey state Senate. Suggested campaign slogans?
Patrick Hruby: Partisan Gridlock: Together, We Can Break It Up!
Mike Philbrick: Don't fall for orange imitations. Vote Lewis, the Original Situation.
DJ Gallo: Lewis already has one. But he might want to use a different picture.
Hruby: That makes John Kerry at NASA look downright statesmanlike.
Thomas Neumann: I'm all for anything that keeps him out of the recording studio. Plus, let's face it, he could end any filibuster with a mere threat to belt out "The Star-Spangled Banner."
Jim Caple: Elect Me So I Can Throw Out The First Pitch At A Game!
Gallo: I expect Ben Johnson to win the vote for Prime Minister of Canada by a 2-to-1 margin. But then we'll find out a few weeks later that he was guilty of voter fraud.
Caple: At which point Canadians will say he wasn't eligible because he's actually Jamaican.
---
2. In five years, Manny Ramirez will be: __________
Hruby: Declining -- on the advice of counsel -- to discuss with Congress why he shared a personal trainer with Carrot Top.
Neumann: Teaming up with Enrique Wilson against Jose and Ozzie Canseco in a tag-team doomsday cage match at a Bahamian casino.
Philbrick: Penniless, clueless and sharing a two-bedroom condo with Mike Tyson in Bolivia.
Caple: Cutting his Hall of Fame induction speech short to go to the bathroom behind the other HOF's on stage at Cooperstown.
Hruby: There's a bathroom back there?
Caple: I have no idea.
Gallo: God willing, with the power of modern medicine, the proud mother of a 4-year-old.
---
Gallo: The modern world economy is challenging America in everything from automobile manufacturing to the production of terrible music.
Hruby: Between shooting lightning out of his hands and slam dunking a basketball while riding a skateboard -- totally X-treme! -- Mr. Chou is not only a fan of Bryant, but also of Emperor Palpatine and Poochie.
Neumann: Please excuse me while I die laughing.
Hruby: Those who do not learn the lessons of "K.O.B.E." are doomed to repeat them. Philbrick, you also live for basketball, beats and broads, right?
Philbrick: Hell to the yes! I've been trying to get you guys to call me B-Cubed for years. I'm guessing he thought it was just one of those "I really need the money" Japanese commercials that no one would ever see in the States.
Caple: That's a good video.
Hruby: A good video? Are the N*SYNC posters in your bedroom autographed, framed or both?
Caple: I was mostly referring to Kobe not attempting to sing a single note.
Hruby: Point taken and conceded.
---
4. Jose Canseco reportedly will serve as a player-manager for a minor league baseball team in Yuma, Ariz. What's the best -- and/or worst -- case scenario?
Hruby: Best-case scenario: Canseco gathers enough real-life material for another book. Worst-case scenario: Canseco gathers enough real-life material for another book.
Neumann: Hmmm. Canseco played and managed last year in Laredo. Now he's headed to Yuma. Wonder why he always seems to be working along the border?
Hruby: Finish the danged fence!
Gallo: I'm interested to see how much of his managerial philosophy he took from Tony La Russa. For example, will he micromanage the bullpen? Will he bat the pitcher eighth? Will he somehow not notice any of his star players taking massive amounts of steroids?
Hruby: By "star players," you mean "himself," right? Or are you talking about Ozzie?
Philbrick: There is no worst-case scenario. Although it would be great to find out that Ozzie Jose is being paid in light fixtures.
Caple: Best-case scenario: ESPN.com sends me to Maui to do a story on Jose when his team goes there on a one-week road trip. Worst-case scenario: ESPN.com sends me to do a story on Jose when his team has a two-week home stand in Yuma in July.
Hruby: Hey, I grew up in Arizona. It's a dry heat.
---
5. A Chicago fan claimed he made a $5 in-game bet with Blackhawks goalie Marty Turco. What kind of in-game bet would you like to make with a pro athlete?
Caple: I would bet Charlie Sheen $1,000 that the 1919 White Sox would lose the World Series even if they had a winner with tiger blood playing center field.
Hruby: I'd like to bet Tiger Woods $50 he can go nine holes without cursing; Alex Rodriguez $100 that he won't be heckled; Drew Gooden and JaVale McGee $500 that they can record triple-doubles in an NBA game that actually matters; and Matt Cooke $1 million that he won't hit someone in the head just because. Of course, I'm less a gambler than someone who likes sure things and easy money.
Philbrick: I'd like to bet Rocky Balboa $1,000,000 that he can't look me in the eye and tell me that Adrian is hot. I'd like to bet Roy Hobbs $100 that he was on HGH. Finally, I'd also like to bet Judge Smails a thousand bucks that he misses that putt. Sorry, real athletes are boring.
Neumann: I tend to think college sports are more lucrative -- especially if you're wagering against the University of San Diego or UC Riverside.
Gallo: Wait. People are betting on University of San Diego and UC Riverside games? Instead of betting $5, can I instead donate the money to a gambling addiction treatment center -- preferably one that specializes in helping people who gamble on WCC and Big West Conference basketball?