The Party of Five sounds off
Originally Published:
April 19, 2011
Page 2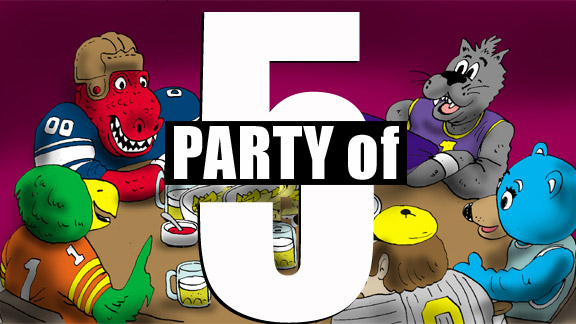 Kurt Snibbe/ESPN.com
Welcome to another edition of Page 2's Party of Five, where five writers tackle five questions that the world needs answered right now.
(Or later, depending on how much time you have to kill.)
Today, we cover Cam Newton's next stop, Kemba Walker's Book-of-the-Last-Two-Decades Club, Coco Crisp's private confusion when confronted with Rogaine commercials, David Stern's seeming disdain for the fable of "The Fox and the Henhouse" and the sheer, giddy joy of playing human catapult with a dead n' slimy cephalopod that has been decomposing inside your pants:
1. According to Sports Illustrated, Kemba Walker recently read an entire book for the first time in his life. The Connecticut guard also is 20 years old, a sociology major and is scheduled to graduate from college in three years. Thoughts?
DJ Gallo: It's a problem throughout the whole program. No one at UConn has read the NCAA compliance manual, either.
Mike Philbrick: It takes real dedication. Think of how many times he could have accidentally finished a book but stuck to his principles. Oh one more thing ... spoiler alert, Kemba! The dude actually ends up liking green eggs and ham in the end.
Patrick Hruby: Just imagine if UConn had an "Easy A" list like Stanford. Walker already would be waist-deep in post-doctoral research.
Jim Caple: Sounds like UConn stiffened its academic standards.
Philbrick: Silver lining? This might be the greatest accidental recruiting pitch in the history of modern basketball.
David Schoenfield: I want to see Phil Jackson remain Los Angeles Lakers coach, the Lakers draft Walker and Jackson give him "Water for Elephants." I think Walker would become the first player to ever demand a trade to the Clippers.
---
2. Former Auburn quarterback Cam Newton may be the top pick in the upcoming NFL draft. Where is his ideal destination?
Philbrick: I'd like to see him replace QB Eagles in Super Tecmo Bowl. After watching him talk to Coach Gruden, I think he might best be served running an offense with only eight plays.
Schoenfield: The U.S. national soccer team. I keep hearing Newton is a great athlete; I also hear that Team USA just needs better athletes. You can thank me later when Newton leads the U.S. to the 2018 World Cup title.
Hruby: Dave, you're confusing football with futbol. Also, I already disproved the better athlete fallacy. Though Newton would probably make a great keeper. Which is never America's problem.
Caple: Return to Auburn. One, Auburn will play its season next year. Two, it will pay more money.
Hruby: The UFL's Hartford Colonials -- that way, Newton will be close to ESPN headquarters, where he can enjoy many more totally non-awkward quarterback classroom sessions with Jon Gruden.
Gallo: Washington, D.C. Just imagine what kind of money his father could get out of Dan Snyder. And let's take this opportunity to give thanks that Snyder has nothing to do with college football.
---
3. The NBA appointing Oklahoma City Thunder owner Clay Bennett -- a man who bought the Seattle SuperSonics in 2006 and claimed he had no plans to move them, despite ample subsequent evidence to the contrary -- to lead its relocation committee is like: ________________.
Hruby: Isiah Thomas writing a leadership and success manual for winning in the games of sports, business and life. Oh, wait -- this already happened.
Philbrick: The NBA's version of "Breakout Kings."
Schoenfield: The Mariners having one of the worst offenses of all time in 2010 and then signing Brendan Ryan, a guy who hit .223 last year.
Hruby: That's a little obscure, even for me.
Schoenfield: Well, now you know who Brendan Ryan plays for.
Hruby: Also, I now know who Brendan Ryan is.
Philbrick: That pretty much sums up Seattle sports.
Gallo: ... is like the greatest idea ever. Who knows more about relocation than him? It would be like appointing Blake Griffin to the dunk committee or Brian Scalabrine to the mascot committee.
Hruby: It's also like the same financial credit rating agency that was handing out AAA scores to crappy subprime CDOs during the housing boom now rating U.S. government debt. Oh, wait -- that just happened as well. Truth 2, Fiction 0.
Caple: I don't know because I'm still trying to imagine what goes on at a meeting of the relocation committee. Clay: I'm holding off final approval of your relocation for now. I'm not convinced you've tried hard enough to f--- over Sacramento's fans or Anaheim's taxpayers yet. C'mon, guys. SQUEEZE!!!
---
3a. Quick follow-up: What would have to happen for the Sacramento Kings to remain where they are?
Gallo: Sacramento stays put if Game 6 of the 2002 Western Conference finals had competent officiating. The NBA wouldn't allow an NBA title town to lose its team less than 10 years after winning it all. Something like that can only happen 25 or more years after a title. Ask Seattle.
Hruby: Seattle taxpayers would have to approve public financing for a shiny new arena with luxury boxes and a sweetheart lease deal to be built in Sacramento, followed by MTV filming the next season of "Jersey Shore" at The Palms.
Philbrick: Pretty simple actually. All you would need is a DeLorean, a flux capacitor and 1.21 gigawatts of electricity. Huey Lewis music is encouraged, too -- but not mandatory.
Schoenfield: Gold is discovered in the Sacramento River?
Hruby: They have a river?
Caple: Yes. It's the one the Maloofs sold the fans down.
---
4. The NHL cracked down on Detroit fans' longstanding tradition of celebrating goals by throwing octopi onto the ice. Fair or foul? And what should Red Wings fans throw on the ice instead?
Caple: Gary Bettman.
Philbrick: Is this the final part of some grand conspiracy to crush any enjoyment one would get from being from Detroit? I mean, we already made them draft Darko Milicic and claim Kid Rock. Have we no shame?
Schoenfield: Foul! This is the best tradition in sports, other than a losing hockey team getting into a fight in the final 15 seconds of a game.
Hruby: I'm indifferent. Just so long as they don't start tossing shrimp cocktail. Shrimp cocktail is delicious.
Gallo: I don't like seeing long-standing sports traditions come to an end. The NHL is also hurting local bars with this decision -- I assume someone smuggles an octopus in his/her pants only after imbibing massive quantities of adult beverages.
Hruby: Hey, if you're intoxicated enough to put an octopus down your pants in the first place, you're probably intoxicated enough to not want to take it out. If you know what I mean.
---
5. Oakland A's center fielder Coco Crisp's new Afro: (a) glorious; (b) ridiculous; (c) other?
Hruby: (d) All of the above. I nominate it for immediate, no-vote-necessary induction into the Page 2 Bad Sports Hair Hall of Shame.
Gallo: I think it looks great. In fact, with the added protection it will provide against head injuries, I propose massive Afros become mandatory throughout all levels of sport.
Hruby: Agreed. And never mind concussions: If nothing else, a Crisp-esque 'do could have saved Jose Canseco everlasting outfield embarrassment.
Schoenfield: (a) Glorious. As long as, like Oscar Gamble, he appears that way on all his baseball cards.
Hruby: Does Gamble know a good patent infringement lawyer?
Caple: Glorious. But looks like he'll need to borrow Bruce Bochy's cap.
Philbrick: A genius marketing ploy by Coco. First, he spent some time in the offseason hanging out with Charlie Sheen, now he's a walking solar eclipse. He's well on his way to being famous for being famous -- that way no one will even notice, let alone mention, his .224 average.