Party of Five has NBA Finals fever
Originally Published:
June 8, 2011
Page 2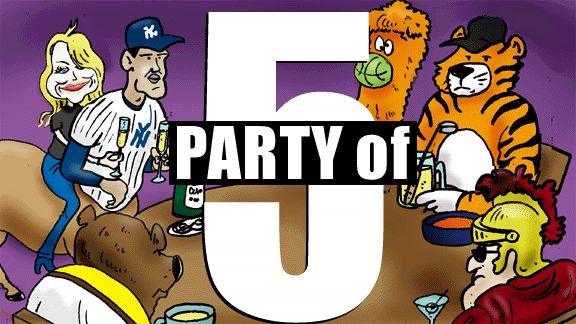 Kurt Snibbe/ESPN.com
Welcome to another edition of Page 2's Party of Five, where five writers tackle five questions that the world needs answered right now.
(Or later, depending on how much time you have to kill.)
Today, we'll discuss the NBA Finals, USC football, Tiger Woods, Terrelle Pryor's future and America's sweethearts (Alex Rodriguez and Cameron Diaz).
1. The NBA Finals are all tied at 2-2, and there have been plenty of dramatic storylines, including three straight games coming down to the last shot, and a sickly Dirk Nowitzki. What would be the most entertaining way for this Mavs-Heat series to end?
Thomas Neumann: Game 7. Final seconds of sextuple overtime. Game tied. LeBron James, Dwyane Wade, Chris Bosh, Dirk Nowitzki and Jason Terry have all fouled out. Miami runs an isolation play for Juwan Howard, 38, who is defended by Brian Cardinal, 34. Meantime, the play develops so slowly that the collective bargaining agreement elapses and the championship remains undecided as a leaguewide lockout is imposed.
Dave Wilson: Pat Riley fires Erik Spoelstra and coaches the Heat in Game 7, where Miami has a chance at a game-winning shot until Juwan Howard calls timeout with none left. Mavs owner Mark Cuban then announces he's running for president.
DJ Gallo: Game 7. Start of the fourth quarter. It's all tied up. Suddenly, LeBron James calls timeout to hold a special TV event called "The Decision 2," in which he announces whether he plans to be a factor offensively in the fourth quarter or will just focus on defense.
Jim Caple: Game 7, tied scored 90-90, seconds ticking down, Wade kicks the ball out to LeBron ... who calls timeout to announce he is signing with another team to be chosen on a prime-time special. At that point, commissioner David Stern rushes the court to declare the lockout is in force and sends everyone home unhappy. And then viewers get to see an exciting very special episode of "Dancing with the Stars" starring Jim Tressel and Sarah Palin.
Michael Philbrick: I really don't care as long as it involves the following: Chris Bosh in tears (not of joy), LeBron James answering more unsubstantiated rumors about why he flaked out in the playoffs, Dwyane Wade angrily removing Charles Barkley from "his 5" on his phone, and a whole year of Dirk and Mark Cuban holding up the trophy at the start of every "SportsCenter."
---
2. USC was stripped of its 2004 national title by the BCS, nearly seven years later. This punishment doesn't really have much impact at this point. What do you think would be a more appropriate fate?
Neumann: The appropriate sanctions would be twofold: (1) mandate that the Trojans sign Lane Kiffin to a lifetime contract as head coach; (2) stop the animal abuse immediately!
Wilson: Instead of having access to football video, all film sessions consist of episodes of the "Real Housewives of Orange County." And Vicki, the insurance agent, is the new compliance officer.
Caple: That's easy. Take a page from the folks at Guantanamo who tormented prisoners by playing heavy metal at ear-piercing levels. Require that every potential USC recruit must sit in a sealed, flourescent-lit room and repeatedly listen for 72 hours to that damn "Tribute to Troy'' song the band plays about 1,000 times a game. Or would that be considered a recruiting violation?
Philbrick: I think Pete Carroll (yes, you Pete, sorry ... either you knew and said nothing or you're clueless) and Reggie Bush should go door to door offering to reimburse anyone who bought anything that said "USC: 2004 National Champions."
Gallo: Make USC run its football program exactly like its basketball program. That will ensure the Trojans stay irrelevant for a long time.
---
3. Tiger Woods hasn't won in his past 22 tournaments. Is it still disappointing that he's not playing in the U.S. Open for the first time since 1994?
Wilson: It's always upsetting when the 15th-ranked golfer can't make a major tournament. But thankfully, golf fans can still watch the real stars up atop the rankings, like Lee Westwood and Martin Kaymer.
Neumann: Terribly disappointing. It's no secret that a large number of casual golf fans tune out if Tiger isn't in contention, let alone when he isn't competing. But the real losers are the staff at the hotel where Tiger was planning to stay. They can kiss that 5 percent tip goodbye.
Caple: As a viewer, I'm disappointed. Admit it, a tournament is more exciting with him in it. But people visiting or living near Congressional must be relieved that the local Waffle House will be fully staffed at all times during the tournament now.
Gallo: Disappointing? Not at all! I purchased expensive tickets for the final round way back in the fall because I was totally pumped to watch golfing superstar Luke Donald live! (Really, I have four tickets. If there is anyone out there who is somehow an even bigger Luke Donald fan than I am, I will listen to offers.)
Philbrick: Wait, the Tiger Woods from the video game is a real person? I just thought he was the made-up star of the show, like Mario or John Madden.
---
4. Ohio State quarterback Terrelle Pryor says he won't return for his senior year, citing the "best interests of my teammates." Where will we see Pryor next?
Wilson: My money's on "30 for 30: MC Hammer and Terrelle Pryor, The Curse of the Gold Pants." Or maybe signing some autographs down at your local Expo Hall.
Neumann: The NFL supplemental draft. I predict he will be selected somewhere between HGH and creatine.
Caple: Dotting the ''i'' in script Indianapolis (a very complicated marching band formation, by the way).
Philbrick: We're talking about the same dude who announced on national signing day that he was attending "University of Ohio State," right? I couldn't tell you where we will see him because I'm pretty sure he doesn't even know where he is right now.
Gallo: I think he should return to Pennsylvania, where he could be mentored by Michael Vick and Ben Roethlisberger.
---
5. 5. After gut-wrenching rumors that Alex Rodriguez and Cameron Diaz had split, the two were seen looking at houses in Miami. How relieved are you that they're still together?
Wilson: It's a relief. Because if two sophisticates like them -- the class of the cinema and sports worlds -- can't make it, then really what hope is there for the rest of us?
Neumann: Hate to be the wet blanket here, guys, but Diaz is 38. She has a rapidly declining WAR (wealth above replacement), which could in turn cause her VORP (value over replacement partner) to plummet. So clearly, the Pythagorean expectation for this relationship isn't good.
Now, if we can only find a love connection for Cousin Yuri ...
Caple: I think you're right, Thomas. Anna Faris has more upside at age 34. And personally, I've never gotten over Diaz dumping Brett Favre at the end of "There's Something About Mary.'' Favre couldn't eat popcorn for months. I mean he literally couldn't eat it because Cameron wasn't available to hand-feed it to him.
Gallo: Why are we talking about A-Rod's relationship instead of Derek Jeter's? To paraphrase Jason Segel in the Cameron Diaz film classic "Bad Teacher": "Jeter has five rings to A-Rod's one. IT'S THE ONLY ARGUMENT I NEED, SHAWN!!!"
Philbrick: Extremely. Since A-Rod seems to be hell-bent on creating an army of gun-show-toting dudes one lady at a time, I'm just glad the buck is stopping with D-Cam (see what I did there? You're welcome.) He needs to be stopped. According to our advanced computer models, this is what Scarlett Johansson would look like after three dates with A-Rod. Be afraid.
Neumann: Nice work, Philbrick. I'll call Cousin Yuri and tell him we've found him a date!