I do not have a grasp of death. Never have.
I didn't grasp death when, as a 14-year-old boy in 1986, I called the 99-cent Sports Hotline and heard, "New Boston Celtic Len Bias has apparently died of a cocaine overdose." I didn't grasp death when, in 1999, I saw my 85-year-old grandmother lying on her bed, eyes closed, mouth slightly ajar, lifeless.
I sure can't grasp death now.
As I write this, I am staring at the MySpace page of Sara Monnat -- a person I have never met, yet someone I feel I know. Like millions of American girls her age, Sara (actually, call her "Sar" -- everyone else did) loved boys, tanning, shopping and the proverbial "hanging out with friends." She worked at two restaurants -- T.G.I. Friday's and Flaherty's -- and possessed a pair of almond-shaped hazel-brown eyes that could warm the coldest of strangers.
Although Sar's MySpace page featured the quote "Good girls do bad things," the bads in her life were awfully good. She was loyal, honest, decent and loving. In September, she was planning to begin her freshman year at Canisius College, where she would study marketing on a full academic scholarship.
Last week, in a tragedy that should be generating a significantly bigger outpouring in the sports world than it has, Monnat and four other recent graduates of Fairport High School in upstate New York were killed in one of the worst car accidents I have ever heard about. En route to Keuka Lake for a postgraduation celebratory slumber party, the Chevy TrailBlazer driven by Bailey Goodman, 17, collided head-on with a tractor-trailer, burst into flames and landed in a shallow ditch -- charred and partially stuck beneath the truck.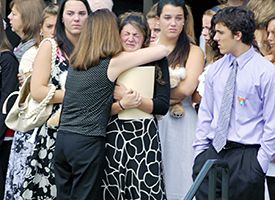 AP Photo/Kevin Rivoli
It will take the Fairport community a long time to recover from this tragedy.
All the girls were 17 or 18 years old.
All the girls had received their diplomas five days earlier.
All the girls were planning to attend college.
All the girls are gone.
Were Monnat, Goodman, Meredith McClure, Katie Shirley and Hannah Congdon merely your average teenagers, chasing boys and hanging out in the parking lot of the local 7-Eleven, their story -- still horribly tragic -- wouldn't belong here. Yet with the exception of Shirley, who left the squad freshman year, these girls were star athletes. Actually, more than star athletes.
They were cheerleaders.
Now, back when I was a kid on the rugged streets of Mahopac, N.Y., cheerleading was a "sport" akin to ChapStick application and water drinking. At my high school, the rah-rahs were -- with rare exception -- selected to the team for their unique ability to:
A. Wear an 80 percent polyester/20 percent nylon miniskirt.
B. Wear it well.
C. Yell, "Go Indians!" with sufficient pep.
D. Wave pompoms for 40-second intervals (with both hands).
That was back in the late 1980s. This is now. In Fairport, a slo-mo town of 5,740 residents best known for being the birthplace of Philip Seymour Hoffman, cheerleading is, to many, everything. At Fairport High, the varsity cheerleaders aren't merely yellers, there to scream and jump and twirl at weekend football games. No, they are the football game. Just four months ago, the Fairport varsity traveled to Orlando and won first place in its category at the American Open National Cheer and Dance Championship. To witness the performance is to witness pure fluidity, pure precision, pure determination, pure grit, pure strength, pure … bliss, in one dazzling motion.
Whereas the cheerleaders I grew up watching were mocked for the inanity of their task and worshiped for the odd popularity that came with it, these girls -- these women -- of Fairport were admired for doing what all great athletic teams do:
Coming together to achieve a universal goal.
Now, in the midst of unfathomable tragedy, those cornerstone values of sports -- togetherness, resiliency, determination -- are called upon more than ever. In the heart of Fairport, where trees blow lazily in the breeze and neighbors greet neighbors and the threat of crime barely exists, there remains a void the size of the Shiva crater. In Katie Shirley's bedroom, hundreds of photographs hang from the walls, an ode to a girl whose personal motto was "live, laugh and love." To Hannah Congdon's teammates on the Fairport varsity lacrosse team, no benchwarmer will ever cheer louder or with more zest. When it comes to hard work, few could match Meredith McClure, who held simultaneous summer jobs lifeguarding, scooping ice cream at Lickety Splits and waitressing at Charley Brown's Restaurant.
And then there is Bailey Goodman. In the wake of the crash, it was reported the 17-year-old was illegally driving at 10 p.m. with a junior license. This became big news in the region, and -- it can be argued -- rightfully so.
But to the friends and family members left behind, Bailey is the girl with the glowing smile, the girl who worshiped her older brother, the girl who cracked jokes nonstop and lived life with an uncommon, uncomplicated vibrancy. "She was outgoing," Elaine Deignan, Fairport's cheerleading coach, told the Rochester Democrat and Chronicle. "She always made people laugh."
For the foreseeable future, Fairport will be in dire need of Bailey's absent laughter. As difficult as it is to accept the death of a loved one, it is 800,000 times harder when it comes at the cost of an unfulfilled life.
Sara Monnat, Bailey Goodman, Meredith McClure, Katie Shirley and Hannah Congdon deserve to be heading off to their respective colleges. They deserve to travel the world and fall in love and raise children and spoil grandchildren and know a life beyond adolescence.
In short, they deserve a whole lot more than a MySpace page.
Jeff Pearlman is a former Sports Illustrated senior writer and the author of "Love Me, Hate Me: Barry Bonds and the Making of an Antihero," now available in paperback. You can reach him at anngold22@gmail.com.