Three years ago, shortly after the death of Ken Caminiti, San Diego Padres general manager Kevin Towers told reporters that one of his great regrets was not confronting his star third baseman about his suspected steroid abuse.
Said a contrite Towers: "You could not help but think, 'Could I have done something differently that might have changed what happened to him?'"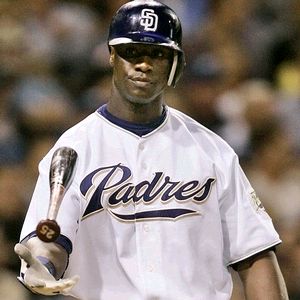 AP Photo/Lenny Ignelzi
Mike Cameron -- just the latest athlete to fail a drug test and blame it on a "tainted supplement."
At the time, Towers' mea culpa was strikingly refreshing. As most of his peers cowered behind the old "I'm shocked!" alibi of ignorance, Towers stepped up and admitted that, had he put his foot down about illegal performance enhancers, perhaps Caminiti's ashes wouldn't be buried beneath a tree on a ranch in South Texas. Perhaps Caminiti would still be alive, enjoying his retirement and his three children.
With this is mind, I was saddened to read Towers' reaction to the news earlier this week that Mike Cameron -- San Diego's center fielder for the past two seasons and a pending free agent -- had tested positive for a banned stimulant for the second time in his career and will be suspended for the first 25 games of the 2008 season. Was Towers angry that, after so much controversy over cheating in baseball, one of his charges apparently sought an unfair advantage? Was he concerned that perhaps Cameron was putting his health at risk? Was he baffled by yet another ballplayer who failed to learn the lesson from Caminiti's demise?
Uh … no.
"I hope it doesn't hurt Mike," Towers told Tom Krasovic of the San Diego Union-Tribune. "He's a good man. He was a great teammate. He made a mistake here and certainly will have to pay for the public embarrassment that will come to him and his family. But knowing Mike, he is someone who can turn a negative into a positive."
It's official: I give up. I truly give up. Will someone please tell me exactly what needs to happen for baseball's executives to stop hailing -- and start punishing -- cheaters? When do we begin demanding some responsibility from not only the athletes, but the men wielding the dollars and power? For far too long, we've been happy to sit back and tar Barry Bonds as a fraud while praising San Francisco Giants owner Peter Magowan for dishing out the cash to keep Bonds in orange and black (until, that is, Magowan decided Bonds was no longer a sound investment). We damn Jason Giambi's apparent willingness to fill himself with secret sauce, yet we never, ever question whether the saintly Joe Torre might have suspected his neckless DH was loading up on more than mere guava juice and fennel extract.
Midway through last season, Sports Illustrated fawned over New York Mets general manager Omar Minaya, placing him on its June 18 cover alongside the words: "MIX MASTER: The Unlikely Story of How Omar Minaya Created the Melting-Pot Mets." That's the same Minaya who, six months earlier, re-signed reliever Guillermo Mota to a two-year, $5 million deal even though the mediocre right-handed relief pitcher was going to miss the season's first 50 games after flunking a steroid test. "Guillermo took responsibility for his actions and expressed extreme remorse for his mistake," Minaya said at the time. "He handled himself in a stand-up manner."
What counts for "stand-up" in sports these days? Yes, Mota took responsibility for using steroids. But his "I have no one to blame but myself …" statement came only after he was caught. Would the 34-year-old have been so forthright had his masking agents performed better than his fastball? Doubtful.
And now we have to deal with Cameron. Shortly after his suspension was announced, the former All-Star "stood up" in explaining that he was damned by -- of all the gosh-darn bad luck -- "a tainted supplement."
"It was probably something I was taking as far as an energy drink or whatever," Cameron told AM-1090, the Padres' flagship radio station. "I can't really call the name out because it would not be right for me to call a name out … in a situation where I could have a lawsuit."
Such old-fashioned, I'm-guessing-y'all-are-dumb-enough-to-believe-anything excuse-making is hardly new to the world of organized athletics. When Orioles first baseman Rafael Palmeiro was suspended for using a banned substance in 2005, he told the Baltimore Sun, "You just have to be careful with what you take. You have to make sure that you see a doctor … that you're taking them from a reputable source. It happened to me, and it could happen to everyone." Turns out Palmeiro tested positive for -- ahem -- stanozolol, which is a mere "tainted supplement" like crack is a headache pill. Other victims of those pesky "tainted supplements" include Chargers defensive lineman Shawne "I'm truly a good person" Merriman, shot-putter C.J. Hunter, bobsledder Pavle Jovanovic, cyclist Christophe Brandt and dozens upon dozens of other well-meaning, in-the-wrong-place-at-the-wrong-time, I-thought-it-was-a-Flintstone-vitamin innocent people just playing for the love of the game.
Fortunately for Cameron, he participates in a sport in which the content of his blood stream matters significantly less than the 21 homers and 78 RBIs he put up last season. Without fail, some organization -- Yankees? Braves? Dodgers? -- will offer him a new contract.
That Mike Cameron cheated (translation: lied) to gain an edge matters not. In sports, after all, character has nothing to do with how you live -- and everything to do with your willingness to die.
Jeff Pearlman is a former Sports Illustrated senior writer and the author of "Love Me, Hate Me: Barry Bonds and the Making of an Antihero," now available in paperback. You can reach him at anngold22@gmail.com.