Because we who chronicle sports possess remarkably foggy memories, it's easy to forget that nothing in our universe is truly new. Before there were the 2007 New England Patriots -- "The greatest team of all time!" -- there were the 1985 Chicago Bears -- "The greatest team of all time!" Before Jose Reyes came along with "the best shortstop arm I've ever seen," Garry Templeton came along with "the best shortstop arm I've ever seen!" Earl "The Pearl" begat Dr. J, who begat MJ, who begat Kobe, who begat LeBron, who begat …
It's for this reason that Yankees fans who are shocked by their team's willingness to let Alex Rodriguez depart need to be reminded that, some 26 years ago, the exact same scenario took place.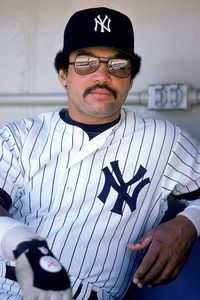 Rich Pilling/MLB Photos/Getty Images
The Yankees made the playoffs four times in Reggie's five seasons with the club.
At the time, those Yankees -- like these Yankees -- were being browbeaten as unforgivable failures. Having just dropped the 1981 World Series to the inferior Los Angeles Dodgers (after winning the first two games, no less), New York's players watched helplessly as George Steinbrenner apologized to the fans, going so far as to label Dave Winfield "Mr. May" for his 1-for-22 Fall Classic output. The Yankees, in Big Stein's mind, were lethargic and disinterested; haphazard and passionless. In other words, an overhaul was in order.
At that time, a mere three years removed from his brightest postseason moments, Reggie Jackson still owned New York City. He was Mr. October, the king of clutch. Though he had committed a key defensive gaffe in Game 4, blame hardly rested on the right fielder, who batted .333 against L.A. and was one of the few Yanks who didn't look like a Little Leaguer thrown into a typhoon.
Like Rodriguez, Jackson was both an All-Star and a ubiquitous media whore. He endorsed candy bars, batting gloves, beer, automobiles and more. How many other athletes starred (badly, we must add) as themselves on both "The Love Boat" and "Diff'rent Strokes"?
And yet, after his club's "humiliating" defeat to the Dodgers, Steinbrenner believed an earth-shattering revamping was in order. Just as A-Rod has come to symbolize all that is wrong with the modern Yankees, Steinbrenner viewed the soon-to-be 36-year-old Jackson as a sandbag; a relic playing in the wrong era. A new season loomed, and the faces of the game were now Rickey Henderson and Tim Raines and Omar Moreno and Rodney Scott. We need speed, baby. Deadly, unstoppable speed.
REGGIE AND THE YANKEES
How the Yankees fared with Reggie Jackson and after his departure:

With Reggie:
1977: 100-62, won World Series
1978: 100-63, won World Series
1979: 89-71, fourth place
1980: 103-59, lost ALCS
1981: 59-48, lost World Series

After Reggie:
1982: 79-83, fifth place
1983: 91-71, third place
1984: 87-75, third place
1985: 97-64, second place
1986: 90-72, second place
So, despite the protestations of 99.99999 percent of Yankees fans, Steinbrenner let Jackson walk away as a free agent, watching with a Cheshire-cat grin as the slugger signed a four-year, $4 million contract with the California Angels. ''Sure, you miss a Reggie Jackson, but just let 'em keep thinking we don't have home run power," said Steinbrenner, who drooled as visions of Steve Balboni, Bob Watson, Oscar Gamble and Dave Revering danced in his head. "They're in for the biggest surprise in their life.''
Surprise! In 1982, the Jackson-less Yankees finished 79-83, wallowing in fifth place while going through three (yes, three) managers -- Bob Lemon, Gene Michael and Clyde King -- and ceaseless beatings and bickerings.
Like these modern Yankees, those Bronx Bombers placed themselves in a terrible position. And whoever winds up winning the "Step In For A-Rod At Third Base" sweepstakes (Wilson Betemit? Mike Lowell? Joe Crede?) should do himself a favor and call Dave Collins and Ken Griffey Sr., the two men Steinbrenner signed to fill in for Jackson.
Upon joining their new club, neither Collins nor Griffey seemed especially overwhelmed by the task. Both could hit to the gaps, turn singles into doubles, steal bases and score runs. "Baseball is a 25-man effort," Griffey told Sport magazine. "You can't rely on one guy all the time. The important thing is being consistent."
Collins and Griffey were consistent the following season, all right. Consistently inept. Neither man batted above .280. The two combined for 15 home runs and 79 RBIs. And worst of all, they combined to steal a whopping 24 bases.
Meanwhile, in Anaheim, Jackson had one of the best seasons of his career, putting up 39 home runs and 101 RBIs while carrying a previously hapless franchise to the playoffs. In his return game at Yankee Stadium, Jackson homered off Ron Guidry, rounding the bases to a chant of, "Steinbrenner sucks! Steinbrenner sucks! Steinbrenner sucks!"
These days, Steinbrenner no longer sucks. He's a hero to most Yankees fans, a man willing to spend at will to bring home a championship. But with his sons officially running the show, and A-Rod running off to Los Angeles or San Francisco or maybe even the crosstown Mets, the ghost of Yankees past may well haunt a stadium in its final throes.
No, it's not the Curse of the Bambino.
It's the Curse of Dave Collins.
And it bats .253.
Jeff Pearlman is a former Sports Illustrated senior writer and the author of "Love Me, Hate Me: Barry Bonds and the Making of an Antihero," now available in paperback. You can reach him at anngold22@gmail.com.