The other day I submitted a column to my editor that was lathered in snark. That's pretty much all I've been shooting off lately -- one snarky piece after another. It's a trap writers fall into from time to time.
We start to believe opining on the negatives of sports is more fruitful than opining on the positives. So we unload on steroids and dumb jocks and David Carr and Pittsburgh's middle relief, quite certain that's what you, the customer, covets.
"There's a fine line between being cynical and coming across as bitter," my editor said. "The readers are turned off by bitter, and I believe it makes them a lot less likely to read future pieces of yours."
This, to be honest, confused me. Frustrated me. Infuriated me.
Woke me the hell up.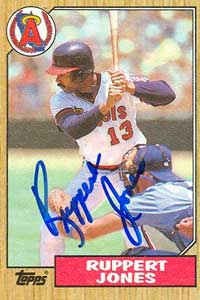 Topps
Gum stain on the back.
Although it doesn't always show, I love sports. Love them. I love walking into the Toronto Blue Jays' clubhouse and finding Sal Fasano -- the ultimate baseball survivor -- standing there with a goofy smile and tobacco juice dripping down his chin. I love watching the David Tyree catch on YouTube over and over again. I love little guys who have no business being here: Spud Webb, Harry Chappas, Theo Fleury.
I love the big white goons from 1980s basketball (where's Greg Butler when we need him?) and the way Slam magazine used to randomly place Shawn Bradley photos throughout its pages.
I love how sports memories are 1,000 times more potent than those of a stupendous meal or even a first kiss. I can close my eyes and mentally return to May 6, 1990, the day I won my 800-meter heat in the Class A track and field championships. With about 20 yards to go, I dashed past the kid in front of me, stuck out my tongue and chirped, "See ya!" Was it classy? No. Good sportsmanship? No. But Michele Sheehan, the girl with the dimples, was standing at the finish line, laughing as the warm rain soaked her auburn hair. Right now, staring toward the glow of my MacBook at 11:25 p.m. on a Thursday night, I am that boy again. Hopeful. Innocent. Angling for a date to the Mahopac High School senior prom.
I love old baseball cards. The smell. The texture. The factoids. Lenn Sakata spent his winter vacationing in Peru. Hubie Brooks enjoys cheeseburgers. Hosken Powell dabbled in art. I love flipping through a pack of Topps, the hardened piece of rectangular bubble gum nestled comfortably between Ruppert Jones' face and Larry Gura's lifetime statistics.
I love what this job has allowed me to witness. Tony Gwynn leading his Padres teammates back onto the field to thank the fans after winning the 1998 NLCS. Robin Ventura's walk-off grand slam single. Luis Gonzalez smoking one up the middle. Torii Hunter diving to his left.
Francisco Rodriguez vs. Barry Bonds. Roger Clemens vs. Mike Piazza. Alan Levine vs. Cody Ross.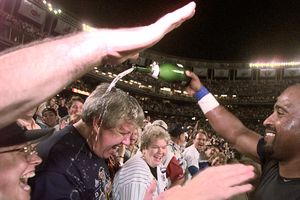 AP Photo/Eric Draper
Greg Vaughn and the Padres celebrated back in '98.
I love that I will never forget Liza Minelli belting out "New York, New York" during the seventh-inning stretch at Shea Stadium on Sept. 21, 2001. It was the first sporting event in my hometown since the terrorist attacks, and the only time in 10 days that I thought, "Hmm … maybe we'll be OK."
I love that I once interviewed Lou Piniella while he was simultaneously urinating, smoking a cigarette and eating a hoagie.
I love that I sat on the sand of Manhattan Beach as Barry Zito showed off his surfing moves. I love that I applied for the 1993 NBA draft as an early entry, even receiving a call from league officials asking, "And who are you?" I love that I was a student at the University of Delaware in 1992 when the Blue Hens qualified for their first NCAA tournament. I love how, while I have no idea where my car keys are right now, 16 years later I can tell you Delaware's starting lineup was Alex Coles, Anthony Wright, Spencer Dunkley, Mark Murray and Brian Pearl. I love how I truly believed we'd beat Cincinnati. I love how my knees shook beneath the table at Dayton Arena; how my palms were sweaty. I even love how we lost by 38 points. We were there, right? We were there …
I love that three weeks ago, as my best friend sat behind his desk at Deutsche Bank, I was basking in the Arizona sun, watching the Texas Rangers take batting practice. One older woman arrived each morning with cookies for her favorite players -- Oreos for Kevin Mench, chocolate chip for Michael Young. I love that. I mean, I really love that.
I love the opening round of the NCAA tournament. The first few minutes of a game, when Binghamton is leading Kansas 6-3 and the impossible seems possible. I love Siena upsetting Stanford, Coppin State upsetting South Carolina, Vermont upsetting Syracuse, Princeton coming this close to upsetting Georgetown. I love that Belmont's Keaton Belcher can stand alongside Kansas State's Michael Beasley and say, "I belong here."
I love sports names. I love Taylor Coppenrath, Orlando Woolridge, Dewon Brazelton and Alge Crumpler. I love Coco Crisp, Flozell Adams, I.M. Hipp and Mike Augustyniak. I love Nuu Faaola even more than I love Mosi Tatupu, but not quite as much as I love Niko Noga.
I love that night a few months ago when I took my 4-year-old daughter to her first hockey game. Though Nassau Coliseum is one of the worst arenas in the NHL (damn -- I slipped), to Casey it dazzled like the Taj Mahal. With eyes the size of pucks, she gobbled down popcorn and ice cream and cotton candy. When I told her the Capitals had a player named "Potty" (defenseman Tom Poti -- OK, so his name is actually pronounced Pot-ee), she squealed with delight. "Go Potty!" she yelled. "I've gotta go Potty!"
I love that.
Boy, I really love that.
Jeff Pearlman is a former Sports Illustrated senior writer and the author of "Love Me, Hate Me: Barry Bonds and the Making of an Antihero," now available in paperback. You can reach him at anngold22@gmail.com.