Editor's note: The following is an excerpt from Jeff Pearlman's new book "Boys Will Be Boys: The Glory Days and Party Nights of the Dallas Cowboys Dynasty," copyright 2008 by Jeff Pearlman. Reprinted with permission of HarperCollins.
On the morning of Super Bowl XXX, Larry Brown woke up, brushed his teeth, took a shower, ate some breakfast and, before leaving the hotel for Sun Devil Stadium, heard his wife ask, "Larry, are you nervous?"
It was a fair question, in that Larry Brown was almost always nervous. Whether he was playing for Texas Christian or the Dallas Cowboys, rare were the pregame rituals that didn't include heaping spoonfuls of anxiety. For some reason, this day was different.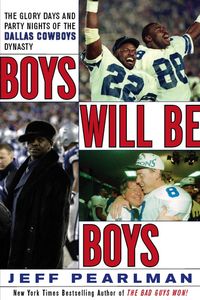 "Nah," he said. "With Deion on the other side they're going to be throwing at me all day. I plan on picking off two or three balls by the time it's over."
Although Cheryl would later boast of her husband's Nostradamus-like moment, it didn't take a starting NFL defensive back to know that, in the battle of quarterbacks, Dallas possessed a tremendous advantage. While Pittsburgh's secondary had to contend with the strong-armed Troy Aikman and his two favorite targets, Michael Irvin and tight end Jay Novacek, Dallas' defense would be facing Neil O'Donnell, the league's most ordinary signal-caller.
A fifth-year veteran out of the University of Maryland, O'Donnell possessed above-average accuracy, slightly below-average arm strength and an introverted personality that hardly inspired teammates. "Neil was very self-critical," says Mike Tomczak, Pittsburgh's backup quarterback. "He was a tough kid from New Jersey who strived for perfection." O'Donnell's stats were always more impressive than the actual, in-the-flesh player. Over 12 games during the '95 season, he threw for 2,970 yards and 17 touchdowns, with a mere seven interceptions. "Was Neil a good quarterback?" says Andre Hastings, a Steeler wide receiver. "Well, he was pretty OK, I guess. But I would never say he was a Hall of Fame or Pro Bowl type of guy. He did his job."
"I look at it this way," says Ernie Mills, another Steeler receiver. "We ran a lot of four- and five-receiver sets, so somebody was going to be open."
After the requisite two weeks of hype, Sunday evening finally arrived. It was a mild evening in Tempe, Ariz., -- 70 degrees, little breeze, a blue, cloudless sky. As America's Team, the Cowboys were used to charging onto the field and hearing substantially more cheers than boos. Such was certainly the case in the previous two Super Bowls, when the Cowboys were the Rolling Stones playing Madison Square Garden and the Buffalo Bills were Bad Ronald at the Stormville Flea Market. This time was different. The Steelers represented every blue-collar American fatigued by the whole flash-and-dash Dallas mojo. It didn't hurt that Pittsburgh had won an NFL-high four Super Bowls, a past that made the Steelers one of the league's more popular franchises. "Usually when we came to Arizona, if there were 75,000 fans at the game, 50,000 or so were Cowboy fans," says Dale Hellestrae, Dallas' long snapper. "Well, this time we go running onto the field for pregame warm-ups and we're getting booed. Cowboy fans were outnumbered by Steelers fans and those Terrible Towels are everywhere. I remember us looking around and going, 'What the hell is going on here?'"
Dallas took the opening kickoff and casually marched down the field behind a 20-yard pass from Aikman to Irvin followed by a 23-yard Emmitt Smith run. Though they settled for a 42-yard field goal from a shaken Chris Boniol ("I couldn't make a kick from 25 to 45 yards in pregame," Boniol says. "I mean, not one."), the Cowboys had set a tone.
After limiting Pittsburgh to three plays, Dallas dominated again, this time starting at its own 25-yard-line and confidently attacking the vaunted Steeler defense. The key play -- the sort of play that becomes a game's signature -- came on a first down and 10, when Aikman dropped back and launched a 47-yard spiral to Deion Sanders, who dashed past cornerback Willie Williams to make an artistic, over-the-left-shoulder haul. Four plays later Aikman hit Novacek, who tiptoed into the end zone from three yards out. When Boniol kicked another field goal on the following series, the score was 13-0.
Across the nation, 94.8 million TV viewers began to wonder whether Diana Ross' halftime extravaganza would feature songs from her Supremes days or the solo years.
"Those Cowboys sure didn't lack for confidence," says Kendall Gammon, the Steelers' long snapper. "But neither did we. We were new to the Super Bowl, so maybe there were some nerves. But we were too good to lie down and get our butts kicked."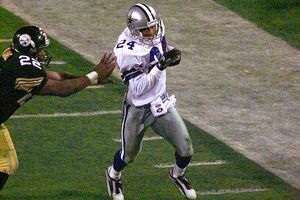 AP Photo/Beth Keiser
Larry Brown parlayed two Super Bowl interceptions into a $12 million pact with the Oakland Raiders.
Following an exchange of punts, Pittsburgh attacked. Facing a third-and-20 from his own 36-yard line, O'Donnell rifled a 19-yard bullet to Hastings. "That was awful," says Switzer. "(Linebacker) Darrin Smith was supposed to play zone and just stay in the middle. Instead he followed a receiver and (Hastings) was wide open. If the players just followed my damn instructions, we would have won easily."
On fourth-and-one, Bill Cowher's directive was a simple one: Make a first down and steal momentum. Come up empty again, and the night belongs to Dallas. Into the game came rookie receiver/running back/quarterback Kordell Stewart, who gained the needed acreage with a three-yard dash. As Stewart popped to his feet, thousands of Terrible Towels twirled in the air, transforming Sun Devil Stadium into a swaying black-and-gold ocean. With 13 seconds remaining in the first half, O'Donnell hit receiver Yancey Thigpen with a 6-yard touchdown strike. A potential blowout had turned into a legitimate battle. Halftime score: 13-7.
"We were rejuvenated," says Hastings. "The rest of the game was going to belong to us." In the Steelers' locker room, Cowher was at his fiery best. The players loved their head coach because he never concealed an emotion; instead, he was known for shoving his ironworker's jaw in a Steeler's face and screaming or crying or laughing. Now he was all rage. "Those [SOBs] thought you were nothing!" he screamed. "They thought they were going to run all over you! They thought you were a joke. Well, they're not laughing anymore! We took their best shots! Now it's our turn! Let's go take what's ours ..."
As Cowher spoke, not a peep was uttered from his players. Pittsburgh had endured two weeks of ridicule, and it stung. The players stormed back onto the field with a fire Dallas lacked. This was about disrespect; about payback; about overcoming the odds and doubters. "You hear enough trash, you snap," says Hastings. "We snapped."
After dueling unsuccessful drives to start the third quarter, Pittsburgh began to grind its way down the field, rolling over a sagging Cowboy defense to its own 48-yard line. Facing third down and nine, O'Donnell received the snap, took five steps backward and was pressured by Chad Hennings, who charged through the middle of the Pittsburgh line. On the verge of being sacked, O'Donnell tossed the ball to the outside, where he expected to find an uncovered Mills. Instead, it floated into the arms of Brown, who returned it 44 yards to the Steelers' 18. On the Dallas sideline, players lept with excitement. "I can't lie," says Brown. "That one was a gift." With 6:42 left in the third quarter, Emmitt Smith ran in from one yard away, handing Dallas a 20-7 advantage.
"That was Neil's fault," says Mills. "He played great for us that season, but on the one play he made a really bad read."
The Steelers and Cowboys traded aborted drives, and when Pittsburgh got the ball again, it used nine plays to advance from its own 20-yard line to the Cowboys' 19. But on third-and-eight, O'Donnell was hammered by Dallas defensive end Tony Tolbert, who slammed the quarterback down for a devastating nine-yard loss. A 46-yard field goal from Norm Johnson cut the Dallas lead to 20-10 with 11:20 left in the game, and then Cowher -- a calculated gambler -- took a major chance. With the Cowboys lined up for a run-of-the-mill kickoff, Norm Johnson squibbed the ball off the tee toward the right sideline, where Pittsburgh defensive back Deon Figures scooped it up. First and 10, Steelers, on their own 48-yard line. "At that moment I was thinking, 'We're gonna lose this thing. I can't believe it,'" says Dallas linebacker Jim Schwantz. "Because I thought it was gonna be an easy game. I thought we'd throw our helmets out there and win." Nine plays later, Pittsburgh running back Bam Morris rammed through a one-yard touchdown run, cutting the deficit to 20-17. "Once we got the jitters out," said Steelers cornerback Carnell Lake, "we outplayed them."
It was going to happen. It was really going to happen. The Pittsburgh Steelers were about to beat the Dallas Cowboys. Impossible. Unimaginable. With 4:15 left in the game, Pittsburgh got the ball back on its own 32-yard line, momentum on its side, the fans in a frenzy, one of the greatest upsets in Super Bowl history within reach.
And the Steelers quarterback was nervous.
Extremely nervous.
O'Donnell's eyes were wide and his breaths were deep. "I talked to some offensive guys later and they said Neil wasn't looking so good in huddle," says Jerry Olsavsky, a Steelers linebacker. "I didn't understand that -- we weren't scared on defense. We were never scared on defense."
On first down and 10, O'Donnell scrambled left and threw toward Hastings, who dropped the ball.
On second down and 10, two men sealed their eternal NFL statuses:
One turned into Mookie Wilson.
The other -- Bill Buckner.
O'Donnell and the Steelers bounded out of the huddle convinced they had a play certain to work. O'Donnell would take a four-step drop and fire a pass to Hastings, who planned on using his speed to run a slant route across the field and in front of the sagging Dallas secondary. Worst-case scenario, Hastings scoots for a first down. Best-case scenario, he outruns the Cowboys and scores the game-winning touchdown.
"We were going to pull it out," says Olsavsky. "I felt it."
Aware of O'Donnell's spineless reputation, Cowboys defensive coordinator Dave Campo spent the game urging his linemen to thump the Steelers quarterback whenever possible. "We caught Pittsburgh by surprise by running zone blitzes," Campo says. "We wanted to confuse their quarterback." When the two teams met to open the 1994 season, the Cowboys sacked O'Donnell nine times. The memory was in his head. Had to have been. Now, with a Super Bowl in the balance, Campo wisely called out "Zero!" -- code for a nine-man blitz. Darren Woodson looked toward Brown and shouted, "Larry, be aggressive here! Be aggressive! They're coming your way!" As O'Donnell dropped back, he was harassed by a collapsing wall of defenders. He did what a good quarterback does -- threw to the spot, knowing exactly where Hastings was supposed to be and trusting the route-running abilities of Pittsburgh's second-leading receiver.
Yet instead of slanting one way, Hastings went the other. For the second time that evening, Brown was in the exact right spot at the exact right time -- all alone with a football fluttering his way. It was Christmas and Easter and Kwanzaa and Purim rolled into one, and Brown eagerly caught the ball and dashed 33 yards to the lip of the end zone.
"It was like a cartoon -- noooooooooooooooooo! Poof!" says Hastings. "It was a pretty bad feeling. Like, 'This cannot be happening.' It's one thing to get blown out and say 'OK, it wasn't our Sunday.' But to be that close, it's pretty heartbreaking."
Emmitt Smith scored shortly thereafter, and the game was done. The Steelers had held Smith to 49 yards rushing, limited Irvin to five catches for 76 yards, held Aikman to a single touchdown pass ... and still lost.
Cowboys: 27.
Steelers: 17.
"We gave away the Super Bowl," said running back Erric Pegram. "We gave the darn thing away."
What few Steelers could know in the immediate aftermath was that while O'Donnell was responsible for interception No. 1, it was the inexperienced Hastings who, in the final minutes, cost his team the victory with the errant route. Hastings later publicly blamed O'Donnell, kicking off a mini-war of words among ex-Steelers. "That definitely wasn't Neil's fault," says Tomczak. "He made a read and it was right. Mistakes were committed by other people. But the quarterback always gets blamed."
Though O'Donnell turned into Pittsburgh's No. 1 goat, Brown found gridiron salvation. Upon entering the locker room, he was greeted by an unruly serenade of "L.B.! L.B.! L.B.!" The 12th-round pick was now Super Bowl XXX's unlikely MVP. He would get the car and -- as a pending free agent -- a $12 million contract to join the Oakland Raiders.
Wrote Dan Shaughnessy in the Boston Globe: "(Brown) was like a backup catcher who wins a World Series game by getting hit by a pitch with the bases loaded. He did almost nothing to earn the trophy. Twice Brown was standing in the open field, minding his own business, when an O'Donnell pass came his way. Both of his catches could easily have been made by Mike Greenwell, Jose Canseco, Charlie Brown or Downtown Julie Brown."
Few could argue.
"Man, Larry knows he's lucky," says Briggs, the Cowboy defensive back. "If I'm standing there like he was, minding my own business, I'm the Super Bowl MVP. Shoot, that would have been sweet."
Briggs pauses, taking a minute to reconsider.
"But you wanna know something," he says. "Larry was a great dude. And guys like that deserve to have their moments, too. So, God bless Larry Brown. God bless him."
Jeff Pearlman is a former Sports Illustrated senior writer, and a regular contributor to Page 2. His previous book was "Love Me, Hate Me: Barry Bonds and the Making of an Antihero.". You can reach him at anngold22@gmail.com.