Commentary
Garrett Wittels keeps streak going at FIU
Originally Published:
June 2, 2010
By
Chris Perkins
| Special to Page 2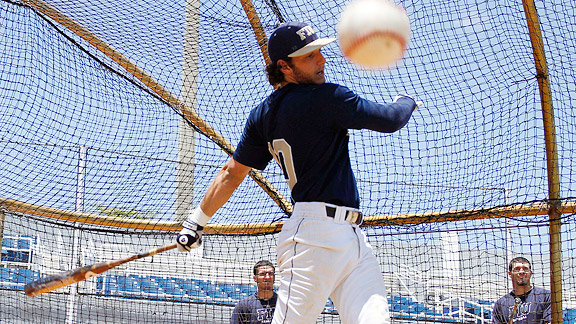 AP Photo/J Pat CarterFlorida International's Garrett Wittels has a 54-game hitting streak, second longest in college history.
MIAMI -- Garrett Wittels sports a shaggy 'do and has a mouthful of bubble gum.
What else would you expect from a guy chasing the longest hitting streak in Division I baseball?
No one knows exactly why Wittels, an infielder at Florida International, is the one on a 54-game hitting streak -- among thousands of Division I college baseball players in America. But FIU reliever Andre Vazquez might have started the ball rolling.
Last season, as a freshman out of Miami's Krop High School, Wittels struggled, hitting .246 and stressing over every at-bat. Vazquez, a close friend, shared some wisdom.
Top Division I Hitting Streaks

FIU's Garrett Wittels' 56-game hitting streak is just two games shy of Robin Ventura's NCAA record, which he set with Oklahoma State.
Streak
Player
58
Robin Ventura, 1987
56*
Garrett Wittels, 2010
47
Phil Stephenson, 1981
45
Roger Schmuck, 1971
42
Chuck Abbott, 1996
* -- active
"I said, 'Look, the way you stay out of a slump is you get that one hit every game,'" Vazquez said.
Sound advice, though it might not have had much to do with the streak. Wittels, like many ballplayers, is superstitious. So he hasn't cut his hair since the streak started and his kid sister and brother -- Nataly, 12, and Stephen, 15 -- still bring him a pack of watermelon Bubblicious gum before every game.
The combination has worked so far. On Friday, Wittels and FIU will take the streak into the NCAA Division I baseball regionals, where FIU (36-23) plays Texas A&M (40-19-1) at the Coral Gables Regional at the University of Miami.
Wittels, who will be eligible for the pro draft after next season, is just four games shy of the Division I record 58-game hitting streak established by Oklahoma State's Robin Ventura in 1987. The longest hitting streak in the major leagues is Joe DiMaggio's 56 games, set in 1941.
Wittels received a call on Tuesday from Ventura, who has been rooting for Wittels to keep the streak going in recent weeks. Even though they've been linked for some time -- Wittels' streak has been making headlines for weeks -- the FIU sophomore didn't know much about Ventura, other than that he played in the majors.
Wittels said it was "a great conversation with Mr. Ventura," and that the two talked about the pressures that come with such a streak.
"He's a great guy," Wittels said. "Just very honored to be mentioned in the same sentence as him."
It's that kind of historical context that has made Wittels think about his accomplishment.
"One was No. 36, when I beat the FIU record, and one was No. 50," he said. "Knowing there's only been three 50-game hit streaks ever really, really got me to sit down and think, but like I said before, we had so many goals coming into the year as a team I really haven't started to reflect on my individual goals yet. After the season when I can really look back on the year is really when I'll start to reflect more."
But Wittels is enjoying the here and now, though he doesn't like the spotlight it has placed on him. He's not much into the individual accomplishment of it all, but he doesn't mind others acknowledging its existence.
[+] Enlarge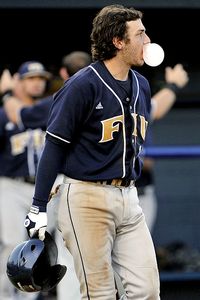 AP PhotoGarrett Wittels' family brings him a pack of gum each game for luck.
"I don't like to keep it on the down low because I'm a very vocal guy," he said. "I preach going out playing hard, being vocal, being a clown, being loose and stuff like that, so there's many different people on the team that talk to me about it."
Turns out, Wittels could have already broken Ventura's streak, but fate intervened. Late last season, Wittels began swinging a hot bat as a replacement for a player with mononucleosis. He took a seven-game hitting streak into the Sun Belt Conference Tournament.
"And stupid me," FIU coach Turtle Thomas lamented, "I put him in the conference tournament for one at-bat because I had no idea, you know, so that's kind of where it went."
The streak has been a bit of a blessing for FIU, long regarded as a little brother to nearby University of Miami. The school has had a rough time in national headlines this year. First, it hired Isiah Thomas, who was fresh off a failed stint with the New York Knicks, as its basketball coach. Then, football player Kendall Berry was stabbed to death on campus.
But now, along comes Wittels, the 6-foot-1, 198-pound, mop-haired sophomore shortstop, and his 54-game hitting streak.
"This is what it's all about in college athletics," said FIU athletic director Pete Garcia, who is probably more relieved than anyone to talk sports.
Wittels' accomplishment has caused chests to swell at FIU. That school-wide pride is something that has given Wittels pause to think.
"I definitely have," said Wittels, who is hitting .412. "FIU, the FIU program, the athletic director, Pete Garcia, as well as all the head coaches are starting to strive in the right direction. We just needed one little thing that would just give energy to the team, give energy to the university so we could definitely start going in the right direction."
The Associated Press contributed to this report.
Chris Perkins is a freelance writer for Sports Media Exchange, a national freelance writing network.