By Mike Philbrick
Page 2
Major League Baseball owners unanimously decided to extend Bug Selig's contract through 2009 on Thursday, giving Selig a huge vote of confidence in his ability to lead the national pastime for the rest of the decade.
Everywhere you looked, there was an owner just waiting to gush over his favorite Bud. New Angels owner Arte Moreno, the Mets Fred Wilpon . . . they all stepped up to the mike to declare Bud their man.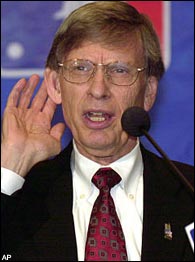 "I said it's really ironic that you sold the Brewers to the Mormons."
Well, we hate to break it to our favorite owners in sports. But after the announcement, we here at Page 2 did what we always do on a slow afternoon -- we fired up the Page 2 Time Machine and took a trip to 2009.
Needless to say, the owners might change their tune if they knew what was being said at Bud's retirement party five years from now. We couldn't stay long, but here are a few thing we overheard ...
"I can't believe Bud approved Steinbrenner signing the unborn children of Albert Pujols."
"Hi, I'm Tom Hicks and I'll be your waiter this evening."
"Wow, to think it's been three years since Curt Schilling was convicted of killing that guy who operates the QuesTec camera."
"The owners definitely had the upper hand in negotiating this last collective bargaining agreement. All the numbers looked great. Well, that is until Don Fehr asked if Bud had 'two tens for a five' ... and you know what happened after that."
"I think it's great that Bud approved the Expos' move to Vegas. I just don't think that group headed by James Gandolfini and the 'technical advisers' from 'The Sopranos' was the right pick."
"I don't have the heart to tell him, but Bud still thinks we contracted the Twins and the A's back in 2002. I know, just play along."
"Looking back, the turning point in Bud's stance on steroid testing definitely changed that night Bonds actually exploded in left field."
"Man, I can't believe Roger Clemens is finally hanging it up. What? When did he sign with the Mets?"
"I know Bud is all about competitive balance, but calling the World Series a tie after Game 6? Come on."
"You have to admit, that winter Arena Baseball League seemed like a good idea on paper."
"I don't know about you, but I still get teary when I think about the time Bud and Pete Rose reunited on the Jerry Lewis Telethon."
"The All-Star Game home field thing, that was pretty harmless. But the 'Men of the MLB Front Office' spread in 'Playgirl'? You know what? Let's just not talk about it."
"Yeah, everyone loves home runs in these smaller parks, but having the World Series in Williamsport, PA? That gets a little boring after a while."
"Hey, he did get that salary cap in. So what if it's $2.6 billion per team! He got the cap, didn't he?!"
"Bud has high hopes for his successor. But you have to be a little worried when George W. Bush says he wants to bring the 'pastimitvity' back to the game."
Mike Philbrick is an editor for Page 2. He can be reached at Michael.W.Philbrick@espn3.com.