Commentary
The Weekly Best for April 20
Welcome to The Weekly Best, where Page 2 compiles the best news items from sports, pop culture and one-man shows.
Best imitation of Sidney Crosby's overtime goal against the U.S. in the Olympics: Dan Boyle of the Sharks -- too bad it was in his own net.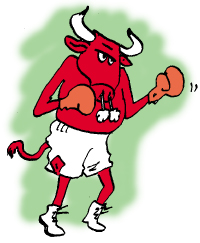 Best postgame activity in the NBA: Getting into a near-fistfight with your head coach, like Bulls VP John Paxson reportedly did with Vinny Del Negro.
Best DH the Red Sox could get for $13 million: David Ortiz and his .158 batting average, zero homers and two RBIs.
Best club in Santo Domingo: Ortiz's Forty-Forty club.
Best get a good lawyer, Big Papi: Jay-Z is suing Ortiz because he came up with the 40/40 name first.
Best give that lawyer's card to Marvin Harrison: Philadelphia police announced they are continuing to investigate a shooting that may be linked to the former Colts wide receiver.
Best option for single dudes who subscribe to the "Gym, Tan, Laundry" way of life: Jersey Shore star Snooki Polizzi, who just declared for free agency.
Best movie that had to move its premiere: "Iron Man 2" moved the party from London to Los Angeles after Icelandic volcano ash wreaked havoc on travel to Europe.
Best gift Sharon Osbourne got for her husband, Ozzy: Her former breast implants as paperweights.
Best magic act in baseball: Jake Peavy's disappearing ball trick, with help from his assistant, Alex Gonzalez.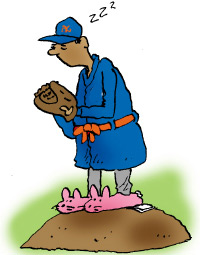 Best bang for your buck: Saturday's Mets-Cardinals game that featured 20 innings and 652 pitches … but only three runs.
Best advice he could come up with: Dr. Drew Pinsky said if Lindsay Lohan were his daughter, he would set her up to get arrested in order to get her into rehab.
Best band that decided to patch things up: Aerosmith, Steven Tyler included, which kicks off its "Cocked, Locked, Ready to Rock" tour in June.
Best former Oklahoma linebacker who needs a good accountant: Brian Bosworth, who is suing his former agent for allegedly steering him toward a crooked moneyman.
Best other lawsuit The Boz could file: Against whoever told him this haircut was a good idea.
Best one-man show coming to Las Vegas: The one Terry Bradshaw is doing. Seriously.
Best Western: Pretty much everyone agrees on "Shane."
Best hotel chain mentioned in this column: Best Western.
Best former Florida Gator who's unpopular in Boston: Joakim Noah, who called Kevin Garnett a "dirty player."
Best former Florida Gator who is even more unpopular in Cleveland: Joakim Noah, who said "I don't know about Cleveland, man, there is nothing going on … It's bad, man."
Best name for a college basketball arena: The KFC Yum! Center, the new $238 million, 22,000-seat home of the Louisville Cardinals.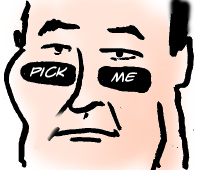 Best way to describe every NFL draft: A six-hour movie in which only the first 20 minutes are important.
Best "SNL" music performance of all time: Definitely not Ke$ha's performance this past Saturday.
Best name for a PGA Tour tournament director: Slugger White, who oversees the Verizon Heritage in South Carolina.
Best leave the kids out of it: Shaunie O'Neal claims her ex-husband, Shaquille, is using their children to pass on death threats to her new boyfriend.
Best Adam Sandler joke to use in the Bulls huddle: "Um, guys … who's covering LeBron?"
Best place to see the Rockies' first no-hitter: Turner Field, where Ubaldo Jimenez shut down the Braves on Saturday, leaving the Padres, Rays and Mets as the only franchises never to pitch a no-no.
Best off-day activity for Greensboro Grasshoppers pitcher Curt Petersen: Stopping a robbery and a carjacking in a Wal-Mart parking lot.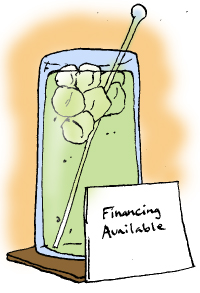 Best four-figure drink you can get next month: The Woodford Reserve $1,000 Mint Julep, available at the Kentucky Derby.
Best end that leave of absence and get back to work: Three days after the Masters, Tiger Woods announced he would play in the Quail Hollow Championship, which begins April 29 in Charlotte.
Best MOP and mop-top news for Duke fans: Kyle Singler, the Most Outstanding Player award winner in the 2010 NCAA tournament, announced he is returning for his senior season.
Best action taken to keep the fans happy: Boise State is replacing its blue turf … with new blue turf, to eliminate glare that has irritated fans.
Best reason to watch the MTV Movie Awards: Aziz Ansari, of "Parks and Recreation" fame, is the host.
Best place to find a James Bond movie: On DVD, because the latest movie -- the 23rd in the series -- has been shelved due to money woes.
Best way to reinforce the stereotype of Philadelphia fans: Get really drunk and intentionally throw up on an 11-year-old girl.
Cam Martin will return to his post as author of The Weekly Best next week.
Mike Philbrick is an editor for Page 2 and the co-host of the Page 2 Podcast. You can contact him at michael.w.philbrick@espn.com.