Commentary
The Weekly Best for July 27
Welcome to The Weekly Best, our look at the tops in sports, pop culture and Hogan family wedding updates.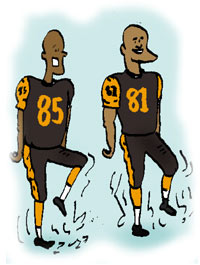 Best get your popcorn ready: Terrell Owens and Chad Ochocinco might be teaming up on the Bengals.
Best way to end your final Tour de France: Probably not in 23rd place and delaying the start of the final leg of the race because your teammates were wearing illegal jerseys that honored cancer victims.
Best double-check your Starbury speak: A report in the People's Daily of China saying that Stephon Marbury claimed he was contacted by the Heat was revealed to be the result of a faulty translation.
Best teams to never throw no-hitters: San Diego Padres and New York Mets.
Best friends like this are tough to come by: Charlie Hill, the 21-year-old former BFF of Nick Hogan, is engaged to marry Nick's 50-year-old mom, Linda.
Best hockey fight going on right now: Between the NHL and NHLPA over the league rejecting the 17-year contract Ilya Kovalchuk signed with the Devils.
Best Buckeye national champion currently enrolled at Ohio State: Maurice Clarett is back taking classes after serving 3½ years in prison.
Best show premiering this week: "Jersey Shore"
Best thing to remember about "Jersey Shore:" Snooki, The Situation, Ronnie, Angelina, JWoww and Vinny are actually New Yorkers.
Best reason The Situation has for not talking about the past: Probably because he knows this picture was floating out there.
Best get a better publicist, Snooki: After one of the nicest things this NY Times piece said was that she "simply isn't capable of serious introspection."
Best-grossing movie: Is still "Inception," much to the dismay of Angelina Jolie and her friends who made "Salt."
Best-selling book on the Amazon.com self-help list: "Winning Forever" by former USC and current Seahawks coach Pete Carroll.
Best Jheri curl you won't see this season: Pedro Martinez has decided he's not pitching in 2010.
Best carry your own %*&@ pads!: You hear that, Roy Williams?
Best time to go out to an Italian restaurant: Is not any night after reading up on the Karen Cunagin Sypher extortion trial that began this week.
Best place for Reggie Bush's own copy of the Heisman Trophy: Is back with the people who gave it to him.
Best player on Team USA going into the FIBA World Championships: Is clearly Kevin Durant.
Best description Alabama coach Nick Saban could come up with for sports agents: He called them pimps.
Best next for Scott Dixon at the Honda Indy Edmonton: Helio Castroneves was assessed a blocking penalty, and even though he finished first, he was pushed back to 10th.
Best advice LeBron James could give: Was to tell Chris Paul he should demand a trade out of New Orleans.
Best decision Chris Paul made: Was to back off that demand when he met with team executives Monday.
Best pass him the Advil: West Virginia coach Bob Huggins broke seven ribs in a fall in his Las Vegas hotel room Friday.
Best get your checkbooks ready on Aug. 4: Despite pleas for a delay, the auctioning off of the Texas Rangers will commence as planned.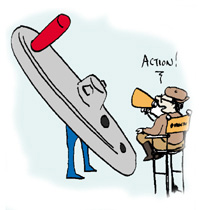 Best move based on a board game: Apparently, "Battleship," and it will also serve as the acting debut of R&B star Rihanna.
Best-selling song on iTunes right now: Eminem's "Love The Way You Lie" featuring … "Battleship" star Rihanna.
Best landmark going green: The Citgo sign seen over Fenway Park's Green Monster is going dark to allow for 218,000 environmentally LED lights to be installed.
Best way to be considered a true Yankee: After NYPD officer Carlos Olmedo awoke from an 11-day coma, the first words he uttered were "Derek Jeter."
Best way to celebrate the spirit of the All England Lawn Tennis and Croquet Club: The 11-hour John Isner and Nicolas Mahut Wimbledon match is the basis for a Durex condom ad.
Best training advice we have is to eat your Wheaties: Despite criticism from experts, MLB began testing the blood of minor leaguers for human growth hormone.
Best place to send deposed BP CEO Tony Hayward: Apparently to BP's operation in Russia.
Best guess on who is getting the last laugh on that: Tony Hayward and his $1.7 million severance package.
Best reason to buy an MLB Gameday Audio subscription: Bob Uecker made his triumphant return to the broadcast booth for the Milwaukee Brewers.
Best example of honesty gone wrong: Timberwolves president David Kahn said during a radio interview that the recently acquired Michael Beasley "smoked too much marijuana" -- resulting in a $100,000 fine for the team.
Best wait to hear from the commish: San Jose is moving forward with a November ballot measure approving financing of a new ballpark for the A's, even though Major League Baseball has yet to approve the team's relocation.
Best way to get a current coach to work for your team: Is to ask the permission of his boss, unless you're Lane Kiffin.
Best movie coming out this week: Is the Paul Rudd-Steve Carell epic "Dinner For Schmucks."
Best replacement for Simon Cowell: Is Chris Isaak, according to the producers of "American Idol."
Best place to go to the bathroom in Rhinebeck, N.Y., this weekend: Is at Chelsea Clinton's wedding, which will rock a hardcore port-o-potty.
Best fuel the haters have had in years: Kate Gosselin and the cast of "Kate Plus 8" are headed to Alaska to film a camping episode with former governor Sarah Palin.
Best-looking person robbed in Brazil last week: Paraguay World Cup fan and lingerie model Larissa Riquelme was relieved of a phone, passport and two digital cameras.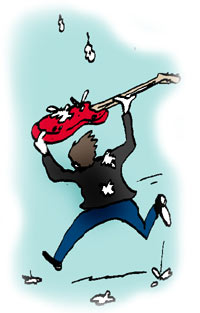 Best wear a hat, or travel with a bunch of cats: Kings of Leon ran off the stage only three songs into a show in St. Louis after being bombarded by pooping birds.
Best stay away from the camera while you're nude guys: Cowboys TE Martellus Bennett joins the ranks of Evan Longoria, Greg Oden, George Hill and Grady Sizemore, after an ex-girlfriend posted nude pics of him online.
Best retirement since Urban Meyer: Amanda Bynes has announced she is officially unretiring from acting -- after one month.
Best way to kill time before jail: Wesley Snipes attended the famous Comic-Con in San Diego while U.S. attorneys argued he should begin serving his three-year prison term for tax evasion immediately.
Best punishment that came about a month too late: French national team soccer coach Laurent Blanc announced all 23 members of the World Cup team will be suspended when they play a friendly against Norway in August.
Best description of the Deepwater Horizon oil spill by an SEC coach: Was given by LSU's Les Miles.
Best not try this with Philadelphia Phillies security: An Orioles fan ran onto the field at Camden Yards while security apparently did little or nothing to stop him.
Best way to celebrate a walk-off win: Is with a pie to the face -- but you could do without the torn meniscus, right, Chris Coghlan?
Mike Philbrick is an editor for Page 2 and the co-host of the Page 2 Podcast. You can contact him at michael.w.philbrick@espn.com.