By Mike Philbrick
Page 2
EDITOR'S NOTE: With the help of our readers -- THIS MEANS YOU! -- Page 2 intends to determine the winner in the Battle for the Soul of Sports by matching the seven deadly sports sins against the seven heavenly sports virtues in a series of head-to-head duels. Today, Mike Philbrick pits Greed vs. Charity.
What is the one common denominator in all of sports?
Competition?
Drama?
Oh, stop it. Seriously. You're being too na´ve.
It's money.
Money for stadiums. Money for contracts. Money to go to the game. Money to watch the game. Money to play the game.
When we talk about Greed as one of the Seven Deadly Sins of sports, we see no need to spin it into something any more far-fetched than that -- such as saying that Michael Jordan was greedy for wins, or that Yankee fans are greedy for more titles.
Forget all that. The issue here is as simple as dollars and cents.
So we're here to ask one simple question: Was Gordon Gekko right when he said, "The point is, ladies and gentlemen, that greed, for lack of a better word, is good. Greed is right. Greed works."
ARE YOU GREEDY OR CHARITABLE?
It's easy to rip on the greedy athletes and owners in today's sports world. But are you a charitable sports fan? Take our Greed vs. Charity quiz to find out.
1. Greed vs. Charity (Stadiums)

Cincinnati Bengals: If the Bengals aren't sure how the people of Cincinnati feel about their new stadium, they can take a look at Hamilton County vs. Cincinnati Bengals Inc. -- a lawsuit filed against the team by the people who gave them $600 million to build their new digs. Why are they suing? Here's the quickest version possible: The Hamilton County commissioners were told the Bengals needed a new stadium to field a competitive team. Oh, and the team offered a not-so-veiled threat to move if the stadium wasn't built.
Well, they got it, and the Bengals still stink to the tune of a 28-52 record since they moved in. So the people of Hamilton County want their money back. The case is pending; and if the people in Hamilton County have their way, it's going to get ugly. And public. (They want every NFL team to open its books to prove their case.) Looks as if the Bengals' karma got run over by Hamilton County's dogma. Ouch.
New England Patriots: Back in 1999, all Patriots' owner Bob Kraft wanted to do was build a new stadium for his team. He had the $375 million to pay for it. The public wouldn't have to cough up a dime. He just wanted a place that didn't feature troughs for urinals anymore. Was that too much to ask? Apparently, it was for the Massachusetts legislature, because it threw up road block after road block by demanding so many financial incentives in favor of the state that Kraft had no choice but to threaten to move the team to Hartford. Hey, they are the New England Patriots, after all. The only thing he would need to change is his address.
At the 11th hour, the fine politicians of Massachusetts backed down and gave Kraft the green light. How genuine was Kraft's desire to build in Massachusetts? Put it this way: By saying no to Hartford, he gave up a stadium that would have been paid for completely by the state of Connecticut (including all necessary infrastructure) and a bunch of other financial goodies adding up to about $375 million in Bob's pocket. What happens to people like Bob? They win three Super Bowls in four years.
WINNER: Charity.
2. Greed vs. Charity (Contracts)

Kevin Brown, New York Yankees: Following the 1998 season, Kevin Brown signed his notorious seven-year, $105 million contract with the Dodgers. It was pretty much a reward for what he had done in the past ... even if his past didn't warrant making him baseball's first $100 million player. He gave the Dodgers one good year (18-9, 3.00 ERA), then he gave them headaches. And more headaches. And then a few more, until they shipped him to the desperate Yankees following the 2003 season.
Now, Brown is the Yankees' headache -- so much so that Brown's presence on the DL probably helps the team more than his actual pitching would. But don't worry about Kevin. While he's thinking about his next rehab start in Columbus, he can always cheer himself up with the knowledge that his 6.51 ERA is worth another $15 million this year.
Ricky Williams, Miami Dolphins: Forget all the retirement/unretirement stuff. When people talk about money and Ricky Williams, they talk about the contract he signed out of college. Fresh off a record-setting season and Heisman Trophy, Ricky signed with Master P's No Limit Sports agency and inked an incentive-laden, seven-year deal that guaranteed him $11.6 but could be worth $68.4 million. If Ricky showed up to workouts, kept his weight down and performed well on the field -- he would get more money. If he didn't ... sorry.
Needless to say, the contract wasn't received well by anyone but front-office personnel around the NFL. The most frequently used description by players and agents was, "The worst contract ever signed by a Heisman winner." Wait ... why? Was it because Ricky was one of the first athletes in the past 30-plus years to sign a contract based on what he planned on doing on the field instead of what he had done? As you read this, are you being handed your annual bonus based on what you did somewhere else for four years? Not to worry. No need to answer. All that intelligence was wiped away when Ricky dumped Master P and signed a new deal.
WINNER: Greed.
3. Greed vs. Charity (Going to the Game)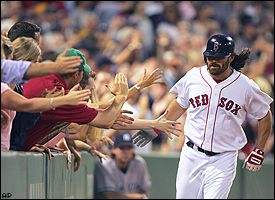 Sure, it's not cheap to get into Fenway Park, but at least Damon and Co. delivered a World Series title.
Patriots/Red Sox: While fans of the Patriots and Red Sox incessantly brag about their titles, you're allowed to laugh a little in the knowledge that those victories come with a price tag. According to Team Marketing Report, the Fan Cost Index for both teams puts them once again in first place in their leagues. (Calm down, Boston fans: This isn't something you want to win.)
The Fan Cost Index is the price of two adult average-price tickets, two child average-price tickets, two small draft beers, four small soft drinks, four regular-sized hot dogs, parking for one car, two game programs and two of the least-expensive, adult-sized caps. If you can get tickets face value for the Pats or the Red Sox at home (good luck), you're looking at a total package of $415.22 for the Patriots and $263.09 for the Red Sox. That makes them the most expensive games to attend in their leagues. It's good old fashioned supply and demand. But let's hope these teams remember the old saw about biting the hands of the fans that feed you.
Dolphins/Marlins: OK, so maybe Miami isn't Titletown USA right now. But the Marlins are only two years removed from their second World Series crown; and the Dolphins ... well, let's just wish Nick Saban luck. Anyway, if we use the same info that we applied to Boston, you're going to shell out only $269.03 (sixth-lowest in the NFL) to see the Dolphins play, and $112.88 (lowest in MLB) to see the Marlins. Hey, a game is a game. You might not be watching a ticker-tape parade every year in Miami, but at least you'll have the money to come back next season.
WINNER: Greed.
4. Greed vs. Charity (Watching the Game)

Boxing: What other sport do you have to pay $44.95 to watch in the comfort of your own home? And no, this doesn't compare to anything else. If you order a pay cable channel for a season to see any other sport, you might be exposed to a bad team, but at least you know how many games you're getting. Boxing? Maybe you get a first-round KO. Maybe you get an epic battle people will talk about for years. Maybe you get 12 rounds of exciting man-hugs. Point is, you don't know. All you know is you're taking a gamble when you hit that "select" button on your cable remote. No matter what you get, is it worth all that money? A great fight will be on either HBO or Showtime in a couple of weeks. If you say "yes," then come on down to the Page 2 offices. We'll punch you for free.
NFL: The NFL has this whole TV thing worked out. All its games are on network television or basic cable. The league lets the networks pick up the tab. The only thing you have to worry about is whether your home team sells out its home games and avoids the dreaded blackout. Still, not a problem in real football towns. Take the Packers. Every one of their home games is sold out from now until about 2351. In the 2005 season, with the exception of a Dec. 11 game on ESPN, every game -- yes, every game -- is free on either CBS, ABC or Fox. Now, if these were boxing matches, that'd run you $674.25.
WINNER: Charity.
5. Greed vs. Charity (Playing the Game)

Golf: Let's see ... you spend $800 on your irons, another $750 on your woods. Oh, don't forget, $100 on the shoes. Throw in $20 for a glove, $50 for a shirt, $35 for some balls and you're ready to play some golf! Wait, that's just how much you paid for the equipment. Now you need to come up with about $65 in greens fees to play a round. Forget it. There's no reason to even do the math here. You've just paid a few thousand dollars to take yourself way too seriously and say things like "Man, I gotta stay in my shoes!"
OK, so you play a lot, and now you're a great golfer. Go tell your friends about your 2 handicap. You should really be proud. And one more thing before you go: You know the guy who just hit three in the water on 15? The guy whose throat is sore from yelling "Fore!" all day? That guy is tied with you on the PGA Tour's career earnings list. We know ... it's OK to cry.
Basketball: For $10 at Target, you can pick up a nice Spalding basketball. That's right: $10. Now you need a hoop, so you go pick from one of the dozen or so located in every park in every town in America ... provided free of charge. No one there? No problem. Sure, it'd be nice to get a little three-on-three going, but it doesn't mean you can't play by yourself. Try saying that about any other sport.
WINNER: Charity.
FINAL TALLY Charity wins, 3 to 2.