Commentary
Live! From new Meadowlands stadium
We've all heard that the new Meadowlands stadium will host Super Bowl XLVIII in 2014, and we've all heard the concerns: the weather, the weather and also the weather.
But what about the building itself? Is the $1.7 billion facility ready to handle something like the Super Bowl?
I planned to decide for myself in July by attending the U2 concert, but with Bono (back) on the disabled list, my plan hit a snag. That's when I found myself shamelessly cruising the Internet ... for tickets to Bon Jovi.
Thankfully, Ticketmaster delivered some last-minute, late-release seats. Here's what transpired. Judge for yourself whether the new building is ready to deliver.
PART 1 | PART 2 | PART 3 | PART 4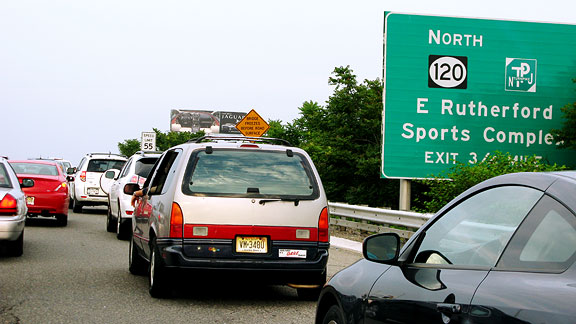 When you first approach the New Meadowlands, you're greeted with a true retro experience -- hard-core traffic. Stadium developers apparently decided that using the same exit (where the New Jersey Turnpike and State Route 3 blend into one lane) that caused bumper-to-bumper traffic for decades was a nice, nostalgic way to start the journey.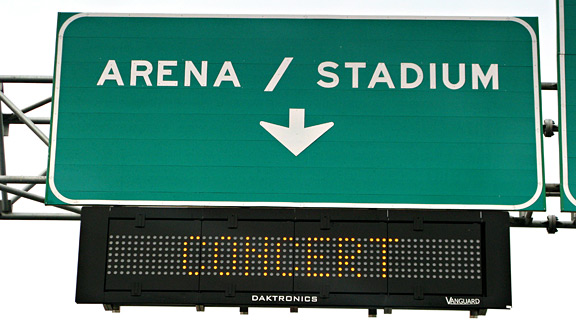 If that first sign wasn't enough for you, here's another reminder that you are in fact in the right place. If you need any more help, kindly pull over to the shoulder, because you are legally blind.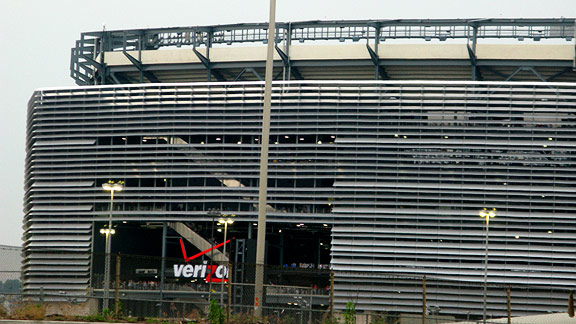 When first approaching the new building, you can't tell whether you're looking at a stadium or a multilevel parking facility built in the 1970s. That thought will cross your mind again when you pay $25 to park in the actual parking facility.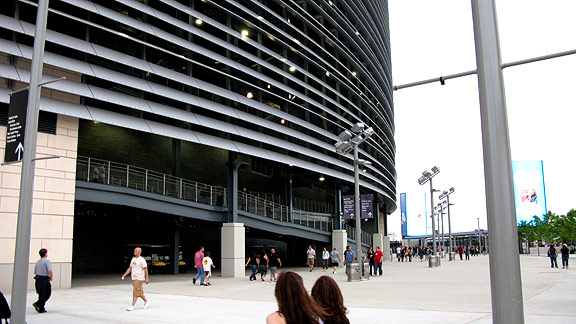 Upon closer inspection, the stadium seems to have a slight Guggenheim Museum look to it -- something that might be lost on a crowd coming to a game "somewhere in the swamps of Jersey," as Pope Springsteen would say.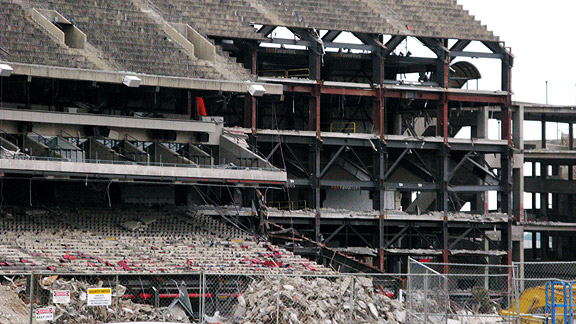 The old Giants Stadium is next door to the new one. Rumor has it crews have started to tear it down, but it pretty much looks exactly the same way I've always remembered it.
• CLICK HERE FOR PART 2 OF THE GALLERY