When you lose 30-3, you're going to make the quiz
Patrick Hruby is on assignment this week, but we still need to know whether you paid attention to the week in sports (and other stuff, of course).
1. After the Texas Rangers beat the Baltimore Orioles 30-3, Rangers manager Ron Washington said:
(A) "Things went our way tonight."
(B) "There's no crying in baseball ... unless you're the Orioles! Man that was one severe butt-kicking!
(C) "Tonight we ate lightning and crapped thunder."
(D) "I enjoy watching football in the afternoon. One of the things I love about this country. Baseball, too. I love baseball ever since Arnold Rothstein fixed the World Series in 1919."
(E) "Sometime when the team is up against it and the breaks are beating the boys, tell them to go out there with all they've got and win just one for the Gipper."
(F) "Wax on. Wax off."
2. Amazingly, which of the following pitchers didn't appear in the game for the Orioles?
(A) Paul Shuey
(B) Daniel Cabrera
(C) Brian Burres
(D) Rob Bell
(E) Sidney Ponson

3. Wait a minute, Paul Shuey is back in the big leagues?
(A) Yes
(B) Well, that kind of explains why the Orioles are 17½ games out of first place
4. Who will least likely be a member of the Yankees rotation in 2008?
(A) Roger Clemens
(B) Joba Chamberlain
(C) Ron Guidry
(D) Mike Mussina
5. The Yankees' playoff hopes rest on:
(A) Derek Jeter's leadership
(B) Mariano Rivera's consistency
(C) Andy Pettitte's dominance
(D) Alex Rodriguez's hot bat
(E) Eric Gagne's incompetence
6. After this week, Tom Brady can't wait for:
(A) Father's Day
(B) Christmas
(C) Grandparents' Day
(D) To get back to Gisele's place
7. Congress finally killed a military plane program, the DP2 project, that it had poured $63 million into over 20 years because:
(A) The plane, which is supposed to take off straight up and then fly at 700 mph, had never reached more than a few feet before crashing
(B) The money for the program had been buried in an obscure provisions bill known as "earmarks"
(C) Government engineers reviewed the project and panned the idea
(D) It decided the money would be better spent buying the Orioles some new pitchers
(E) All of the above, except D, which is just a lame joke about the Orioles' pitching staff
8. Jenna Jameson recently celebrated her retirement from pornography by:
(A) Converting to Catholicism
(B) Having her breast implants removed
(C) Wearing clothes
(D) Asking the Orioles for a tryout
9. Fox yanked its new series "Anchorwoman," a reality/comedy show about former WWE diva Lauren Jones working as a news anchor in Tyler, Texas, because:
(A) Ratings were low
(B) Viewers weren't quite sure if they were watching reality or comedy
(C) The news in Tyler just ain't that exciting
(D) It was really hoping to get Jenna Jameson as the anchor
10. Tiger Woods told the PGA he wasn't going to participate in the first FedEx Cup event because:
(A) He wanted to spend time with his wife and new daughter
(B) His body needed a break
(C) "I am Tiger Woods"
(D) Who cares, he's still going win the whole damn thing anyway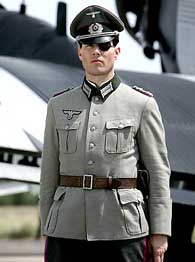 11. Identify the image to the right.
(A) Tom Cruise appearing in a History Channel commercial
(B) Tom Cruise in his Scientology Sea Org duds
(C) Tom Cruise on the set of an upcoming movie
(D) An Italian soccer fan on his way to a match
(E) Steely McBeam's skinhead cousin, Squinty McNazi
12. University of South Carolina quarterback Blake Mitchell was suspended for:
(A) Not having his Gamecock face on
(B) Not attending Kappa Delta Gamma's keg party
(C) Not attending summer-school classes
(D) Not attending EA's NCAA 08 launch party
13. As part of her alcohol-treatment program at the Cirque Lodge in Sundance, Utah, tabloid star Lindsay Lohan is spending time:
(A) Reading
(B) Writing in her journal
(C) Working in a nearby supermarket
(D) Caring for horses as part of an equine therapy program
(E) All of the above
(F) Hanging out with South Carolina quarterback Blake Mitchell
(G) Working on her curveball ... you never know when the Orioles may need a pitcher!
14. Sonics co-owner Aubrey McClendon was fined $250,000 by the NBA for:
(A) Having the username DonaghyRulz on GoldenPalace.com
(B) Telling the truth
(C) Making fun of Seattle's weather
(D) Having David Stern's "I can't believe it's happening to us" quote as his ringtone
15. McDonald's franchise owner Jim Delligatti, who introduced the first Big Mac in Uniontown, Pa., in 1967 celebrated the 40th anniversary of the Big Mac by:
(A) Eating 40 Big Macs
(B) Apologizing for introducing oversized, unhealthy, mega-calorie burgers that have led to an overall decline of U.S. health
(C) Pointing out that the Big Mac is nothing compared to the Hardee's Monster Thickburger, so lay off with all the criticism
(D) Opening a Big Mac museum restaurant that includes the world's largest Big Mac statue
16. Which movie theme song did the Yankees play after Jason Giambi hit his second home run last Friday night:
(A) "The Natural"
(B) "Field of Dreams"
(C) "Star Wars"
(D) "The Sting"

17. Detroit Lions flameout Charles Rogers, the one-time second overall pick in the draft, was reported to have:
(A) Been in contract talks with three teams in the CFL
(B) Been in contract talks to return to the Lions
(C) Been seen wandering the streets of Detroit wearing a Charles Rogers replica jersey and screaming "I am Charles Rogers!"
(D) Said Matt Millen made a big mistake drafting him
(E) Been in contract talks with the Baltimore Orioles
18. Latrell Sprewell's yacht "Milwaukee's Best" was seized for failure to make his monthly $10,322 payment, which indicates:
(A) He must be feeding his family instead
(B) He shouldn't have turned down that 3-year, $21 million contract offer from the Timberwolves back in 2004
19. Movie star Keira Knightley bares all, other than a carefully placed bowler hat, in an ad for Chanel perfume, which means:
(A) I'm not reading the rest of this quiz
(B) Page 2 has spent too much time reading the London tabloids
(C) This is a lame excuse to try to make this quiz interesting; where's Hruby?
(D) At least this isn't a question about the Orioles
Analogies

20. Team USA : victory over the Virgin Islands
(A) Texas Rangers : 30-3 victory over the Orioles
(B) Lance Armstrong : Drug testers
(C) Wilt Chamberlain : The ladies
(D) All of the above
21. Tiki Barber : Eli Manning
(A) Roger Clemens : Kyle Farnsworth
(B) John Smoltz : Chipper Jones
(C) Courtney Love: Lindsay Lohan
(D) All of the above
22. Kansas City Royals: announcing they've signed Mark Grudzielanek to a contract extension
(A) Pittsburgh Pirates : Trading for Matt Morris
(B) San Francisco Giants : Batting Bengie Molina cleanup
(C) Baltimore Orioles : Anticipating the return of Jaret Wright
(D) Needle : Haystack

Essay Question

Alabama opens its season on Sept. 1 at home against Western Carolina. While not a powerhouse, this will be the first test for Nick Saban in front of the home crowd. So what's the proper tailgate menu for the first game of the season?
Answer Key
1, a; 2, e; 3, b; 4, d, and don't you think it's time to put those talks of Mussina winning 300 games away?; 5, e, this question was obviously written by a Red Sox fan; 6, d, we assume; 7, e; 8, b; 9, a, although you can still watch new episodes on Fox's Web site; 10, all answers are acceptable; 11, c; 12, c; 13, e; 14, b; 15, d; 16, a, this is absolutely true; 17, a; 18, b; 19, d; 20, c; 21, d; 22, d, clearly the most direct analogy since Grudzielanek's likelihood of pushing the Royals over the top in 2008 is equal to the odds of finding a needle in a haystack.
Essay question: The answer, of course, is slow-cooked barbecue ribs done the day before in a smoker with homemade cornbread, baked beans and plenty of ice-cold beer. Additions are welcome. Subtractions? Don't even think about it.
David Schoenfield and Michael Philbrick are editors for Page 2. Direct all hate mail to Patrick Hruby.