Hope you don't 'misremember' the assigned reading
Hope you paid attention to the "Roman circus" on Capitol Hill, the Jason Kidd trade that wasn't, the Kelvin Sampson telemarketing service and everything else from the week in sports. Did you bring a Scantron and a No. 2 pencil … what you didn't? OK, a pen and a cocktail napkin is also acceptable. Don't worry, quizmaster Patrick Hruby will be back next week.
1. Who benefited the most by the media's preoccupation with Roger Clemens this week?
(a) Britney Spears
(b) Roger Goodell
(c) Barry Bonds
(d) All of the above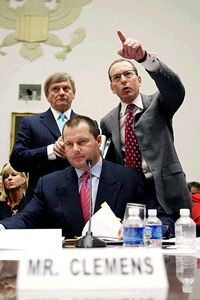 AP Photo/Pablo Martinez Monsivais
Doesn't the House Committee on Oversight and Government Reform have anything better to do than preside over a "Roman circus"?
2. Which of the following quotes was said about Roger Clemens after Wednesday's hearing:
(a) Darryl Hamilton: "I honestly don't know what he was trying to do. Even after looking at it on tape, I still don't know what he was trying to do."

(b) Todd Zeile: "I didn't know what to think. It was just one of those strange things where you thought, 'What was that about?'"

(c) Joe Torre: "You guys ask me questions. Somebody answer my question. Why would he do it?"

(d) Mike Piazza: "Bizarre."

(e) Darryl Hamilton again: "And the only thing I can honestly see him saying is just: 'I screwed up.'"

(f) Roger Clemens: "I didn't know if it was the ball or the bat."

(g) None of the above
3. After watching Wednesday's congressional hearing, Brian McNamee is best described as:

(a) A liar

(b) A man struggling to tell the truth despite a shady history of lies and half-truths

(c) An honest man who can feel no pleasure in the exercise of power over his fellow citizens

(d) A drug dealer
4. When Mike Mussina described Roger Clemens and Andy Pettitte as "great teammates," what did he mean?

(a) "I mean, other than the fact that we combined to win zero World Series titles together."

(b) "They're great, but guess who has the best career postseason ERA of the three? That's right … me. But do I ever get credit for that? No way."

(c) "They're great teammates. In fact, we love to do the Times crossword puzzle together."
5. Which of the following players is most likely to make the Hall of Fame first?

(a) Joe Jackson
(b) Pete Rose
(c) Mark McGwire
(d) Barry Bonds
(e) Roger Clemens
6. The Yankees recently renamed Legends Field after:

(a) A pardoned felon

(b) A man who has been banned from baseball twice

(c) The principal owner of the team

(d) All of the above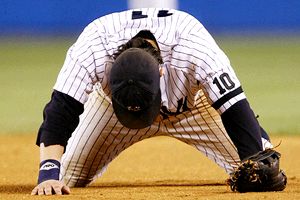 AP Photo/Kathy Willens
Here's the final piece of the puzzle, Pirates fans: Doug Mientkiewicz.
7. The new regime of the Pittsburgh Pirates proved it is different from the old regime by:
(a) Hiring Bill James as a statistical advisor

(b) Making a pitch to acquire Erik Bedard from the Orioles and signing him to a long-term contract

(c) Announcing it will draft the best available player in the June draft as opposed to a college relief pitcher who was deemed an easier sign

(d) Signing Doug Mientkiewicz
8. The Seattle Times reported that Felix Hernandez showed up to camp 9 pounds lighter than last season, which means:

(a) Hand the Mariners the WEST!!!!!!!

(b) Now that the first "weight" story is out of the way, it's time to move on to the real story of spring training: Is this finally the year for the Royals?
9. A Swedish preschool banned kids from wearing clothing with stripes because:

(a) They gave a teacher migraine headaches
(b) Hey, just like when watching the Yankees!
10. Which of the following things did Bill Walton say about Shaquille O'Neal?
(a) "Shaq's arrogance is an insult to people who think."
(b) "Throw it down, big man!"
(c) "That is the most horrible trade in the history of Western civilization."
(d) "Truckin', up to Buffalo. Been thinkin', you got to mellow slow Takes time, you pick a place to go, and just keep truckin' on."
11. In what way did Shaquille O'Neal say that Bill Walton violated "Big Man Pecking Order Ordinance Code 2257"?
(a) "His résumé isn't quite good enough to speak on what I've done."
(b) "You remember what happened to Greg Ostertag, right?"
(c) A and B
(d) Playing four seasons with the Clippers
12. The Jason Kidd-to-the-Mavs trade has been held up by:

(a) Team management

(b) The players' association

(c) A guy with career averages of 3.3 rebounds and 5.9 points per game

(d) commissioner David Stern

13. Whom do Indiana basketball fans want to be coaching the Hoosiers at this time next month?
(a) Current coach Kelvin Sampson
(b) Former coach Bob Knight
(c) Former star player Isiah Thomas
(d) Who cares, as long as it isn't Billy Gillispie
14. Which of the following headlines did not appear on foxnews.com this week?

(a) Man Seeks DNA Samples to Prove He Is JFK's Love Child

(b) Gorillas Caught Making Love, Human Style

(c) Florida Pastor Issues 30-Day Sex Challenge for Congregation

(d) Gender-Bending Barnacles Grow Huge Penises in Rough Waters

(e) Peeping Tom Arrested After Hiding Under North Carolina Man's Bed

(f) Clemens Says Wife Received Secret Injection in Bedroom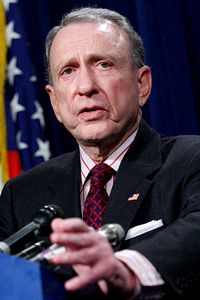 AP Photo/Lauren Victoria Burke
Does Sen. Arlen Specter believe Bill Belichick launched a spy satellite to steal signals?
15. Why will the Pentagon attempt to shoot down one of its own spy satellites?
(a) The dying satellite, filled with toxic fuel, is on a collision course with Earth

(b) Dick Cheney hasn't been hunting in a long time

(c) Sen. Arlen Specter believed Bill Belichick was using it to record opponents' defensive signals
16. A new study links obesity to several types of cancer, suggesting:

(a) Congress should perhaps be looking after our children in ways other than holding hearings on steroids

(b) Sen. Arlen Specter should perhaps be asking NFL commissioner Roger Goodell about the NFL's obesity problem
(c) A and B

(d) Neither; after all, it's hard to look after the children when there's "chaos on the floor"
17. Where did the NFL ship all the "New England Patriots Super Bowl champs" gear?

(a) To needy families in Nicaragua and Romania

(b) To Arlen Specter's office
(c) To Bill Belichick's front door

(d) To Gisele
18. Whose failure to participate in the Pro Bowl should the NFL be most concerned about?

(a) LaDainian Tomlinson's

(b) Tom Brady's

(c) Randy Moss'

(d) Yours

19. Who won last week's Pro Bowl?

(a) AFC, 21-10, behind Peyton Manning's two TD passes

(b) NFC, 17-14, behind Devin Hester's punt return TD
(c) You expect us to actually look this up?
20. What's the biggest story in NASCAR this season?

(a) Dale Earnhardt Jr. joins mighty Hendrick Motorsports

(b) Jimmie Johnson goes for third straight Sprint Cup title

(c) Tony Stewart's odds: more wins or fights?

(d) New rule: Right turns only!
ANSWER KEY: 1 d; 2 g; 3 d (at least according to Christopher Shays); 4 a and b are acceptable; 5 Trick question. The answer, of course, is Jim Rice, who will finally make it in 2009. (So stop whining, Red Sox fans.); 6 d; 7 d, proving once again that every last-place team needs a first baseman who hits 10 home runs a year; 8 a (you heard it here first); 9 a, although b is also acceptable if you're from Massachusetts; 10 a; 11 c; 12 c; 13 d; 14 f; 15 a; 16 d; 17 a; 18 d; 19 c; 20 a, unless Jimmie Johnson gets in a fight with Tony Stewart.
Page 2 editors Kieran Darcy, Thomas Neumann, Mike Philbrick and David Schoenfield deserve all the credit blame for this week's quiz. But at least they didn't blame their wives/girlfriends.
Sound off to Page 2 here.