Before it's tourney time, it's quiz time
Paid attention to the week in the sports world (and elsewhere)? Let's hope your priorities are in the right place and you did. Now put your powers of observation and recall to the test with our weekly quiz:
1. Who is the dumbest man in New York?
(a) Eliot Spitzer
(b) Isiah Thomas
(c) Too close to call
2. What was the saddest thing to happen to the Miami Heat this week?
(a) They shut down Dwyane Wade for the rest of the season
(b) They cut Smush Parker
(c) They lost a game to the Knicks
3. It was announced this week that Britney Spears will be a guest star on which TV program?
(a) "How I Met Your Mother"
(b) "Lost"
(c) "Dr. Phil"
(d) "Cops"
(e) "America's Most Wanted"
4. Why did the Cuban national soccer team have only 10 players on the field in a match in Tampa, Fla.?
(a) The rest of the team had food poisoning
(b) The rest of the team was injured
(c) The rest of the team was kicked out by the refs
(d) The rest of the team defected to the United States
5. Which Hogan knows best?
(a) Hulk, who allegedly slept with his daughter's best friend
(b) Nick, who is facing multiple charges after a horrific car accident
(c) Brooke, who is avoiding the spotlight by filming her own reality show
(d) Linda, who is, well ... just sitting on the beach
6. Why was former professional wrestler Hardbody Harrison forced to close his camp?
(a) Financial troubles
(b) Health code violations
(c) Lack of proper permits
(d) He was using it to reportedly turn women into prostitutes
7. Who is the best example of "When Keeping It Real Goes Wrong"?
(a) Noel Divine
(b) Shelley Duncan
(c) Joel Francis
(d) Dirk Nowitzki
8. Red Sox pitcher Josh Beckett is currently featured on the cover of which magazine?
(a) All About Beer
(b) Bon Appetit
(c) Chiropractor Monthly
(d) Men's Fitness
9. This week marked the anniversary of which of the following?
(a) Isiah Thomas' extension with the Knicks in 2007
(b) German troops occupying Austria in 1938
(c) St. Francis Dam fails; ensuing flood kills 600 in California in 1928
(d) All of the above
10. What did Justin Timberlake say Madonna injected him with?
(a) Vitamin B-12
(b) Lidocaine
(c) Just A, she said it was just A congressman!
11. Which of the following was Madonna once linked to?
(a) Jose Canseco
(b) A third ear
12. Which of the following headlines is made up?
(a) "Woman spends two years in bathroom, gets stuck to toilet"
(b) "Woman discovers ex-husband really a female"
(c) "Australian woman kills husband in fight over Bruce Springsteen"
(d) None of the above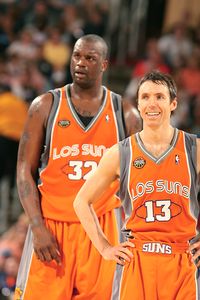 Garrett W. Ellwood/Getty Images
Coming soon, German night and the Dirk-led Das Mavs!
13. Identify the image to the right:
(a) The NBA's "Noche Latina" Latin night promotion
(b) The reason Lou Dobbs is yelling right now
(c) Proof that NBA marketing is like the rest of us, and that two years of college Spanish makes you just fluent enough to put "los" in front of everything
14. At a recent concert in Japan, Celine Dion took the stage with which of the following?
(a) a symphony orchestra
(b) a bluegrass quintet
(c) Huey Lewis and the News
(d) visibly hairy legs
15. When Vatican second-in-command Archbishop Gianfranco Girotti listed "economic injustice" as a modern "new sin," he was referring to:
(a) Personal seat licenses
(b) Teams extorting municipalities because their decade-old, publicly financed stadiums don't have enough luxury boxes, and besides, a dollar a year is an awful lot to pay for a lease
(c) 8 bucks for beer in a plastic cup
(d) The New York Knicks' 2007-08 payroll
(e) Probably none of the above
16. A court filing by former Olympic cyclist Tammy Thomas -- charged with lying to a federal grand jury about performance-enhancing drug use -- complained about the "unnecessarily graphic details" of:
(a) Her medical records, which include notes about beard growth and voice changes
(b) C-SPAN and ESPN, regarding blood, band-aids and Roger Clemens' buttocks
(c) Every wire photo of Barry Bonds' head taken after 1998
(d) The part in "Juiced" where Jose Canseco claims that taking HGH -- gag -- enlarged his male organ
17. Who lost 440 pounds but still weighs approximately 800 pounds?
(a) Oakland Raiders quarterback JaMarcus Russell (b) a 42-year-old mechanic from San Nicolas de los Garza, Mexico
ANALOGIES
18. Billy Crystal : spring training with Yankees
(a) Garth Brooks : spring training with Padres
(b) Crystal : "My Giant," "Mr. Saturday Night" and "Forget Paris"
(c) Brooks : is Chris Gaines
(d) All of the above
ESSAY: The NCAA tournament begins on Thursday; explain why your wife or girlfriend will defeat you in your pool by no less than 20 points by picking schools based on where friends and family may have once thought of or did attend. The use of expletives is encouraged.
ANSWER KEY: 1, c; 2, b, this is really going to hurt their tanking plan; 3, a; 4, d; 5, d, needless to say, the bar hasn't been set too high; 6, d; 7, a, there has to be something better to do in Morgantown; 8, d and it's not a "before" picture; 9, d; 10, c; 11, a, which is actually more gross; 12, d; 13, a, but "c" is also accepted; 14, d, and click here if you're morbidly curious; 15, e, but he should have thought of those; 16, a; 17, b, as of press time, we couldn't find a scale for JaMarcus; 18, d, feel free to weep openly