Paid attention to the week in sports -- and other stuff, like the New York gubernatorial mansion's stunning lack of a grotto -- that was? Put your powers of observation and recall to the test with our weekly quiz:
1. Which of the following most needs a federal bailout?
(a) Wall Street investment banks
(b) Subprime mortgage lenders
(c) Subprime mortgage holders
(d) Your NCAA office pool bracket
2. Washington Wizards guard DeShawn Stevenson:
(a) Called LeBron James overrated
(b) DeWho?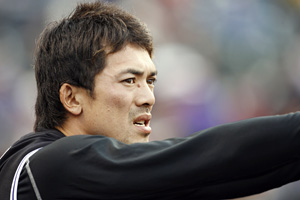 AP Photo/David Zalubowski
Here's hoping Kaz feels better soon.
3. Which of the following phrases did Houston Astros general manager Ed Wade use when discussing second baseman Kaz Matsui's anal fissure?
(a) "Still hopeful"
(b) "Cautiously optimistic"
(c) All of the above
(d) No, seriously, all of the above
4. After the Florida men's basketball team lost in the first round of the SEC tournament, failing to make the NCAA tournament, coach Billy Donovan:
(a) Banned the team from Florida's $12 million practice facility
(b) Told his players they couldn't wear any Florida attire
(c) Removed the gold Nike pin from his lapel and gave back his reported $1.7 million salary
(d) Just A and B
5. According to the Rev. Jeremiah Wright, "God damn _______ "
(a) America
(b) "America's Funniest Home Videos"
(c) Freedom fries
(d) 16 million-plus sold copies of "Cracked Rear View"
(e) The designated hitter
6. Which of the following is the most unbeatable?
(a) Houston Rockets
(b) Maria Sharapova
(c) Tiger Woods
(d) Death
7. According to a British tabloid, Los Angeles Galaxy midfielder David Beckham's newest tattoo is a Chinese proverb reading that "riches and honor ________ "
(a) depend on heaven
(b) are completely independent of playing MLS soccer
8. College basketball analyst Billy Packer would like to know:
(a) Why more ACC teams didn't make the NCAA tournament
(b) Why North Carolina and Duke don't receive automatic byes into the Final Four
(c) Why the NCAA tournament takes place after the ACC tournament
(d) Why Coach K's ring doesn't taste better when kissed
9. Which of the following is most likely to perform well in a doubleheader?
(a) Chicago Cubs
(b) University of Georgia men's basketball
(c) Former New Jersey Gov. Jim McGreevey
10. Which of the following headlines is made up?
(a) Oden Looks Good In Workout With Blazers
(b) Oden Looks 43 In Session With Mirror
11. Which of the following headlines is real?
(a) Norwegian Hospital To Equip Babies With Anti-Theft Alarm
(b) Flying Trampoline Halts High-Speed Train
(c) Woman Goes For Leg Operation, Gets New Anus Instead
(d) College Basketball Invitational Capsules
(e) All of the above
12. University of Missouri linebacker Marquis Booker was arrested after allegedly:
(a) Pulling a handgun from his car during a late-night dispute at an apartment complex
(b) Threatening to "light the place up"
(c) A and B
(d) Signing a 10-day contract with the Indiana Pacers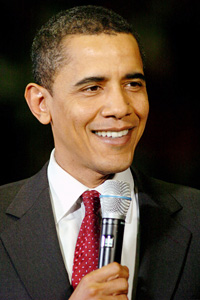 AP Photo/Jon C. Hancock
We'll give Obama the benefit of the doubt that he would have picked UNC anyway.
13. Which of the following news items is probably coincidental?
(a) Obama Picks Tar Heels in Office Pool
(b) 115 Delegates at Stake in North Carolina Primary
(c) All of the above
14. Chicago Cubs pitcher Kerry Wood:
(a) Got hurt
15. Which of the following items did Minnesota Timberwolves owner Glen Taylor cite as evidence of former player Kevin Garnett tanking?
(a) Taylor signing Joe Smith to an illegal contract
(b) Taylor continuing to employ Kevin McHale
(c) Taylor presiding over a team that allowed Mark Madsen to chuck seven 3-pointers in the final game of the '05-'06 season
(d) None of the above
16. When Virginia Tech men's basketball coach Seth Greenberg said "there are 8,000 bowl games," he was referring to:
(a) Possibly expanding the 65-team NCAA tournament
(b) The two weeks before New Year's Day
17. Discussing his desire to play and his status as an unsigned free agent with MLB.com, slugger Barry Bonds said that he has:
(a) A cell phone
(b) A BlackBerry
(c) A willingness to start as late as July
(d) A looming federal perjury trial
18. A study by the University of Central Florida's Institute for Diversity and Ethics in Sport concluded that:
(a) If this year's Final Four were determined on the basis of team graduation rate, Western Kentucky, Butler, Notre Dame and Purdue would be in it
(b) If Rhodes Scholarships were determined on the basis of basketball ability, Michael Beasley already would be at Oxford
(c) We could so win the Institute's office pool
19. Which of the following individuals is most likely to discuss female attire on television?
(a) Joan Rivers
(b) Melissa Rivers
(c) Steven Cojocaru
(d) Phil Jackson
20. A New Jersey lawmaker wants the NCAA to investigate:
(a) A February women's basketball game between Rutgers and Tennessee that ended amid a clock dispute
(b) Waaahmbulance response times
(c) How do New Jersey politicians find the time to have chauffeur threesomes and worry about a regular-season women's college basketball game?
21. During a third-round match at the Pacific Life Open, Andy Roddick:
(a) Broke two rackets
(b) Hit a ball out of the stadium
(c) Threw several small temper tantrums
(d) Mistakenly thought he was playing "Through the Flames" on expert in "Guitar Hero III"
22. Chinese premier Wen Jiabao accused the Dalai Lama of:
(a) Orchestrating violent clashes to taint the Beijing Olympics
(b) Being in charge of China's police and military
23. According to New York Yankees general partner Hank Steinbrenner, small-market teams should not forget:
(a) Who subsidizes them
(b) To curtsy twice before facing Mike Mussina
(c) Their own pathetic cake-eating wretchedness
(d) That Earth revolves around the sun, and the sun revolves around New York City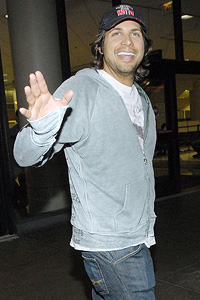 AP Photo/Dan Steinberg
Proud to share the human race with Joe Francis, aren't you?
24. "Girls Gone Wild" founder Joe Francis withdrew a $1 million offer to Ashley Dupre after discovering that she was:
(a) A prostitute
(b) A MySpace memoir fabulist
(c) A crappy singer
(d) Already in seven full-length tapes filmed by his company
25. The Rev. Al Sharpton's organization reportedly plans to demand that the NFL:
(a) Cancel the Hall of Fame Game over allegations of police misconduct in Canton, Ohio
(b) Cancel the rest of the preseason over allegations of football misconduct in the United States of America, and occasionally Mexico
ANALOGIES
26. Seattle SuperSonics : defense
(a) Miami Heat : offense
(b) All of the above
27. Vesa Toskala : allowed goal
(a) Charmin : toilet tissue
(b) Pillowtop : mattress
(c) Cotton candy : consumable sugar
(d) All of the above
EXTRA CREDIT
28. A Harvard University behavioral study found that:
(a) Nice guys finish first
(b) 18-1
29. According to a report in the Sports Business Journal, the NFL:
(a) Had more than $9 billion in debt as of Oct. 2007
(b) Is now allowed to use the Federal Reserve's discount window
(c) Apparently needed to own every version of Madden released last year
(d) Is run like the typical American household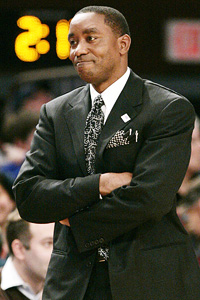 AP Photo/Frank Franklin II
Page 2 would never be the same after the loss of our favorite son.
30. According to the New York Post:
(a) The New York Knicks may replace Isiah Thomas with Indiana Pacers CEO Donnie Walsh
(b) Page 2's weekly quiz is about to become 40 percent shorter
ESSAY QUESTION
According to various surveys and economists, the NCAA tournament costs the nation millions -- possibly billions -- in lost workplace productivity. In 800 words or less, determine why there is no essay question this week.
ANSWER KEY: 1, d, and the sad thing is, it's only Friday; 2, both answers valid; 3, c, and the less said about anal fissures the better; 4, d, and too bad the Fed didn't do the same to Bear Stearns; 5, a, and only a, otherwise the dude might have a point; 6, d, no matter what Nike would have you believe; 7, a; 8, a, and we want to know why more ACC teams aren't in the CBI; 9, c, provided we're talking Friday night and TGI Friday's; 10, b, Oden doesn't look a day over 42; 11, e, and repent now; 12-13, c; 14, a; 15, d, and why doesn't Taylor accuse Santa of hating children while he's at it?; 16, a, at least, we're pretty sure; 17, a-c; 18, a, and YAWN; 19, toss-up!; 20, a; 21, a-c, and finally, a reason to watch Andy Roddick!; 22, a, and duh, the Dalai Lama is all about violent confrontation; 23, a, and in all honesty, we hope Hank never shuts up; 24, d; 25, a, though we'd get behind b in a half-second; 26, a; 27, d; 28-30, a; Essay Question: Any variation of "If Clark Kellogg's not askin', I ain't answerin'" is acceptable.
Patrick Hruby is a columnist for Page 2. Sound off to Patrick here.