No more Isiah to kick around, but here comes Rah-jah!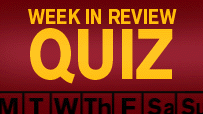 Paid attention to the week in sports -- and the circus that is Roger Clemens' personal life -- that was? Put your powers of observation and recall to the test with our weekly quiz:
1. Brazilian soccer star Ronaldo reportedly:
(a) Accused a transvestite prostitute of extortion after an altercation at a motel in Brazil
(b) We couldn't come up with a punch line to top A
2. Roger Clemens reportedly:
(a) Began a long-term relationship with country singer Mindy McCready when she was 15 years old
(b) Was romantically linked to John Daly's ex-wife, Paulette Dean Daly
(c) Had some sort of relationship with a former Manhattan bartender
(d) Once made a pass at a Boston-area waitress who later married wrestler Brutus "The Barber" Beefcake
(e) All of the above
(f) At least he's not hanging out with Ronaldo at a motel in Brazil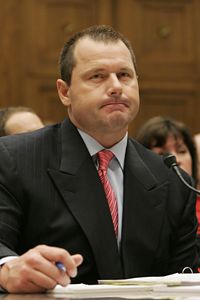 AP Photo/Susan Walsh
Believe it or not, Roger Clemens is starting to make Britney Spears appear stable by comparison.
3. Which team drafted Fresno State defensive tackle Jason Shirley, who was suspended three times his senior season and eventually kicked off the team?
(a) The Cincinnati Bengals
(b) Thank you for making our job easier
4. What did Blue Jays starter Roy Halladay do that is out of the ordinary?
(a) Throw four straight complete games but win just one of them
(b) Admit to a relationship with a 15-year-old country singer
5. What rare event happened to the Yankees this week?
(a) Swept in the Bronx by the Tigers for the first time since 1966
(b) HAHAHAHAHA
6. Which of the following has former Olympic gold medal sprinter Tim Montgomery faced?
(a) An indictment that accuses him of dealing more than 100 grams of heroin
(b) Up to 46 months in prison after admitting to helping cash $1.7 million in stolen and counterfeit checks
(c) A two-year ban for doping
(d) All of the above
(e) Accusations that he had a relationship with a 15-year-old country singer
7. What did Randy Moss reveal this week?
(a) The whole truth behind Spygate
(b) That Tom Brady's ankle really was injured in the Super Bowl
(c) That he's putting a group together to race in the NASCAR Craftsman Truck Series
(d) That he had a relationship with a 15-year-old country singer
8. Phil Mickelson announced this week that:
(a) He's switching from a 33½-inch putter to a 35-inch putter
(b) He's grown about an inch through a program of rigorous stretching
(c) A and B
(d) Is he talking about his height or his waistline?
9. With Rex Grossman and Kyle Orton still on their roster, how did the Bears address their quarterback situation?
(a) Attempted to lure Brett Favre out of retirement
(b) Attempted to lure Jeff George out of retirement
(c) Traded for an experienced vet such as Kurt Warner
(d) Moved up in the draft to acquire a prospect such as Matt Ryan or Joe Flacco
(e) Spent none of their 12 picks on a quarterback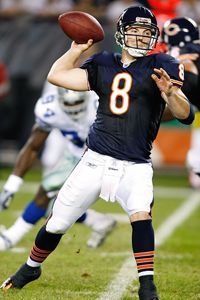 Scott Boehm/Getty Images
Clearly, the Bears are absolutely set at the quarterback position.
10. Which headline is made up?
(a) "Texas cops bust man trying to cash $360 billion check"
(b) "Runaway flying concert pig found in pieces"
(c) "Ronaldo plays a straight bat against three-pronged transvestite attack"
(d) None of the above
11. Why can't Latrell Sprewell stay away from the courts?
(a) He's getting ready for an NBA comeback
(b) He wants to stay in shape
(c) He needs to feed his family
(d) He didn't pay a $23,600 credit card bill
12. Why did Arizona State athletic director Lisa Love decide to eliminate the school's cheerleading squad?
(a) Racy photos of cheerleaders in their bras and panties were posted on a campus blog
(b) The team violated the exclusivity agreement the school has with "Girls Gone Wild."
13. Rumors have circulated that Dwyane Wade is having an affair with:
(a) Star Jones
(b) Whoopi Goldberg
(c) Barbara Walters
(d) Al Reynolds
14. What did Indiana basketball player Eli Holman do after he told Hoosiers coaches that he intended to transfer?
(a) Shook each coach's hand
(b) Left personal notes in the lockers of his teammates
(c) Sent out a campuswide e-mail thanking his fans
(d) Went on a tirade that resulted in campus police being summoned
15. What did Holman reportedly do during the tirade?
(a) Either threw or knocked over a potted plant in the coaches' offices
(b) Shouldn't IU have removed all potted plants from coaches' offices sometime during the late 1980s?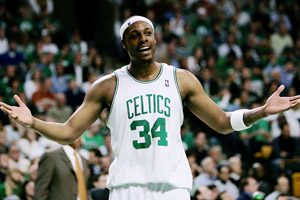 AP Photo/Charles Krupa
"Mr. Stern, do I look like a menacing individual?"
16. For what was Paul Pierce fined $25,000 by the NBA?
(a) Violating the league's dress code
(b) Skipping a postgame news conference
(c) Criticizing the referees
(d) Making a "menacing gesture" to the Hawks' bench
17. If you believe Pierce's explanation for the gesture, his favorite band must be:
(a) Earth, Wind and Fire
(b) Peter, Paul and Mary
(c) Marky Mark and the Funky Bunch
(d) Blood, Sweat and Tears
18. What shocking revelation did Barbara Walters announce on "Oprah"?
(a) Don't even go there
(b) Seriously
MATH (Please show your work.)

19. If Barry Zito is earning $14.5 million this season and threw 3,411 pitches in 2007, how much will he earn per pitch now that he's been moved to the bullpen?
20. Ohio State had to pay former men's basketball coach Jim O'Brien $2.74 million for improperly firing him for violating NCAA rules. How much would it have cost the Buckeyes if they had properly fired him for violating NCAA rules?
ANSWER KEY: 1, a; 2, e; 3-5, a; 6, d; 7, c; 8, c; 9, e; 10, d; 11, d; 12, a; 13, a; 14, d; 15, a; 16-17, d; 18, a; 19, a veritable boatload; 20, still more than most honest coaches make.
Kieran Darcy, Thomas Neumann, Mike Philbrick and David Schoenfield kept the quiz writer's chair warm for Patrick Hruby this week.