By Darren Rovell
ESPN.com
The phone startled Mike Sweeney in his hotel room the night before a game in Milwaukee. The clock on the nightstand read 3:30 a.m. as Sweeney warily reached for the receiver. He worried what the call might be about.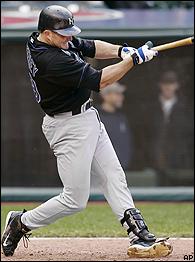 Mike Sweeney said he grew tired of being hit on at all hours of the night.
"Mr. Sweeney," a woman said to the Kansas City Royals first baseman. "I want to come up to your room and take care of you."
"What?" Sweeney asked, not recognizing the voice on the line.
"Look out your window," she replied. "I am in the phone booth looking at you right now."
Sweeney immediately hung up the phone and hurried -- not to the window but to the door, turning the lock.
"It's time to get an alias," he said to himself.
The pressures and distractions players face long ago spilled off the field and into the hotel lobby, where groupies and fans hope to catch more than just a glimpse of their favorite athletes. That doesn't stop at the threshold of their rooms, and doesn't end when the hour is no longer reasonable, as Sweeney and other major-league players can attest. An indoctrinating experience like Sweeney's, in fact, has led several players to assume a pseudonym or alias when on the road to keep the unwanted intrusions to a minimum.
The phone wouldn't stop ringing in C.C. Sabathia's room the night before the Cleveland Indians pitcher was to make his first start in New York -- Yankees fans no doubt checking to make sure he was getting a good night's sleep. "They called me every hour," Sabathia said.
Like Sweeney, Sabathia now uses a fake name whenever his team hits the road. Though neither would reveal his alias, the two are among a growing number of players who use them. More than half of Major League Baseball's rosters are converted into aliases on hotel rooming lists, according to a survey by ESPN.com of directors of team travel.
"I was as naive as anybody else," Baltimore Orioles second baseman Brian Roberts said. "You look down the room name list, and you see Napoleon Dynamite. Then you realize that it is somebody on your team trying to hide themselves."
For someone seeing the rooming list for the first time, it's hard not to laugh. Players stretch the bounds of creativity in order to find a name that matches their personality or personal interests.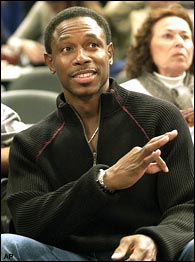 An appreciation of boxing came out when Kenny Lofton looked for names to disguise his identity.
You might be able to spot Kenny Lofton in the hotel lobby where the Philadelphia Phillies are staying on the road, but you won't be able to call up to his room. Unless, that is, you know what boxer's identity he has stolen for the night.
In the past, he could be found under the names of Muhammad Ali, Joe Frazier and Sugar Ray Robinson, but he's constantly changing his identity on the team's rooming list so he doesn't receive random calls for tickets or autograph requests, or even worse -- a knock on the door.
"I'm not running out of boxers because you can always think of a name of a boxer," Lofton said, "but I got to watch out because if you keep thinking about boxers someone is going to get my name."
Mike Seghi is the second-longest tenured director of team travel in the majors. During his 32 years with the Indians, Seghi has seen it all.
"Most of the aliases are usually actors or entertainers, depending on what the taste in the music is," Seghi said. "We've gone from P. Diddy to a Garth Brooks. We had an Elvis Presley along the way and a Jimmy Buffett. A lot of times, we have actors. Antonio Banderas has been used a number of times, and we've had a Will Smith recently."
The names of movie characters are also popular among the players. Seghi said he has booked rooms for players using aliases such as Don Corleone from "The Godfather," Tony Montana from "Scarface," Clark Griswold (National Lampoon's "Vacation" movies), Lloyd Christmas ("Dumb & Dumber") and Hannibal Lecter ("Silence of the Lambs"). Characters from sports movies also have been recycled over and over again. Seghi said Indians players have used characters from "Bull Durham" and "Major League," the movie that made fun of a fictitious Indians team.
Sometimes players want the same names.
"I was watching 'Caddyshack' and Bill Murray character's Carl Spackler," Royals pitcher Brian Anderson said. "And I am like, 'That is a great name.' So I come into the clubhouse and start loud talking about how I am going to change my name to Carl Spackler and there is a guy already on the team using that name."
So Anderson found inspiration in another favorite movie of his, "The Naked Gun."
"I used to stay as Lt. Frank Drebin and, much like a pampered superstar, would make them put the 'Lt.' on the rooming list," Anderson said. "So that when I get my key, it would actually be 'Lt. Frank Drebin' [on the envelope]."
Roger Clemens -- who went by Red Glare, a play on the national anthem and his nickname "Rocket," on hotel registries until, well, now -- said he has used an alias for 15 of his 22 seasons in the majors. The alias, he said, has to be approved by the loved ones -- not only because they are always asking for it but also because of their extended association with it. One of Clemens' favorites was a wild west gunfighter that was rejected by his wife.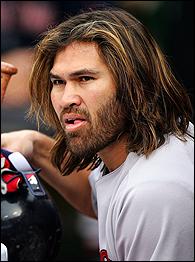 Getty Images
This look will be a thing of the past the next time you see Johnny Damon in an endorsement.
"I was in the bookstore once and, you know, the wife was in there and she was grabbing some different things and children's books, and I stumbled on Wyatt," Clemens said. "I said 'This is perfect.' But she wouldn't go for it. She did not want to be Mrs. Earp. So that was short-lived."
Sabathia said he used his favorite cartoon character, George Jetson, for years: "If you call down to the room service, they're like 'Hey Mr. Jetson.' On the receipt, it's got 'Jetson' on the bottom and you sign it 'George Jetson,' so it's pretty funny."
Before a team arrives in a hotel, the director of team travel makes sure the hotel has the names of its players registered with their corresponding fake name. Sometimes hotel employees don't get the memo on who's really who.
"One time, I was the boxer Pernell Whitaker," Lofton said. "When I ordered room service and it got there, there were three people there bringing my room service and they were like, 'Mr. Whitaker, can we have your autograph?' "
Then there's the occasional mix-up.
Sports writer Jim Kelley has been confused with Buffalo Bills quarterback Jim Kelly hundreds of times. In the early '90s, Kelley, who covered the Bills for the Buffalo News, stayed in the same hotels as the Hall of Famer. While the quarterback would use a fake name, the journalist would not.
During Week 13 of the 1993 season, Kelley was in a Kansas City hotel when he received an interesting call.
| | | |
| --- | --- | --- |
| | " | They told me that they were [female] twins and if I could assure them the Chiefs would win, they would do anything. I said, 'It's very tempting, but you've got the wrong Jim Kelly.' " |
| | | — Jim Kelley, the journalist, remembering when he was mistaken for Jim Kelly, the quarterback |
"They asked for Jim, and I said they were talking to him," said Kelley, who is 5-foot-9 and has been bearded since he was 18. "So they told me that they were [female] twins and if I could assure them the Chiefs would win, they would do anything. I said, 'It's very tempting, but you've got the wrong Jim Kelly.' "
A misplaced call to Kelly once led to the journalist breaking a story. An orthopedist mistakenly called Kelley's room and asked if he needed help with his elbow. Days later, Kelley found out that Kelly was experiencing problems with his shoulder.
Kelley's not the only one who has been confused for a celebrity.
"The front desk calls your room once in a while at 1 a.m. and they say, 'Mr. Seghi, we have Mr. Snoop Dogg down here and he doesn't have any ID to get his key,'" the Indians' travel director said. "And then you say 'You can give it to him, his real name is so-and-so and he is authorized to get a key to that room.'"
Seghi also has to keep track of the aliases. During a season, some players believe that changing their alias will help on the field. One pitcher stayed under Clint Eastwood when he was not pitching, but when he had a start, he changed it to Eastwood's character Dirty Harry.
"He thought it was more intimidating," Seghi said.
Although cell phones have diminished the need for hotel phones, the use of aliases continues to grow in popularity among players, said Mike Shaw, director of team travel for the Toronto Blue Jays.
"I pretty much use my cell phone 24/7 until my minutes run out, and then I have to use my hotel phone," said Blue Jays outfielder Vernon Wells, who has used an alias since a fan called his hotel room asking for tickets.
Because rabid fans have access to the names and locations of hotels listed in team media guides, part of the unwritten clubhouse code is that teammates are never supposed to expose another teammate's alias. Officials with 10 Major League Baseball teams told ESPN.com that their team's players would not comment specifically on aliases or even the prevalence of players using aliases. Others who did agree to speak on the topic were relatively mum.
"I can't really divulge what names are being used out there," said San Francisco Giants first baseman J.T. Snow, who has used the same alias for at least five years. "That's strictly for players only."
Although the practice is more common in baseball than the other sports -- since they are on the road more than basketball, football and hockey players -- stars in other major sports have been known to use aliases. Tim Hardaway reportedly used Speedy Gonzalez, and Bugs Bunny and Homer Simpson were allegedly favorites of Michael Jordan and Charles Barkley, respectively. A woman recently sued Michael Vick and in the process apparently outed one of his aliases -- Ron Mexico.
Public figures who need to change their names sometimes become athletes.
When the Secret Service advised former White House press secretary Ari Fleischer to use a fake name when traveling to the Caribbean island of Nevis for his honeymoon in November 2002, he let the fan in him come out.
"I said, 'This is my chance to be an athlete,' and if I could be an athlete I was going to be a Yankee," Fleischer said. "Well, I thought about which Yankee could I be. And I thought, how about Alfonso Soriano? Then I realized if I walk up to the front desk and say 'Hello, my name is Alfonso,' they'd laugh. I don't think I look like an Alfonso. So then I thought about, how about Derek Jeter? No. You can't be Jeter. Everybody will know. That won't work. So I thought: Who could I be? And that's when it hit me -- Bernie Williams."
As Fleischer walked around the hotel, he said being called Mr. Williams all day "was surreal."
"What really bothered me was they kept calling my wife Mrs. Williams," Fleischer said. "I just married the woman and I wanted to hear her being called Mrs. Fleischer."
Fleischer also used the names of former Yankees first baseman Tony Clark, on a trip to London, and Miami Dolphins linebacker Zach Thomas, while staying in a hotel in Austria.
If one thing is clear about this fake name business, it's that the process certainly is not boring. Players are on the prowl, watching television shows and movies to come up with their next identity.
Predicted New York Mets pitcher Steve Trachsel: "You're definitely going to see 'Deep Throat' pretty soon."
Darren Rovell, who covers sports business for ESPN.com, can be reached at darren.rovell@espn3.com