"Most of the aliases are usually actors or entertainers, depending on what the taste in the music is," Seghi said. "We've gone from P. Diddy to a Garth Brooks. We had an Elvis Presley along the way and a Jimmy Buffett. A lot of times, we have actors. Antonio Banderas has been used a number of times, and we've had a Will Smith recently."
The names of movie characters are also popular among the players. Seghi said he has booked rooms for players using aliases such as Don Corleone from "The Godfather," Tony Montana from "Scarface," Clark Griswold (National Lampoon's "Vacation" movies), Lloyd Christmas ("Dumb & Dumber") and Hannibal Lecter ("Silence of the Lambs"). Characters from sports movies also have been recycled over and over again. Seghi said Indians players have used characters from "Bull Durham" and "Major League," the movie that made fun of a fictitious Indians team.
Sometimes players want the same names.
"I was watching 'Caddyshack' and Bill Murray character's Carl Spackler," Royals pitcher Brian Anderson said. "And I am like, 'That is a great name.' So I come into the clubhouse and start loud talking about how I am going to change my name to Carl Spackler and there is a guy already on the team using that name."
So Anderson found inspiration in another favorite movie of his, "The Naked Gun."
"I used to stay as Lt. Frank Drebin and, much like a pampered superstar, would make them put the 'Lt.' on the rooming list," Anderson said. "So that when I get my key, it would actually be 'Lt. Frank Drebin' [on the envelope]."
Roger Clemens -- who went by Red Glare, a play on the national anthem and his nickname "Rocket," on hotel registries until, well, now -- said he has used an alias for 15 of his 22 seasons in the majors. The alias, he said, has to be approved by the loved ones -- not only because they are always asking for it but also because of their extended association with it. One of Clemens' favorites was a wild west gunfighter that was rejected by his wife.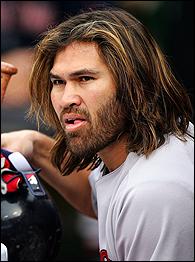 Getty Images
This look will be a thing of the past the next time you see Johnny Damon in an endorsement.
"I was in the bookstore once and, you know, the wife was in there and she was grabbing some different things and children's books, and I stumbled on Wyatt," Clemens said. "I said 'This is perfect.' But she wouldn't go for it. She did not want to be Mrs. Earp. So that was short-lived."
Sabathia said he used his favorite cartoon character, George Jetson, for years: "If you call down to the room service, they're like 'Hey Mr. Jetson.' On the receipt, it's got 'Jetson' on the bottom and you sign it 'George Jetson,' so it's pretty funny."
Before a team arrives in a hotel, the director of team travel makes sure the hotel has the names of its players registered with their corresponding fake name. Sometimes hotel employees don't get the memo on who's really who.
"One time, I was the boxer Pernell Whitaker," Lofton said. "When I ordered room service and it got there, there were three people there bringing my room service and they were like, 'Mr. Whitaker, can we have your autograph?' "
Then there's the occasional mix-up.