To celebrate the 30th anniversary of the establishment of diplomatic relations between the United States and China, two of our nation's most distinguished internationalists rang the opening bell Monday at the New York Stock Exchange. One of them, Nobel Peace Prize laureate Dr. Henry Kissinger, served as national security adviser and as secretary of state. The other, David Stern, has been commissioner of the National Basketball Association since 1984. There they were, Kissinger and Stern: the professor and the litigator, the men who opened up China to Western-style industrialism and Rockets jerseys, respectively. You can decide to whom the Chinese people are more indebted.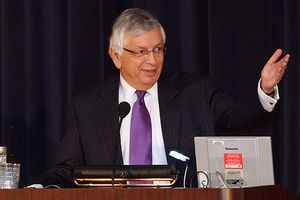 Ned Dishman/Getty Images
The floor recognizes the distinguished gentleman from New York.
In any event, the sight of Kissinger and Stern side by side got me thinking -- no small feat. In a time of national crisis, when our economy teeters on the brink of collapse, on a day when Nobel Economics Prize laureate Paul Krugman wrote in The New York Times that we are edging ever closer to Great Depression Part Deux, why is David Stern working for hoops nation rather than the nation? Suddenly, it seemed clear to me that the man who rescued pro basketball when it was flirting with oblivion shouldn't be wasting his time on 5th Avenue. He should be on Pennsylvania Avenue, or on whatever street the Capitol Building is situated. Here is a man who is a master negotiator, a skilled businessman, a man of the world, independently wealthy -- and therefore unsusceptible to loathsome special interests -- and tough-minded but fair. Here is a Webster, a Clay, a Quayle -- a man, in short, who belongs in the U.S. Senate.
Serendipitously, here in New York, a job is open. Unlike his counterpart in Illinois, Governor David Paterson has not yet named a successor to the state's soon-to-be-former junior senator. Unlike his counterpart in Illinois, Paterson might be willing to name a new senator without first putting the job on eBay. David Stern for Senate? You laugh? Don't. Here are some good reasons why Stern is, if anything, overqualified:
It appears that Al Franken -- a middling comedian -- has probably eked out a win in his effort to unseat Sen. Norm Coleman in Minnesota. Please don't tell me that Franken is more qualified than Stern.
The front-runner (for now) to succeed Sen. Hillary Clinton is Caroline Kennedy, who is demonstrably less proven than Stern.
Bill Bradley was elected to the U.S. Senate just one year after retiring as a player from the NBA -- and served well and honorably for three full terms.
Milwaukee Bucks owner Herb Kohl is serving his fourth term in the Senate. With all due respect to the Honorable Mr. Kohl, is there a Bucks fan alive who thinks Kohl is smarter than Stern? Remember Dirk Nowitzki for Robert Traylor?
I could go on -- and I will.
Economics isn't Stern's only area of expertise. Unlike his counterparts in baseball, football and hockey, he has truly succeeded in the arena of international relations. The NBA is the closest thing we have to a global league with global impact. Now that Joe Biden has left the Foreign Relations Committee, I would feel safer knowing David Stern is there to safeguard American interests abroad.
There are precedents for commissioners entering politics, kind of. Happy Chandler was baseball's commissioner when the color line was finally broken. Previously, he'd been a U.S. senator and governor of Kentucky. For what it's worth -- not much I'm afraid, in this discussion -- the father of NFL commissioner Roger Goodell was a U.S. senator who represented the Empire State.
Here's another factor: President-elect Obama is a hoops man. So is Education Secretary-designate Arne Duncan. And Attorney General-designate Eric Holder. With a basketball-loving administration, Stern would have instant entrée.
In other words, this is an easy call for David Paterson. David Stern must be shipped off to Washington. He meets all the constitutional requirements. He's older than 29, he's been a U.S citizen for more than eight years and he resides in the state he would represent. As far as we know, he has never communicated with Rod Blagojevich. Plus, in the grand tradition of the Senate, he's flexible, a great compromiser. Would a rigid ideologue have implemented instant replay? I think not. Commissioner, your state and your nation need you. Don't worry about the pay cut. Compared to New York prices, Washington real estate is cheap -- and you could always share a place with Gilbert Arenas.