By Aaron Schatz
Special to Page 2
Imagine a draft that goes like this: a future Hall of Famer in the first round; a future Hall of Famer in the second round; another in the fourth round; and a final future Hall of Famer in the fifth round.
One team actually did that in one draft. While that draft class has to rank as the best ever by one team, we thought it would be fun to start at the beginning of the combined AFL-NFL draft in 1967 and list the best drafts. To be rated, a team had to grab a number of good players who had long careers, with some of them making multiple Pro Bowls, while mixing great early picks with steals in the late rounds.
NFL draft coverage on ESPN.com
Get your complete coverage of this year's NFL draft at NFL Draft Central.

You can also get complete draft history since 1990 here.
1970 Pittsburgh Steelers
Since 1967, only twice has a team found two Hall of Famers in the same draft. The '70 Steelers took two Hall of Famers this year (they would draft nine total in six drafts from 1969 through 1974). But there wasn't much else found in this draft besides QB Terry Bradshaw, taken with the No. 1 overall pick out of Louisiana Tech, and CB Mel Blount, taken in the third round out of Southern University. Second-round selection Ron Shanklin was Pittsburgh's leading receiver for three years and made the 1973 Pro Bowl, but quickly lost his place on the team to two rookies from the 1974 draft (more about them later) and was out of the NFL by 1977. Two late-round receiver selections, Jon Staggers (fifth round) and Dave Smith (8th round), did manage to stick around the league for a few years.
1973 Buffalo Bills
The 1973 Bills had one of the deepest drafts of all time, but their first choice, No. 7 overall selection TE Paul Seymour out of Michigan, was a bust. He played only five years and never caught more than 20 passes in a season. Second-round pick, DT Jeff Winans, never panned out; neither did DT Bob Kampa (third round) or CB Donnie Walker (fourth round).
But the Bills had two picks in round one, and the other guy, guard Joe DeLamielleure from Michigan State, became the Hall of Fame leader of the Buffalo offensive line known as the "Electric Company" because they "turned the Juice loose." The Bills found their starting quarterback for the next 12 years, Joe Ferguson of Arkansas, in the third round. The lower rounds found numerous players who would have long NFL careers. Defensive lineman Jeff Yeates (fourth round) played 11 years and was a starter in Atlanta from 1978-1983. WR Wally Francis (fifth round) played nine years and was a starter in Atlanta from 1977-1981. They found two starting linebackers in Jeff Skorupan (sixth round) and Merv Krakau (14th round). And in the 15th round the Bills took LB Joe Rizzo out of King's Point College; he ended up a four-year starter in Denver and even started a Super Bowl.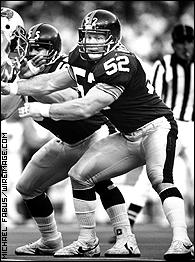 Webster and the '74 draft class helped the Steelers win four Super Bowls.
1974 Pittsburgh Steelers
Here you go, the only team that has ever chosen more than two Hall of Famers in the same draft – and Pittsburgh chose four for good measure. Even better, the Steelers were able to find these four legends despite drafting near the bottom of the draft. Pittsburgh took WR Lynn Swann out of USC with its first-round pick, 21st overall, LB Jack Lambert of Kent State in the second round, and WR John Stallworth of Alabama A&M with the first of their two fourth-round picks. Their best choice, however, was Mike Webster of Wisconsin, in round five. Webster became the best center of all time, playing 17 years and making the Pro Bowl in nine of them.
For good measure, this draft also included fourth-rounder Jimmy Allen, who won two Super Bowl rings as the nickel back before starting in Detroit as a safety, and Charlie Davis, who ended up playing seven years and was the starting nose tackle in St. Louis from 1975 through 1979.
1981 Washington Redskins
Four players from this draft were starting for a Super Bowl champion one year later, and two others were starters by the time the Redskins won their next Super Bowl. With their first two picks, the Redskins grabbed two of the legendary Hogs, tackle Mark May (first round, 20th overall) and center Russ Grimm (third round). Fifth-round selection Dexter Manley became one of the most intimidating defensive linemen in football with 97½ career sacks. Although he had a short career of only six years, WR Charlie Brown (eighth round) started two Super Bowls. In the ninth round the Redskins found Darryl Grant, who was an offensive lineman in college and by his second season was starting at defensive tackle in the Super Bowl. And with their final pick, they grabbed TE Clint Didier (12th round), who played eight seasons and caught a touchdown in Super Bowl XXII.
1983 Los Angeles Rams, 1983 Chicago Bears
The 1983 draft is known for its class of quarterbacks, but they were just the tip of the iceberg in the best overall draft the NFL has ever had.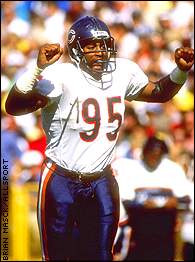 Richard Dent became one of the best pass rushers in league history.
The Bears took seven different players who became starters on the 15-1 Super Bowl champions three years later. The biggest name, and one of the best late-round selections ever, was DT Richard Dent, a four-time Pro Bowler taken in the eighth round. Between tackle Jimbo Covert (first), guard Tom Thayer (fourth), and guard Mark Bortz (eighth), the Bears found three-fifths of the offensive line that blocked for some of Walter Payton's best years. (Covert and Bortz also made two Pro Bowls each.) Wide receiver Willie Gault (first round), had a 10-year NFL career as a speedy deep threat with the Bears and Raiders. And for the secondary, the Bears grabbed four-time Pro Bowl safety Dave Duerson (third) and CB Mike Richardson (second).
The Rams used their first-round selection to draft one of the league's all-time top running backs, Eric Dickerson (2nd overall pick), and their second-round selection to draft one of the top five receivers in all-time total yardage, Henry Ellard (32nd overall). They also got a six-year starter at linebacker in Mike Wilcher (second round), a six-year starter at defensive end in Doug Reed (fourth), and a safety Vince Newsome (fourth) who played 10 years.
1987 Pittsburgh Steelers
You know, we could have probably just done this list with the 10 best Pittsburgh Steelers drafts. No other team in the NFL comes close when it comes to getting good players year after year, with both early and late selections. Of course, the problem for the Steelers is that while three of the players from this draft won the Super Bowl, none of them did it in Pittsburgh. Eleven-time Pro Bowler Rod Woodson, taken with the 10th overall selection, finally won a ring with Baltimore in 2000. Safety Thomas Everett (fourth round) started for three teams over nine years and won two rings in Dallas. DT Tim Johnson also started for three teams and won his ring in Washington in 1991.
Even more remarkable were two linebackers chosen in the fifth and sixth rounds who combined for nine Pro Bowls: Hardy Nickerson and Greg Lloyd. And then the Steelers managed to find a name very familiar to ESPN viewers way down in the 10th round: Merril Hoge. When you manage to snag a guy with the 261st pick who ends up with an eight-year career and four years of at least 800 combined yards rushing and receiving, that's a good draft.
1989 Dallas Cowboys
This is actually the draft before the infamous Herschel Walker trade. The most famous player from this draft is No. 1 overall selection Troy Aikman. But six of the first seven players chosen by Dallas had careers of at least eight seasons – and the longest, oddly enough, came for another team. The first pick of the second round, Steve Wisniewski from Penn State, was immediately dealt to the Raiders, where he spent 13 years as a starting guard and made five Pro Bowls. The Cowboys used another second-round pick on FB Daryl Johnston from Syracuse; he spent 11 years with the Cowboys and made two Pro Bowls. The first selection of round three was C Mark Stepnoski, who was a starter for 12 years with the Cowboys and Oilers/Titans and made five Pro Bowls. DE Tony Tolbert, who was a seven-year starter in Dallas and made one Pro Bowl, came in round four.
1990 Green Bay Packers
The year before, the Packers had used the second overall selection on Tony Mandarich. Umm, whoops? They made up for it in 1990, snagging six different players who played at least eight seasons. Unfortunately for Green Bay, many of them had their best seasons with other teams. Second-round DB LeRoy Butler played his entire career with the Packers and played in four Pro Bowls. But sixth-round LB steal Bryce Paup (sixth), who also played in four Pro Bowls, had his best years in Buffalo. LB Tony Bennett (first round) was gone to Indianapolis after four years with the Packers, LB Bobby Houston (third) started for the Jets from 1992-1996, DE Lester Archambeau (seventh) started for the Falcons from 1993-1999, and TE Jackie Harris (four) had a 12-year career with four teams. Numerous other players from this draft class also played a few NFL seasons as backups.
1991 Dallas Cowboys
The amazing thing about the Dallas draft classes of the early '90s is not that they did a good job with all those picks from the infamous Walker trade, but that they also did such an amazing job with their late-round selections. Once again, just like with their 1989 draft, the player who had the longest career never played a down in Dallas. First-rounder Kelvin Pritchett was dealt to Detroit on draft day and is still active after 14 years with the Lions and Jaguars. The Cowboys had three first-round picks, and the other two were DT Russell Maryland (first overall) and WR Alvin Harper (12th). The second round delivered LB Dixon Edwards, who started for the 1993 and 1995 Super Bowl champions, and the third round brought offensive tackle Erik Williams (70), who started on the Dallas line until 2000. But the best came late in the draft, as the Cowboys snagged two-time Pro Bowl DT Leon Lett out of Emporia State (where?) in round seven and then an eventual Super Bowl MVP, CB Larry Brown, with pick 320 way down in the 12th round.
2002 Philadelphia Eagles, 2003 New England Patriots
You can't really judge the long-term impact of recent drafts yet, but these are two good candidates to someday rank with the other drafts list above. Philadelphia's first four picks in 2002 all started in this year's Super Bowl: CB Lito Sheppard (first), S Michael Lewis (second), CB Sheldon Brown (second), and RB Brian Westbrook (third). All except Brown made the Pro Bowl as well. Seventh-round pick Raheem Brock, meanwhile, went on to Indianapolis and has started for two seasons at defensive end.
The players from the 2003 Patriots' draft won the Lombardi Trophy their first two seasons. C Dan Koppen (fifth) and S Eugene Wilson (second) started the Super Bowl as rookies, while CB Asante Samuel (fourth) and DT Ty Warren (first) started for most of the 2004 season. (Warren didn't start the Super Bowl because the Patriots were playing that wacky 2-5 setup.) LB Tully Banta-Cain (seventh) and WR Bethel Johnson (second) are top performers on special teams.
Aaron Schatz is editor-in-chief of FootballOutsiders.com.
Aaron
Schatz
GREATEST DRAFTS