Single page view
By David Schoenfield
Page 2
This is what bugs me about April baseball: Brian Roberts.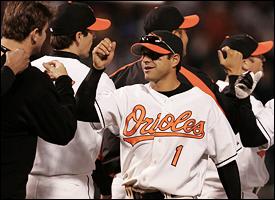 AP Photo/Chris Gardner
Don't look for Brian to be leading the league come July.
Look, I know you Orioles fans are all excited about Mr. Roberts. I'm tired of hearing of this guy. He's not going to be the AL MVP. He may not even be an All-Star. A guy who hits .273 with four home runs doesn't suddenly become one of baseball's best hitters.
And Shea Hillenbrand, he bugs me too. We've seen hot starts from him before. Just call him Mr. April.
Don't even get me going on Clint Barmes. If he's still hitting .300 at the All-Star break, I'll pay attention
But until then ... enough! Enough of the hype on these guys, enough of how Roberts' turnaround spells big things for the Orioles. Instead of all this positive coverage about meaningless April starts, we need a little dose of reality. Not to rain on everybody's April parade, but we need some truth. And I'm here to deliver it for your favorite team.
NL East
Atlanta Braves: If John Schuerholz is so smart, how come he signed Brian Jordan and Raul Mondesi? This is doomed to be the worst pairing of corner outfielders since high-school pals Darryl Strawberry and Eric Davis reunited with the '92 Dodgers and turned Tommy Lasorda on to a diet of Slim-Fast and Pepto Bismol.
Florida Marlins: Hey, if you actually believe Josh Beckett and A.J. Burnett will stay healthy, that Scuffy Moehler will have his first good year since 1998, that Al Leiter still has something left to offer besides his TV career, that the Fish can continue to post a 2.27 team ERA ... then, yes, you've got me.
New York Mets: Jose Reyes is hitting .267. That's nice. Jose Reyes has drawn zero walks. That's uglier than a Kaz Ishii pitching line. Unless Willie Randolph wises up and gets Reyes out of the leadoff spot, this team isn't going anywhere.
Philadelphia Phillies: Jon Lieber is 4-0 and averaging 2.73 K's per nine innings. Smart baseball fans – i.e., those not from Philly – know that's not meant to be read as a good sign.
Washington Nationals: OK, we get the idea; D.C. has a baseball team. Too bad it's one with Cristian Guzman playing shortstop.
NL Central
Chicago Cubs: What's more frightening, LaTroy Hawkins' pitching in the ninth inning with a one-run lead, or hearing the words, "Procedure will clean up tissue around groin"?
Cincinnati Reds: Amazingly, Eric Milton is on pace to top the 43 home runs he allowed last season.
AP
The good news is they signed Ben. The bad news? He's still hurt.
Houston Astros: News out of Houston is that Roger Clemens has taken Brandon Backe under his wing, turning him into a Junior Rocket and all that. Seems to be working, other than that little thing about a 6.17 ERA. Please notice that I did not take the easy out and rip Brad Ausmus!
Milwaukee Brewers: In a shocking development, the Brewers once again lack the talent to compete for a division title. Check out Alan Schwarz's great article that shows the Brewers signed just 15 players on Opening Day rosters (only the Devil Rays signed fewer, and at least they have the expansion excuse).
Pittsburgh Pirates: What ails the Pirates? My friend Gerard reports from the Steel City: "The Pirates have been successful in brainwashing the fan base to 'grittiness' and 'hustle' and 'this guy cares' so much so that winning and talent no longer matter." Ahh, yes: a little grit, a little hustle and a little too much Lloyd spells disaster.