OUT: Jim Thome and Carlos Delgado
This one pains me, but it also shows how one's Hall of Fame potential can drop precipitously in one season. At the start of 2005, Thome was coming off four straight 40-plus homer seasons; and, despite advancing age (35 in August), he looked like a reasonable bet to reach 600 career home runs (he had 423). One bad back and one bad elbow later, rumors had the Phillies wanting to dump his contract like he was Len Matuszek.
Delgado's problem is he'll likely have to line up behind Jeff Bagwell, Thomas, Palmeiro and Thome for honors.
28. Ichiro Suzuki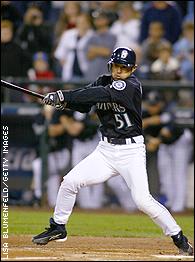 Shouldn't Ichiro get credit for what he did in Japan?
Page 2's Jim Caple addressed this issue a few weeks ago: "If Ichiro winds up with 10 .300 seasons, another batting title or two and 2,500 hits in this country, should we factor in his 1,278 hits and seven batting titles in Japan at least a little?" I'm predicting that Ichiro will continue to rack up 200-hit seasons in the U.S. (he's the type of player who should age well), that he will finish with 2,000-plus hits and that, yes, voters intuitively will factor in his dominance in Japan, as well.
29. Andruw Jones
To begin with, he's the best to patrol center field since Willie Mays, with seven straight Gold Gloves and counting. He's 28 and has 282 home runs -- only Alex Rodriguez (381), Juan Gonzalez (301), Hank Aaron (298) and Frank Robinson (291) had more through the same age. Ten Gold Gloves? Six hundred home runs? I don't see how he can be denied.
OUT: Jim Edmonds
Edmonds' 2000-04 peak rivals the best five-year runs of many Hall of Fame center fielders; but unless he has an astonishing late-30s performance, he'll fall into the Hall of Very, Very Excellent.
30. David Wright and 31. Hank Blalock
Is this the golden age of third basemen? Alex Rodriguez, Scott Rolen, Eric Chavez, Aramis Ramirez, Troy Glaus and these two young sluggers. Third base is the most under-represented position in the Hall; it's time for that to change. Blalock, 24, is on pace for his second straight 30-HR, 100-RBI season and has made just three errors. Wright, just 22, is going to be a hitting machine.
OUT: Scott Rolen and Chipper Jones
Rolen has put together half a Hall of Fame career. But I worry that the back and shoulder problems he's had will ruin the second half.
Chipper's a tough call, following a subpar 2004 and injury-riddled 2005. Can he rebound and have a couple more big seasons? Will he stay at third base? I do know that it will help when Greg Maddux and Tom Glavine are on the Veterans Committee in 2036.
32. Jeff Kent
In some regards, if Kent makes it to Cooperstown, he'll become one of the least-likely Hall of Famers ever. No hitter has fashioned a Hall of Fame career almost exclusively with what he accomplished after the age of 30, but that's what Kent is doing. His first big year came with the Giants in 1997 at age 29. Since then, he's had seven 100-RBI seasons as a second baseman (a feat matched only by Hall of Famers Charlie Gehringer and Tony Lazzeri). No player has hit more home runs as a second baseman. Only four other second basemen since World War II have won an MVP Award -- Jackie Robinson, Nellie Fox, Joe Morgan and Ryne Sandberg -- and all are in the Hall.