Single page view
By David Schoenfield
Page 2
I hate baseball.
There are days it makes you wish you had played the trombone in the high school band so you would have wasted time staring at the flutists instead of reading the box scores in second-period Algebra.
My team is 20 games out of first place. They were mathematically eliminated on May 8. They're playing guys named "Dobbs" who would have trouble cracking the Royals' starting lineup, let alone a real major-league team.
So all I have left to root for now is for the Yankees to miss the playoffs. In the name of the Baseball Encyclopedia, couldn't at least this happen, just to give me a little peace in the midst of my late-September misery and ache?
But baseball is never so kind. It does things like this: It gives us Aaron Freaking Small.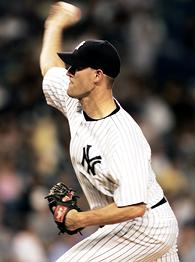 Al Bello/Getty Images
Small's victory Tuesday didn't even qualify as a quality start.
He won again Tuesday night. He's 9-0 for the Yankees. I doubt Aaron Small went 9-0 back at South Hills High School in Covina, Calif. His ERA is 3.59. He hasn't had an ERA of 3.59 for any team in which he's pitched at least 50 innings since he had a 2.99 mark for Double-A Knoxville in 1994. That was 11 years ago. Since then, Small has drifted back and forth between the majors, the minors, the disabled list and probably more than a few days on the unemployment line wondering what kind of salaries they pay on the Newark Bears.
Coming into 2005, Small had pitched in 146 career games in the majors with a 5.56 ERA. Sure, he pretty pitched well for Richmond back in '01 (3.83 ERA), but he's been shaky at various stops ever since: 6.00, 6.39, 27.00, 4.83, 4.63, 5.06, 8.27, 3.60 (five innings at Trenton this year), 4.96 (49 innings at Triple-A Columbus this year).
Obviously, that 4.96 ERA impressed the Yankee brass because they called him up to the big leagues on July 17. He's been Guidry '78 all over again. Forget Mariano Rivera or Alex Rodriguez, Small is the Yankees' MVP. Where would they be without this guy? Forget Jason Giambi for Comeback Player of the Year. Give it to Small. Can you come back from nowhere?
The Yankees are 24 games over .500, just a half-game back of the Red Sox in the AL East and the Indians in the wild-card chase. Take away Small and their season is over. Torre would have been fired three weeks ago. Jeter would have resigned in disgrace as captain. A $200 million payroll and the Yankees would have been in the same place as the Devil Rays: out of the playoffs. Heck, Steinbrenner might have sold the team to Daniel Snyder and said, "You can do better than me."
But Aaron Freaking Small is 9-0. Does this happen to your team? Does this happen to any team except the Yankees? My friend Jim Caple wrote a book called "The Devil Wears Pinstripes." You don't believe this now? Who made the deal? Babe? Casey? Yogi? Mickey? George? Why isn't Congress investigating this instead of Rafael Palmeiro?
Yes, it all makes me angry. Baseball is supposed to be cruel. It's supposed to rip at your guts. The Yankees should not be rewarded for their foolishness. They overpaid for Jaret Wright. They overpaid for Carl Pavano. They traded for Randy Johnson. All three got hurt, failed to meet expectations, showed their age or all of the above. And nobody was surprised this happened.