By David Schoenfield
Page 2
This is Jerome Bettis' Super Bowl.
Here's Jerome on the Sunday Conversation.
Here's Jerome's mom and dad.
Here's another replay of Jerome's near-tragic fumble against the Colts.
Please … stop. Enough already! All these stories about The Bus are giving me a headache.
Look, it's a nice story: After 13 years in the league (the last 10 with the Steelers), the popular and well-liked Bettis finally makes a Super Bowl in what likely will be the final game of his career -- and the game is being played in his hometown of Detroit, no less.
Cue cameras, interviews, the great nickname, two weeks of pregame hype, and by game day you'll know more about Bettis than you know about your own kids.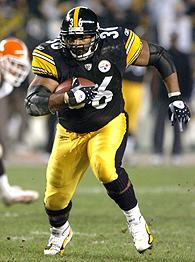 William R. Amatucci Sr./WireImage.com
Bettis has averaged more than 4 yards a carry just once in the past eight seasons. (William R. Amatucci Sr./WireImage.com)
But let's be honest here. This isn't Walter Payton finally making Super Bowl XX late in his career.
Nonetheless, this is the over-the-top buildup we're already getting. I heard at least five different announcers/pundits/experts call Bettis one of the greatest running backs of all time -- and that was just on the day the Steelers won the AFC championship. I've heard more than one announcer/pundit/expert refer to Bettis as one of the five greatest running backs of all time.
Now, it's true that Bettis is fifth on the all-time rushing list with 13,662 yards, trailing only Emmitt Smith, Payton, Barry Sanders and Curtis Martin. But do you really think he's a greater running back than Jim Brown? Or Marshall Faulk? Or Marcus Allen, Thurman Thomas, O.J. Simpson or Earl Campbell? I could go on. I could list current stalwarts like LaDainian Tomlinson, Edgerrin James, Priest Holmes and Shaun Alexander.
Before Steelers fans wrap me in their Terrible Towels and stuff me into a desk drawer in my cubicle, let me say that Bettis is going to make the Hall of Fame. He's been extremely durable at a position where we often see brief flashes of brilliance, Terrell Davis and Jamal Anderson being prime examples. He's been good enough to play in six Pro Bowls (although three of those weren't deserved).
What he hasn't been, for most of his career, is great.
He's rushed for over 1,500 yards just once. (Of the top 50 individual rushing seasons of all time, Bettis has just one.)
With his bowling-ball physique, he's supposed to be especially effective at the goal line. Yet he has scored more than 10 touchdowns in a season just twice. (He has 91 career touchdowns in 192 games; by way of comparison, his Super Bowl opponent, Alexander, has 89 TDs in just 96 games.)
His career rushing average is a meager 3.9 yards per carry, and he's averaged over 4 yards per carry just four times in 13 seasons. (Of the top 50 rushers of all time in terms of career yardage, only Eddie George and Rodney Hampton have averaged less than 3.9 yards per carry.)
Steelers fans are probably crying that Bettis' yards-per-carry average is low because he hasn't had the luxury of playing with any great quarterbacks before Ben Roethlisberger. OK, but consider this: Since joining the Steelers in 1996, Bettis has carried 2,683 times for 10,571 yards, averaging 3.93 yards per carry; all other Steelers running backs -- guys like Erric Pegram, Richard Huntley, Amos Zereoue, Chris Fuamatu-Ma'afala and Willie Parker -- have rushed 1,780 times for 7,793 yards, or 4.38 yards per carry.
So Bettis, supposedly one of the greatest running backs of all time, has actually averaged nearly half a yard less per carry than a motley collection of backups and fullbacks. Even if you take away 200 carries (and leave his yards gained the same), since you might argue he carried so often in short-yardage situations, his average jumps to 4.26 -- still less than his teammates running behind the same offensive line.
Here's the bottom line as you see Bettis featured on "Good Morning America," "The Daily Show" and "Emeril Live!" over the next week: He's Don Sutton or Harold Baines, a good running back who played a long time to compile some impressive career statistics.
But he is not one of the five or 10 or 15 or 25 greatest running backs of all time.
His nickname, however, ranks right up there.
David Schoenfield is the lead editor of Page 2.