Barry Bonds is approaching Hank Aaron's career home run record. Craig Biggio is nearing the career hit-by-pitch record. With his next ejection, Bobby Cox will tie John McGraw's career mark. And the Orioles are headed for a 10th consecutive losing season.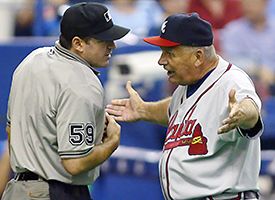 AP Photo/Andre Pichette
Did you realize Bobby Cox was on the verge of immortality?
Yes, we have Record Fever around the majors.
(OK, the Orioles aren't nearing any sort of record; it's just one pathetic streak they're on.)
Anyway, with minor leaguer Brandon Watson's pulling off a 43-game hitting streak, we're reminded of Joe DiMaggio's big league record of 56 -- and the likelihood that some of baseball's hallowed records will be broken someday. For example:
Most Home Runs, Career: 755
Record-holder: Hank Aaron, Braves, Brewers
Chance of being broken: 99.9 percent
It appears only two things can keep Aaron from losing baseball's ultimate record: Bonds gets hit in the head by a pitch in the near future and suffers a career-ending concussion. Considering the size of Bonds' head, this is more than a remote possibility. The other possibility would be Alex Rodriguez, who could easily hit 800 home runs, smacking the winning home run in Game 7 of the 2007 World Series, jumping on a police horse during the celebration to film the dramatic conclusion to his long-awaited "Yankeeography" and then falling off and suffering a career-ending back injury.
Most Strikeouts, Career: 5,714
Record-holder: Nolan Ryan, Mets, Angels, Astros, Rangers
Chance of being broken: 3.2 percent
Consider that Roger Clemens, who is second, is more than 1,000 K's behind Ryan and you can see why this record appears unbreakable. However, there is a chance that Roger's great-grandson, Kobayashi Clemens, will have a long enough career to break the mark. Of course, Kobayashi will pitch for 17 teams before passing Ryan.
Most Grand Slams, One Inning: 2
Record-holder: Fernando Tatis, Cardinals
Chance of being broken: 0.4 percent
Now, there is a chance this record could be tied. But broken? No way. Well, unless global warming continues -- meaning more home runs will be hit in the warm air and the average game score will increase to 32-27 by 2032.
Most Consecutive Losses: 27
Record-holder: Anthony Young, Mets
Chance of being broken: 6.3 percent
Young's mark seems unbreakable -- after all, that's a pretty incredible achievement. Then again, Jeff Weaver is still in the majors.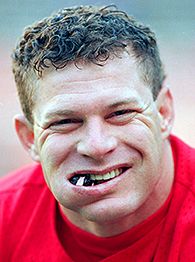 AP Photo/Doug Mills
Very attractive there Lenny, very attractive.
Most Tobacco Stains on Uniform, One Season: 1,489
Record-holder:
Lenny Dykstra, Phillies
Chance of being broken:
5.6 percent
According to statisticians, Dykstra actually reached higher per-game stain figures in 1992 and 1995, but 1993 was the only year of his career he managed to play in at least 150 games. Considering the recent trend of modern players chewing seeds, sucking on Mentos or gulping chocolate-covered coffee beans to please their in-game oral fixation, it appears Dykstra's mark will last quite a while.
Most Consecutive Stolen Bases Without Breaking the Vial of Cocaine in Your Back Pocket: 18
Record-holder: Tim Raines, Expos
Chance of being broken: 0.7 percent
With apologies to Raines -- a should-be future Hall of Famer who turned into a class citizen -- this is one record sure to last into the next century. First, you have the decline of the stolen base as an offensive weapon. Second, the slide step has made it more difficult to get good jumps. Third, Raines was one of the great basestealers of all time. And fourth, players just don't play with vials of cocaine in their back pockets like they used to.
Most Uncontrollable Sobs at a News Conference: 36
Record-holder: Mike Schmidt, Phillies
Chance of being broken: 82.4 percent
Schmidt's record from his 1989 retirement seemed unassailable at one time, but the recent spate of crying in sports makes this almost certainly a mark to be broken. Our prediction? Bobby Cox. He has a lot more bottled up inside than just outbursts over ball and strike calls.
Largest Player to Hit an Inside-the-Park Home Run: 260 pounds
Record-holder: Prince Fielder, Brewers
Chance of being broken: 17.6 percent
Yes, Fielder just set a new record. Who knew? What do you always read about when you're reading about Prince? How large he is. How big he is. He actually runs pretty well for a guy his size. Here's the thing: He's 100 pounds lighter than some NFL linemen. One hundred pounds! Seriously, those guys are freakin' fat.
Most Times Caught in the Act in the Bullpen: 1
Record-holder: David Cone, Mets
Chance of being broken: .000003 percent
Umm …
David Schoenfield is an editor for Page 2. Sound off to Page 2 here.