If you're going to become a real, true-blue Chicago Cubs fan, you need to learn about the franchise, its history and its most famous players. Here is a quick guide with definitions to some of the most important things you must know.
Baker, Dusty 1. manager (2003-06) 2. slayer of young arms 3. kept trying to turn Corey Patterson into a leadoff hitter
BANDWAGON 411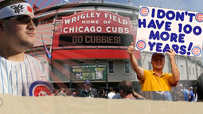 Here's everything you need to know about bandwagon riding:
•
The eight kinds of bandwagon fans and how to spot them
•
Ten tips for bandwagoners
•
History's biggest bandwagons
•
12 legendary victories a Cubs bandwagoner must know
•
Cubs bandwagon dictionary
•
Uni Watch: Cubs edition
Banks, Ernie
1.
Mr. Cub
2.
two-time National League MVP
3.
played third-most games in major league history without appearing in a World Series (see also PALMEIRO, RAFAEL; and DAWSON, ANDRE)
Bleacher Bums [Slang] 1. affectionate nickname for die-hard Cubs fans who sit in the outfield bleachers 2. drunk, smelly, shirtless fans who drink beer
choke v. choked, choking 1. 1969 pennant race 2. Leon Durham, letting ground ball through legs of, 1984 3. Steve Bartman, Alex Gonzalez et al, 2003
College of Coaches 1. strategy in which Cubs rotated four coaches as "head coaches" instead of naming one permanent manager (1961-62) 2. 123-193 (Cubs record, 1961-62)
Dawson, Andre 1. 1987 NL MVP 2. even though the Cubs finished 76-85 and in last place
Elia, Lee 1. manager (1982-83) 2. used very bad words once to describe Cubs fans
Garvey, Steve 1. former Dodgers and Padres first baseman 2. forearms like Popeye 3. All-American boy image later tarnished with out-of-wedlock children 4. Cubs fans knew he was of questionable character after hitting game-winning home run in Game 4 of 1984 NLCS
gerbil n. 1. any of a subfamily (Gerbillinae) of burrowing rodents related to the mouse 2. Don Zimmer, manager (1988-91)
goat n. 1. any of a number of wild or domesticated, cud-chewing mammals (genus Capra) with hollow horns, related to the sheep 2. a lecherous man 3. [Colloq.] a person forced to take the blame or punishment for others; scapegoat 4. do not bring into Wrigley Field
Grace, Mark 1. popular first baseman (1988-2000) 2. signed as free agent with Arizona in 2001 3. won World Series first season with Arizona
Guillen, Ozzie no-good #!(@*#$&! manager of hated Chicago White Sox
Homer in the Gloamin' [Slang] 1. description given to Gabby Hartnett's home run that beat Pittsburgh in the early evening darkness of a crucial pennant race game in 1938 2. Cubs went on to win the pennant 3. Cubs swept in World Series by Yankees
light n. 1. a source of light, as the sun, a lamp, a light bulb, etc. 2. finally installed at Wrigley Field (1988) 3. too many day games, perhaps explanation behind lack of National League pennants since 1945
lose v. lost, losing 1. to bring to ruin or destruction 2. to fail to win or gain 3. to fail to have, get, take advantage of, etc.; miss [the Cubs lost their chance at the 2003 pennant due to an eighth-inning meltdown]
Lovable Losers [Slang] affectionate nickname given to franchise
Maddux, Greg 1. pitcher, drafted by Cubs in 1984 as scrawny teenager from Nevada 2. developed into four-time Cy Young winner and 300-game winner 3. led Cubs to many division titles and pennants in 1990s 4. ohh, that's right, no he didn't, Cubs let him leave as free agent following 1992 season
meat n. 1. the flesh of animals used as food 2. popular food item in Chicago 3. what Cubs outfielder Dave Kingman once referred to athletes as [athletes are pieces of meat]
Merkle's Boner n. [Slang] 1. infamous baserunning gaffe by New York Giants rookie Fred Merkle in 1908 that cost the Giants a victory and led to the Cubs winning the National League pennant by one game 2. get your mind out of the gutter
Prior, Mark 1. pitcher, 2002-06 2. thanks, Dusty
Santo, Ron 1. beloved Cubs third baseman and longtime announcer 2. widely regarded by sabermetric types as the best player not in the Hall of Fame 3. not including Pete Rose, Mark McGwire or Joe Jackson 4. in 1960s, Cubs had Ernie Banks, Billy Williams and Ferguson Jenkins (all Hall of Famers) plus Santo, yet won zero pennants 5. ouch
Sauer, Hank 1. 1952 NL MVP 2. even though the Cubs finished 77-77 and in fifth place
Sosa, Sammy 1. slugging right fielder, fan favorite, 1998 NL MVP, hit 60-plus home runs three times (1992-2003) 2. persona non grata (2004)
Tinker to Evers to Chance 1. famed double-play combination, immortalized by Franklin P. Adams poem 2. Tinker and Evers played alongside each other yet didn't speak for 33 years after a fistfight in 1905 3. Chance managed Cubs to pennants in 1906, 1907, 1908 and 1910 4. won World Series in 1908, last Cubs manager to do so 5. Chance nicknamed "The Peerless Leader," last Cubs manager to be considered as such
Tribune Company 1. cheap 2. stingy 3. tightfisted 4. good riddance
Wilson, Hack 1. squat, fireplug outfielder, stood just 5-foot-6 2. set all-time record with 191 RBIs and hit 56 home runs (1930) 3. spent offseason hanging out in Chicago bars, drinking plenty of free alcohol from adoring fans 4. hit 13 home runs, drove in 61 runs (1931)
Wrigley Field 1. heaven 2. place for drunk, smelly, shirtless fans to drink beer