Commentary
Cavs join long list of heartbreakers
It's not a good day to wake up in Cleveland. The dream is over. The parades have been canceled. Those LeBron and Kobe puppet commercials? Nothing more than a curse, or something to curse at.
The Cavs have been eliminated from the playoffs. Sixty-six wins down the drain, like a Rashard Lewis jump shot from beyond the arc. LeBron? One season closer to potentially leaving as a free agent.
The Cavs? Like many teams that rolled to the best record in their league, they were exposed when it counted most. The joy of the regular season ruined by the pain of playoff defeat.
Here are 20 teams of recent vintage we thought would win it all. And why they didn't.
2008-09 Cleveland Cavaliers
Record:
66-16, lost in conference finals to Orlando (59-23)
What we thought they were: The team that could finally deliver Cleveland a title. Invincible at home during the regular season (39-2), the Cavs led the NBA in fewest points allowed per game and opponents' field goal percentage. With the addition of All-Star Mo Williams, LeBron finally had the support he needed, and the Cavs rolled through the regular season with an 8.9-point average margin of victory. After they swept the first two rounds of the playoffs, a matchup with Kobe and the Lakers appeared inevitable.
What we didn't see: Despite holding opponents to the lowest 3-point shooting percentage during the regular season (33.3), the Cavs had no answers for Orlando's long-range bombers. Orlando made 62 3-pointers in the Eastern Conference finals, including 24 from big men Rashard Lewis and Hedo Turkoglu, who shot over smaller defenders or drove past the likes of the slower Zydrunas Ilgauskas, Ben Wallace and Anderson Varejao. Mike Brown, despite named NBA Coach of the Year, isn't exactly known as a maestro of the sidelines. As for Williams, he shot just 37.1 percent from the field.
Heartbreak factor: Hard to top this one, especially with one loss by one point and another in overtime. The city of Cleveland remains titleless since 1964.











2006-07 Dallas Mavericks
Record:
67-15, lost in first round to Golden State (42-40)
What we thought they were: Led by MVP Dirk Nowitzki, the Mavs cruised to the NBA's best record and appeared poised to go one step further than 2006, when they lost in the NBA Finals to Miami. Mark Cuban's celebration would no doubt be priceless.
What we didn't see: The Warriors presented a contrast in style to the Mavs Golden State actually owned the top pace factor in the league, while Dallas was 28th. The Warriors had swept the Mavs 3-0 during the season and entered the playoffs with nine wins in their final 10 games. Oh -- and former Mavs coach Don Nelson was the perfect foil to orchestrate an upset.
Heartbreak factor: The Mavs became only the third No. 1 seed to lose to a No. 8 seed. Considering the calls against them in the '06 Finals and after seasons of 53, 57, 60, 52, 58, 60 and 67 wins with no title, it was an especially bitter pill to swallow.










2004-05 Phoenix Suns
Record:
62-20, lost in conference finals to San Antonio (59-23)
What we thought they were: The new breed in the NBA. Playing a run-and-gun, hoist-up-the-3s style of offense, the Suns finished with the league's best record and became the highest-scoring team in a decade. Steve Nash & Co. would prove an offense-first mentality could prevail.
What we didn't see: Never count out the Spurs, who showed they could play the Suns' fast-paced style with a 121-114 win in Game 1. Phoenix's lack of depth also factored in when Joe Johnson missed the first two games of the series with a fractured orbital bone, forcing the Suns into essentially a six-man rotation.
Heartbreak factor: Amare Stoudemire averaged 37 points a game, but it wasn't enough as the Spurs won in five games. Johnson was set to leave as a free agent, but with Nash, Stoudemire and Shawn Marion coming back, Suns fans remained hopeful that 2006 would produce better results.






1994-95 San Antonio Spurs
Record:
62-20, lost in conference finals to Houston (47-35)
What we thought they were: When Utah (60-22), Seattle (57-25) and Phoenix (59-23) were eliminated in the first two rounds of the playoffs, the Spurs became the clear favorite to win it all. David Robinson won the league's MVP award, Dennis Rodman led the league in rebounding and joined Robinson on the all-defensive team and Sean Elliott provided a strong No. 2 scoring weapon.
What we didn't see: Just check the video. Hakeem Olajuwon took a personal affront to Robinson's being handed the MVP trophy before the series started and simply destroyed his rival in six games.
Heartbreak factor: At the time, it was devastating for Spurs fans. They had made the playoffs 16 times in their 19 NBA seasons but had yet to reach the Finals.










1993-94 Seattle Sonics
Record:
63-19, lost in first round to Denver (42-40)
What we thought they were: With Michael Jordan in retirement, Seattle posted the NBA's best record with a crushing blend of pressure defense and balanced scoring. (Shawn Kemp, Gary Payton, Detlef Schrempf, Ricky Pierce, Kendall Gill and Sam Perkins all averaged 12.3-plus per game.) They were tough at home (37-4) and had won 17 of their final 19 games.
What we didn't see: Internal dysfunction between coach George Karl and some players. The balanced scoring was great, but who would take the clutch-time shots? The team's two best players, Kemp (74.1 percent) and Payton (59.5), were poor free-throw shooters. And, most importantly, Dikembe Mutombo manned the middle. The Nuggets had split four games with Seattle during the regular season.
Heartbreak factor: Seattle became the first No. 1 seed to lose to an eighth seed when Denver shockingly won Game 5 in overtime in Seattle. Kemp, who shot 53.8 percent during the season, was held to 37 percent shooting. Crucial free throws were missed. Mutombo screamed. Seattle cried.











2007 New England Patriots
Record:
16-0, lost Super Bowl to New York Giants (10-6)
What we thought they were: The greatest team of all time, made all the more controversial and disliked with an air of scandal hovering over it. Tom Brady and Randy Moss sliced up opposing defenses with speed and precision as the Patriots scored an astounding 36.8 points per game. Oh, and the defense wasn't too shabby, either, as it finished fourth in the NFL in fewest points and yards allowed. The Giants, at 10-6, were regarded as one of the worst teams ever to reach the Super Bowl.
What we didn't see: New England's offense had slowed some down the stretch. Despite its overall plus-315 scoring margin during the season (the best in NFL history), it had played some close games -- a four-point win over the Colts and three-point wins over the Eagles, Ravens and Giants (in the regular-season finale). Brady's injured foot may have been more serious than acknowledged. And the Giants did own an outstanding strength: They led the NFL with 53 sacks.
Heartbreak factor: Justin Tuck and the Giants' D-line played huge, with five sacks, two by Tuck. The Patriots rushed for just 45 yards. Brady averaged just 5.5 yards per attempt. David Tyree's Helmet Catch. The perfect season was over; the empire had collapsed; Mercury Morris danced and sang. At least Patriots fans could console themselves in three recent Super Bowl victories.




2005 Indianapolis Colts
Record:
14-2, lost in divisional round to Pittsburgh (11-5)
What we thought they were: After years of disappointing playoff results, Peyton Manning and Tony Dungy finally had a defense to go with their powerful offense. The Colts were 13-0 before finally losing. They finished second in the NFL in both points scored and allowed. They had finally defeated arch-nemesis New England during the regular season 40-21. This was their year.
What we didn't see: The Colts' running game had disappeared down the stretch. After rushing for 100-plus yards 10 times in the first 12 weeks, they rushed for just 99, 24, 43 and 11 yards in their final four games. The defense also surrendered at least 320 yards in each of those games. Perhaps the Colts lost their edge after that 13-0 start. The Steelers were just 11-5, but two of those defeats had come with Tommy Maddox starting for an injured Ben Roethlisberger. The Steelers also had an NFL-best 3.4-yard per carry opponents' rushing average.
Heartbreak factor: Not surprisingly, the Colts couldn't run the ball, gaining just 58 yards. Pittsburgh led 21-3 after three quarters and held on.








2001 St. Louis Rams
Record:
14-2, lost Super Bowl to New England (11-5)
What we thought they were: The Greatest Show on Turf, ready to claim their second Super Bowl title in three years. The Rams led the NFL in scoring with nearly 100 points more than the No. 2 team, and entered the Super Bowl on an eight-game winning streak averaging 35 points per game.
What we didn't see: Kurt Warner & Co. had one major problem: They were 31st in the NFL with 44 turnovers (Warner had thrown 22 interceptions) and had a minus-10 turnover differential during the regular season. The Patriots, meanwhile, had forced 25 turnovers.
Heartbreak factor: The Rams outgained the Patriots 427 to 267 but committed three turnovers to New England's zero, including Ty Law's 47-yard interception return.




1998 Minnesota Vikings
Record:
15-1, lost NFC championship to Atlanta (14-2)
What we thought they were: A devastating offensive machine that had scored a then-record 556 points, this team would erase the stink of the four Super Bowl losses in the 1970s. Quarterback Randall Cunningham, 35, had rejuvenated his career thanks to rookie receiver Randy Moss (17 TDs). Cris Carter and Robert Smith added to the offensive weaponry. Even kicker Gary Anderson had made all 39 of his field goal attempts.
What we didn't see: Hey, the Falcons may have been a one-year wonder, but they were pretty good, with Jamal Anderson (1,846 yards) providing a power running game that helped control the clock. The defense also ranked second in fewest rushing yards allowed and No. 1 in turnovers forced.
Heartbreak factor: Leading 27-20 in the closing minutes, Anderson missed a 38-yard field goal by a few inches. The Falcons tied the game and won in overtime. There would be no fifth Super Bowl defeat.










1990 Buffalo Bills
Record:
13-3, lost Super Bowl to New York Giants (13-3)
What we thought they were: The hot new thing, riding their no-huddle offense to a Super Bowl title. The Bills had the NFL's best point differential and had destroyed the Raiders 51-3 in the AFC championship. Sure, the Giants had a great defense, but with Phil Simms out, the Bills were installed as seven-point favorites.
What we didn't see: The Bills led the NFL in scoring, but that was somewhat misleading. The no-huddle was as much a gimmick as anything -- the Bills were only sixth in the NFL in total yards. The Giants' defense wasn't just great, it was crushing -- No. 1 in scoring, second in yards. And why were the Bills favored when the NFC had won six straight Super Bowls, most by large margins?
Heartbreak factor: Wide right.











2008 Chicago Cubs
Record:
97-64, lost Division Series to Los Angeles (84-78)
What we thought they were: Without any tough competition in the National League, the 100th year without a title would be the one to erase goats, Durham, Bartman and all other bad memories. The Cubs led the NL in runs and ranked second in runs allowed. They had five players with 20-plus home runs, went four deep in the rotation with Ryan Dempster, Ted Lilly, Carlos Zambrano and Rich Harden and had the devastating bullpen duo of Carlos Marmol and Kerry Wood.
What we didn't see: The Cubs' regular lineup included only two left-handed hitters in Kusoke Fukudome, who struggled in the second half (.193 in August, .178 in September), and Jim Edmonds. The Dodgers happened to have three very good right-handers who entered the postseason on a roll in Derek Lowe (who had allowed just two runs his final six starts), Chad Billingsley (three runs or less in 14 of final 15 starts) and Hiroki Kuroda (2.56 ERA final two months). Oh, and a certain former Red Sox outfielder was on fire since coming over to L.A.
Heartbreak factor: An ugly three-game sweep, as the Dodgers outscored the Cubs 20-6. Manny Ramirez hit .500 and outhomered the Cubs, 2-1.







2004 New York Yankees
Record:
101-61, lost ALCS to Boston (98-64)
What we thought they were: The best team in the AL, a team that slugged 242 home runs, including 36 apiece from Alex Rodriguez and Gary Sheffield. The rotation had plenty of postseason experience and the great Mariano Rivera stood ready to close games out. After losing the 2003 World Series to Florida, the Yankees were due for their first World Series title since 2000. Who was going to stop them, the Red Sox?
What we didn't see: A lot of holes on the pitching staff. The Yankees' projected record based on runs scored and runs allowed was only 89-73, while Boston's was 96-66. Yes, the Sox had finished second, but they were the better team. Orlando Hernandez was New York's only starter with an ERA under 4.00. The Yankees' bullpen had struggled down the stretch, with a 5.94 ERA in August and 5.57 ERA in September. (Tom Gordon and Paul Quantrill, the team's two setup guys, both appeared gassed after pitching in 86 and 80 games, respectively.) The Red Sox were playing their best baseball of the season, having gone 42-18 the final two months.
Heartbreak factor: Can't say we feel too sorry for Yankees fans. Two hearts for blowing a 3-0 series lead.



2001 Seattle Mariners
Record:
116-46, lost ALCS to New York (95-65)
What we thought they were: A team with no flaws. The Mariners won the most games in major league history. They were first in offense, first in pitching, first in defense, first in stolen bases. They had speed (Ichiro, Mike Cameron, Mark McLemore) and power (Bret Boone, Edgar Martinez, John Olerud). The bullpen had a 3.04 ERA. This was to be their year, remarkably, on the heels of losing Randy Johnson, Ken Griffey Jr. and Alex Rodriguez over the previous three years.
What we didn't see: The pressure of completing the greatest season ever in a sport in which anything can happen in a short series. While Freddy Garcia did lead the AL with a 3.05 ERA, the Mariners lacked a shutdown ace. The Yankees' strength was their starting pitching, with Roger Clemens, Mike Mussina and Andy Pettitte going a combined 52-24, all with ERAs under 4.00. In a short series, great starting pitching makes any matchup a toss-up.
Heartbreak factor: New York's pitching came up huge, holding Seattle to 10 hits in winning the first two games at Safeco Field and two hits in a Game 4 victory. The Mariners haven't been back to the postseason since.









1998 Atlanta Braves
Record:
106-56, lost NLCS to San Diego (98-64)
What we thought they were: Maybe the best of what would become 14 consecutive division title teams. As usual, they led the NL in pitching as Tom Glavine, Greg Maddux, John Smoltz, Kevin Millwood and Denny Neagle each won at least 16 games. The offense was fourth in the NL in scoring and featured four players with 30-plus home runs (Andres Galarraga, Chipper Jones, Javy Lopez, Andruw Jones).
What we didn't see: The Padres possessed their own top-flight pitching staff, led by Kevin Brown (2.38 ERA) and lights-out closer Trevor Hoffman (1.48 ERA, 53 saves). The Braves had a thin bullpen; their top two relievers were rookie closer Kerry Ligtenberg and rookie setup man John Rocker. The Braves were also vulnerable to left-handed pitching, as Chipper Jones' slugging percentage dropped from .610 to .403 and Ryan Klesko's from .508 to .262.
Heartbreak factor: Padres in six, including two wins from lefty Sterling Hitchcock. The Braves couldn't foresee seven more years of playoff defeats ahead (and it wasn't as painful as the '97 NLCS loss to Eric Gregg and the Marlins).




1985 St. Louis Cardinals
Record:
101-61, lost World Series to Kansas City (91-71)
What we thought they were: Easily the best team in baseball, having outdueled the 98-win Mets for the NL East title. Despite finishing next-to-last in the NL in home runs, the Cards still led the circuit in runs and they were second in runs allowed. They didn't hit many homers, but they got on base and ran wild on the bases with MVP Willie McGee, Ozzie Smith, Vince Coleman, Andy Van Slyke and Tom Herr all stealing 30-plus bases. John Tudor (21-8, 1.93) was the best pitcher in baseball not named Gooden and Joaquin Andujar and Danny Cox combined for 39 victories. The Royals, meanwhile, had barely outscored their opponents, finishing next-to-last in the AL in runs.
What we didn't see: Andujar had won 21 games but slumped in September, going 1-5 with a 5.76 ERA. St. Louis' No. 4 starter was either shaky vet Bob Forsch (3.90 ERA) or Kurt Kepshire (4.75 ERA). Plus … home runs are good. And yes, speed can go in a slump if it doesn't get on base (the Cardinals hit just .185 in the World Series and stole two bases).
Heartbreak factor: Sure, the Royals received help from Don Denkinger's infamous Game 6 call, but K.C. rallied from a 3-1 series deficit. Forsch didn't get out of the second inning in Game 5 and Whitey Herzog went with Tudor on three days' rest in Game 7 instead of Andujar. Tudor got knocked out in the third and the Royals romped behind Bret Saberhagen. But the Cards had just won a Series in 1982.






2008-09 San Jose Sharks
Record:
53-18-11 (117 points), lost in first round to Anaheim (91 points)
What we thought they were: Owners of the league's best record, their third season in a row with 107 or more points. The perfect blend of stars (Joe Thornton, Evgeni Nabokov), young players (Devin Setoguchi, Joe Pavelski, Milan Michalek) and crafty vets (Rob Blake, Jeremy Roenick). They had the league's third-best power-play percentage and allowed the second-fewest goals.
What we didn't see: Despite owning the league's best record, the Sharks' scoring differential was only plus-53. They had slowed down after a hot start (25-3-2 through their first 30 games). Despite being the No. 8 seed, Anaheim entered on a hot streak, with 10 wins in its final 13 games.
Heartbreak factor: The Ducks stunned the Sharks with two victories on the road to start the series and won the series in six games. For Sharks fans, yet another loss to a team with an inferior regular-season record.








2005-06 Detroit Red Wings
Record:
58-16-8 (124 points), lost in first round to Edmonton (95 points)
What we thought they were: The team that hadn't missed a beat in the first season after the strike, posting the highest point total since in the NHL since 1995-96. With four 80-point scorers (Pavel Datsyuk, Henrik Zetterberg, Brendan Shanahan and Nicklas Lidstrom) they were No. 2 in scoring. They allowed the second-fewest goals. They led in power-play percentage and were third in penalty-kill percentage. While Detroit had scored 96 more goals than the opposition, their first-round opponent, Edmonton, was only plus-five and hadn't won a playoff series in eight years.

What we didn't see: Who was Detroit's No. 1 goalie? Manny Legace and Chris Osgood had shared duties during the regular season. The Oilers' goaltending had improved since picking up Dwayne Roloson at the trade deadline. Plus, the Oilers were young with nothing to lose, had an unbelievable home crowd behind them, were more physical than the Red Wings and, hey, it's the NHL playoffs, when anything can happen.
Heartbreak factor: Red Wings' fans were used to this by now. But allowing four goals in the third period of Game 6 didn't go down easy.






1999-2000 St. Louis Blues
Record:
51-19-11-1 (114 points), lost in first round to San Jose (87 points)
What we thought they were: Led by MVP defenseman Chris Pronger, the Blues allowed just 165 goals all season. Goalie Roman Turek had a 1.95 goals-against average. The Blues were in the playoffs for the 21st consecutive season but hadn't reached the Stanley Cup finals in any of those years. This would be the year, for the best team in franchise history.
What we didn't see: Who would put the puck in the net? St. Louis didn't have a single 30-goal scorer and leading scorer Pavol Demitra was out with an injury. As for San Jose, the Sharks hadn't defeated the Blues in five regular-season games. But did we mention anything can happen in the NHL playoffs?
Heartbreak factor: Made all the more painful when Turek whiffed on an 85-foot shot by Owen Nolan at the end of the first period of Game 7.










1995-96 Detroit Red Wings
Record:
62-13-7 (131 points), lost in conference finals to Colorado (104 points)
What we thought they were: The Wings were laying claim to being the greatest team in NHL history. They outscored opponents by an amazing 144 goals (Colorado was No. 2 at plus-86). Offensively, they had three premier centers in Sergei Fedorov, Steve Yzerman and Igor Larionov. On defense they had Nicklas Lidstrom, Paul Coffey and Vladimir Konstantinov, who posted an amazing plus/minus of plus-60.
What we didn't see: Goalie Chris Osgood, just 23, was a playoff starter for the first time, and he would be facing a high-powered Avalanche team led by Joe Sakic (120 points) and Peter Forsberg (116 points) that had actually scored more goals than Detroit. And while Patrick Roy had a disappointing regular season (22-15-1 record), he was still capable of rising to the occasion.
Heartbreak factor: Colorado won in six games. At the time, Detroit hadn't won a Cup since 1955 and had lost in the finals in 1995 and been stunned in the first round in 1994 despite owning the league's best record.











1990-91 Chicago Blackhawks
Record:
49-23-8 (106 points), lost in first round to Minnesota (68 points)
What we thought they were: The Blackhawks posted the NHL's best record by allowing 39 fewer goals than any other team. Goalie Ed Belfour was the league's best, Chris Chelios anchored the defense, and winger Steve Larmer (44 goals) and center Jeremy Roenick (41 goals) paced the offense. The franchise hadn't won the Stanley Cup since 1961. It was an anniversary year. This would be their year.
What we didn't see: Certainly not an upset at the sticks of the lowly North Stars. As good as Chicago's defense had been during the season, it collapsed against Minnesota, allowing 25 goals in six games, including an embarrassing 6-0 defeat in Chicago in Game 5. Pressure? Curse? Had coach Mike Keenan driven them too hard during the season? Or maybe it just wasn't their year.
Heartbreak factor: The Blackhawks would reach the finals the following season, but it's still 48 years and counting.











David Schoenfield is an editor for ESPN.com
ESPN Senior Writer
Senior writer of SweetSpot baseball blog
Former deputy editor of Page 2
Been with ESPN.com since 1995
NBA Playoffs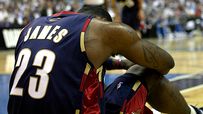 CLEVELAND CAVALIERS BOW OUT
SERIES PAGES