Commentary
Is P-Jax the greatest coach of all time?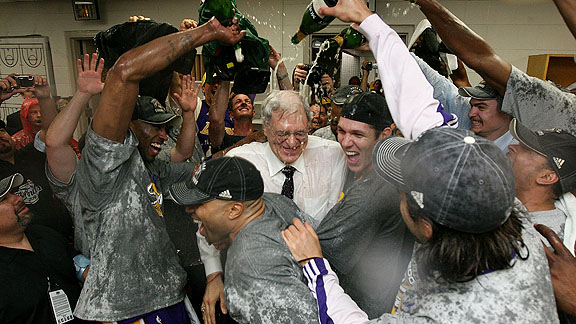 Nathaniel S. Butler/NBAE/Getty ImagesPhil Jackson moved past Red Auerbach and Scotty Bowman with this 10th championship.
Now that the Lakers sent the Magic back to Disney World, everyone is comparing Phil Jackson to Red Auerbach.
At Page 2 we like to think big. So here's our question: Is Phil Jackson the greatest coach of all time, regardless of sport?
Let us run down some of the top candidates, beginning with the Zen Master himself.

Phil Jackson
The case for:
Just won his 10th NBA championship to surpass Auerbach; has better regular-season (.70 to .659) and playoff (.697 to .603) winning percentages than Auerbach; coached '96 Bulls to all-time best 72 wins; won 60-plus games seven times; won three titles with Luc Longley as his starting center.
The case against: Heck, Mike Brown could have won six or seven titles coaching Michael Jordan, Shaquille O'Neal and Kobe Bryant; won only three titles with Shaq and Kobe; among the coaches he "outsmarted" in the Finals: Mike Dunleavy, Rick Adelman, George Karl and Byron Scott.
Best moment: Went 15-1 in the 2001 playoffs in leading Lakers to the second of three consecutive titles. Well, that or cutting off the mustache that was present for nine NBA titles -- and defying superstition to win a 10th.
Worst moment: Trying to foist "Sacred Hoops: Spiritual Lessons of a Hardwood Warrior" upon us.
Bonus points: The soul patch; appeared in an episode of the "Dog Whisperer;" Jeanie Buss.

[+] Enlarge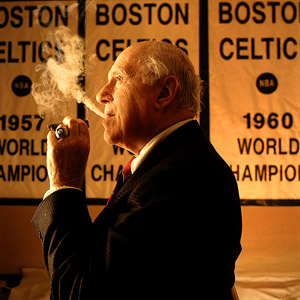 Greg Foster/NBAE/Getty ImagesAuerbach continued with the cigars long after he retired from coaching.
Red Auerbach
The case for:
Won nine NBA titles in a 10-season span; finished in first place nine consecutive seasons; defeated Lakers teams led by Jerry West and Elgin Baylor four times to win championships; first coach to start five African-Americans; pioneered the role of the sixth man with Frank Ramsey and John Havlicek; popularized cigars.
The case against: Never won a title until Bill Russell joined the Celtics; won his titles during an era when coaches (and probably a few players) smoked cigarettes on the bench -- not to be confused with the other eras, such as when players snorted lines of coke or smoked joints between periods or tweeted at halftime.
Best moment: Announced his retirement before the start of the 1965-66 season by saying "You've got one more shot at Auerbach!" and then defeated the Lakers in Game 7 for the title. Leading by 10 with a minute to go, Massachusetts Gov. John Volbe lit up Auerbach's infamous victory cigar. (The Lakers nearly rallied, but fell short, 95-93.)
Worst moment: Refused to draft Bob Cousy, describing the Holy Cross point guard as a "local yokel." (The Celtics landed Cousy anyway.)
Bonus points: The cigar. We'd have to invent ESPN8 just to give everyone an outlet to debate whether Auerbach was showing up the opponent by lighting up before the game was over.

Vince Lombardi
The case for:
Led Green Bay to three NFL championships and the first two Super Bowl titles in nine seasons; did this after taking over a franchise that hadn't posted a winning season in 12 years; career playoff record of 9-1; credited with bringing concept of zone blocking to the NFL; universally beloved and respected by his former players.
[+] Enlarge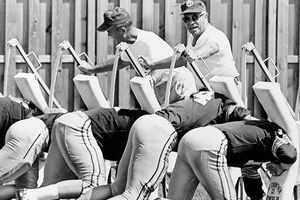 AP PhotoIt's really a shame that you don't see NFL coaches in white T-shirts anymore. (Wait, maybe that's a good thing.)
The case against: Seemed to invent every bad cliché about football coaching that exists. ("Football is like life -- it requires perseverance, self-denial, hard work, sacrifice, dedication and respect for authority.")
Best moment: Winning the 1967 Ice Bowl over the Cowboys to advance to the Super Bowl … although it should be noted that quarterback Bart Starr decided on his own to keep the ball rather than hand off.
Worst moment: Losing the 1960 NFL championship to the Eagles when Jim Taylor was stopped nine yards short of the end zone as time expired. But, hey, at least that helped give us the "Winning isn't everything; it's the only thing" quote. And "Show me a good loser, and I'll show you a loser." And "The difference between a successful person and others is not a lack of strength, not a lack of knowledge, but rather a lack of will." And … OK, we'll stop.
Bonus points: Diagrammed plays while wearing a white T-shirt; was so popular that Richard Nixon reportedly considered asking Lombardi to run as his vice president in 1968 -- only to be told that Lombardi was a Democrat.

Bill Parcells
The case for:
Won two Super Bowls with the Giants; only coach to take four different franchises to the playoffs; 172 career victories; once won 12 games with the New York Jets and made the AFC Championship Game
with Vinny Testaverde as his quarterback
; managed to keep Lawrence Taylor reasonably lucid and productive.
The case against: Career winning percentage of .570 only 42nd all-time in NFL history; was only two games above .500 in his Cowboys career and never won a playoff game; made the playoffs just 10 times in his 19 seasons as head coach.
Best moment: Scott Norwood lines up for the kick …
Worst moment: Gave us the Gatorade dousing.
Bonus points: The weight fluctuations that made him the Oprah of NFL coaches; nicknamed "The Big Tuna;" credited as consultant on "Any Given Sunday;" his coaching tree includes Bill Belichick, Tom Coughlin, Tony Sparano … and Al Groh.

John Wooden
The case for:
Won 10 NCAA championships, including seven in a row from 1967 to 1973; career record of 620-147; led UCLA to four undefeated seasons; created the Pyramid of Success, a philosophical guide for winning at basketball and life; universally beloved by his former players, even the bench-warmers.
The case against: Pyramid of Success? All that's done is spawn decades of bad books from coaches telling us how to succeed in sports and business. Sure, the Pyramid of Success works wonders when you have Lew Alcindor and Bill Walton, arguably the two greatest college players ever, manning the middle.
Best moment: Announced his retirement after 75-74 victory over Louisville in the Final Four semifinals in 1975 and then beat Kentucky 82-75 in the championship.
Worst moment: After Wooden won titles with Walton during his sophomore and junior seasons, North Carolina State beat UCLA in double overtime in the 1974 semifinals (check out David Thompson blocking a Walton shot).
Bonus points: Always coached while holding a rolled-up program in his hand, undoubtedly to amplify his yells of "Good call, Ref;" supposedly never earned more than $35,000 a year at UCLA, once turning down a salary 10 times that amount to coach the Lakers.

Casey Stengel
The case for:
Managed the Yankees to seven World Series titles and 10 American League pennants in 12 seasons; won 95-plus games nine consecutive seasons (in a 154-game schedule); 1,905 career victories; made ballplayers out of the likes of Mickey Mantle, Yogi Berra and Billy Martin; master of the platoon and unpredictably jiggering his lineup; much beloved for his nonsensical but humorous quotes, dubbed "Stengelese."
The case against: Oh, yeah, also managed the Brooklyn Dodgers, Boston Braves and New York Mets, pushing his career winning percentage to barely above .500 (.508); managed the Yankees in an era with a lack of parity; had the best player in baseball (Mantle), the best catcher (Berra), the best clutch pitcher (Whitey Ford) and the most resources.
Best moment: Either winning three World Series Game 7s or his testimony before the Senate Anti-Trust and Monopoly Subcommittee hearing in 1958, which we'll sample here:
Senator Kefauver: I was asking you, sir, why it is that baseball wants this bill passed.
Stengel: I would say I would not know, but would say the reason why they would want it passed is to keep baseball going as the highest-paid ball sport that has gone into baseball and from the baseball angle, I am not going to speak of any other sport. I am not here to argue about other sports, I am in the baseball business. It has been run cleaner than any business that was ever put out in the 100 years at the present time. I am not speaking about television or I am not speaking about income that comes into the ball parks: You have to take that off. I don't know too much about it. I say the ballplayers have a better advancement at the present time.
(Read the whole transcript here.)
Worst moment: Fired after losing the 1960 World Series to Pittsburgh in seven games, in part because he started Whitey Ford just twice in the series rather than three times. Or deciding to manage the '62 Mets, a club so hapless Stengel once said, "We've got to learn to stay out of triple plays."
Bonus points: Once said, "Being with a woman all night never hurt no professional baseball player. It's staying up all night looking for a woman that does him in."

Joe McCarthy
The case for:
Won seven World Series titles with the Yankees in the '30s and '40s; never had a losing record in 24 seasons (also managed the Cubs and Red Sox); 2,125 career victories; .615 winning percentage is the best of all time; career World Series record of 30-13.
The case against: You've probably never heard of him; sometimes confused with Sen. Joseph McCarthy.
Best moment: Led the 1939 Yankees -- regarded by many as the best ballclub ever -- to a 4-0 World Series sweep.
Worst moment: While managing the '48 Red Sox, elected to start veteran right-hander Denny Galehouse in the one-game tiebreaker against the Indians; Galehouse had gone a mediocre 8-8, 4.00 ERA during the season. Galehouse didn't survive the fourth inning, Cleveland won 8-3 and Galehouse would never win another game in the bigs.
Bonus points: Refused to wear a number on his uniform, which is kind of cool; created his "Ten commandments for success in the majors," but thank God never wrote a book entitled "Ten Commandments for Succeeding in the Majors … and Life."

Joe Paterno
The case for:
Career record of 383-127-3, the most wins in Division I-A/FBS college football history; won two national championships and coached five undefeated teams (more than any other coach); bowl record of 23-11-1, including wins in each of the four major bowl games; finished in the top 10 of the national rankings 29 times.
The case against: Has had four losing seasons this decade; early run of undefeated seasons (1968, 1969, 1973) came when Penn State was an independent and played a fairly easy schedule; what's up with the big glasses?
Best moment: Beating heavily favored Miami in the 1987 Fiesta Bowl to win the national championship (check out Michael Weinreb's superb piece on that game).
Worst moment: The little virus he had against Ohio State in 2006 that caused him to run off the field during the game, leading to the immortal quote "I got off the field and did a couple of things, and then I got back on the field."
Bonus points: Wears white socks; loves the Internets; doesn't let a little thing like a broken leg stop him; probably thinks there are 10 teams in the Big Ten.

Knute Rockne
The case for:
Career record of 105-12-5 at Notre Dame; went undefeated five times and laid claim to six national titles in 13 seasons; helped popularize the forward pass; as he put Notre Dame on the map, helped make college football a true national sport.
The case against: What, you got something against Norwegians?
Best moment: Inspired his team to "win one for the Gipper," perhaps the first great halftime locker-room speech. And the last. (Click here for actual Rockne halftime speech.)
Worst moment: Instead of coaching the Irish in a late-season game against Carnegie Tech in 1926, he traveled to watch the Army-Navy game in Chicago, where he wrote newspaper articles and selected his All-American team. Notre Dame lost 19-0, its only defeat that season.
Bonus points: Born in Norway, and there is actually a plaque in the town where he was born (take that, Bear Bryant!); if not for Rockne's early success at Notre Dame, we never would have had Gerry Faust or George O'Leary to kick around!

[+] Enlarge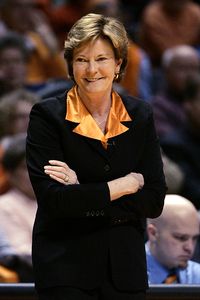 Mark Zerof/US PresswireGeno Auriemma is wondering why he wasn't included on our list.
Pat Summitt
The case for:
Has won eight national titles and finished as the runner-up five other times; coached the '98 Lady Vols to 39-0 record; lifetime mark of 1,005-193 includes 16 30-win seasons; rivalry with Geno Auriemma and Connecticut helped fuel interest in women's basketball.
The case against: You guessed it, we have another motivational book, the predictably titled "Reach for the Summitt," which includes the subtitle "The Definite Dozen System for Succeeding at Whatever You Do." (Italics not mine.)
Best moment: After losing 10 games in the 1996-97 season, the Lady Vols rallied during the NCAA tournament to unexpectedly win Summitt's fifth national title. That was nice, but can't top this.
Worst moment: Any loss to UConn.
Bonus points: While coaching Tennessee in 1976, also won a silver medal by playing on the Olympic team. Beat that, Coach K!

Scotty Bowman
The case for:
Won nine Stanley Cup championships (five with Montreal, one with Pittsburgh, three with Detroit); reached the finals four other times; career mark of 1,248-574-314-10 (that last number is overtime losses, for you hockey novices); won four straight Cups with Montreal from 1976 to '79; only coach in NHL, NFL, NBA or MLB history to win a championship with three different franchises.
The case against: Guy Lafleur? Larry Robinson? Ken Dryden? Mario Lemieux? Jaromir Jagr? Steve Yzerman? Sergei Fedorov? Nicklas Lidstrom? C'mon, Mike Brown could have won championships with that kind of star talent.
Best moment: In 1997, coached the Red Wings to their first Stanley Cup in 42 years, sweeping the Flyers.
Worst moment: After coaching the '96 Red Wings to a record 62 wins (62-13-7), Detroit lost to Colorado in the Western Conference finals.
Bonus points: Retired after winning the 2002 Stanley Cup with Detroit; never grew a soul patch; never wrote a book about succeeding in hockey and life; never dated the owner's daughter.

[+] Enlarge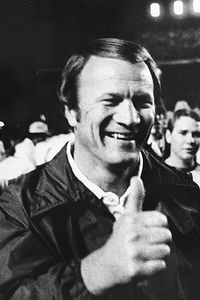 AP Photo/J. Scott ApplewhitePage 2 gives a big thumbs-up to the incomparable Barry Switzer.
Barry Switzer
The case for:
The only coach to win a Super Bowl
and
three NCAA national championships.
The case against: Nothing we can think of.
Best moment: According to Jeff Pearlman's book "Boys Will Be Boys," Switzer reportedly had an alcohol tab of $100,000 during his Super Bowl week with the Cowboys. (We're still staring at our calculator, trying to figure out how that's possible and how many "friends" the coach must've had in Phoenix.)
Worst moment: There was that time he forgot he had a loaded .38-caliber gun in his carry-on luggage. What, that never happened to John Wooden?
Bonus points: Played a coach in "Varsity Blues;" gifted the world with Brian Bosworth; partially responsible for one of the most memorable covers in Sports Illustrated history; hasn't penned a motivational book but did co-author his biography, called "Bootlegger's Boy."
Which seems to put him over the top in our book.
Phil, you've got work to do!

David Schoenfield is currently working on a motivational/life success/spiritual book of his own.
ESPN Senior Writer
Senior writer of SweetSpot baseball blog
Former deputy editor of Page 2
Been with ESPN.com since 1995