Commentary
A hundred things to watch in baseball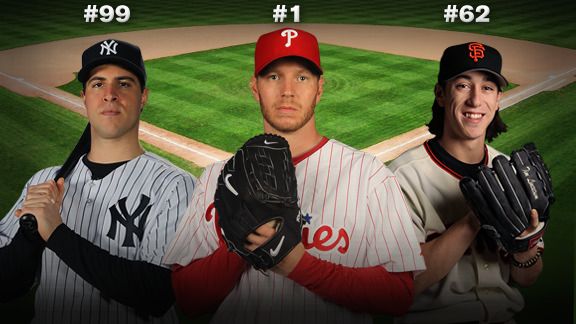 ESPN.com Illustration
It's finally baseball season, which means it's time for the annual Page 2 list of 100 things to watch in the major leagues:
1. Will Roy Halladay win 30 games?
No.
2. Will Roy Halladay win 25 games?
No.
Look, it's easy to get more excited than a Tiger Woods text message when you think about Halladay going from the AL East (where he faced the Yankees, Red Sox and Rays a total of 15 times in 2009) to the NL East (where he'll get to replace those teams with the Mets, Nationals and Marlins). It's easy to get excited about the possibilities when we tell you that Halladay is 13-1 in 17 starts the past two seasons against teams that finished under .500 (as opposed to 24-20 in 48 starts against teams that finished over .500). It's easy to get excited when you think about how pitchers such as CC Sabathia and Javier Vazquez went from the AL to the NL and posted numbers that would have made Walter Johnson proud.
But all that ignores the fact that it's really hard to win 25 games. The only pitchers in the past 30 years to do it are Bob Welch with the 1990 A's (27) and Steve Stone with the 1980 Orioles (25). And those were two stone-cold flukes, two decent pitchers who lucked into great run support. Only Randy Johnson (2002 Diamondbacks) and John Smoltz (1996 Braves) have reached 24 wins since Welch.
As durable and consistent as Halladay has been, his high in starts the past six seasons has been 33. His high in innings over that span has been 246. Johnson started 35 games and pitched 260 innings in 2002; Smoltz started 35 times and pitched 253 innings in 1996. Those two extra starts and 15-plus innings are vital to picking up extra wins.
3. Plus, did we mention that when he returns from the disabled list, Brad Lidge is likely to be installed as the Phillies' closer? (Out of respect to the Lidge family, I'll refrain from posting Lidge's 2009 statistics.)
4. Various Halladay projections for 2010:
[+] Enlarge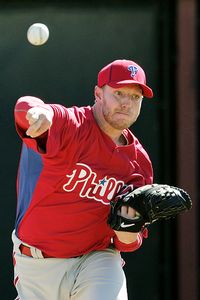 Cliff Welch/Icon SMIIt's not realistic to expect a pitcher to win 25 games -- even a stopper such as the Phillies' Roy Halladay.
Bill James: 17-10, 3.23 ERA, 240 IP
CHONE: 16-8, 3.28, 217 IP
ZiPS: 19-8, 3.16, 233 IP
Baseball Prospectus: 16-8, 3.20, 218 IP
ESPN Fantasy: 16 wins, 2.91, 229 IP
No doubt most fans are expecting an ERA well under those figures. The prediction here: 20-7, 2.58 ERA, 232 IP.
5. Another Phillies note: Can we please inform all media members, TV announcers and especially MVP voters that Chase Utley is the best player on the team? Ryan Howard is a prodigious slugger. Jimmy Rollins possesses a wealth of abilities. Raul Ibanez exceeded expectations. Jayson Werth blossomed with a career year. Meanwhile, all Utley does is produce at the plate, run the bases well and flash a great glove at a vital defensive position, and yet has finished behind Howard (and Rollins in 2007) every year in the MVP vote.
6. Jamie Moyer, back for another year. He's 47. Only nine pitchers have won more games than him the past three seasons.
7. Since you need to know, they are CC Sabathia, Roy Halladay, Josh Beckett, Justin Verlander, Dan Haren, Ted Lilly, Johan Santana, Adam Wainwright and Andy Pettitte.
8. Good riddance to the Hefty Bag. How will the Twins' new ballpark play? Early predictions have it favoring hitters, especially once the weather gets warmer. The park has minimal foul territory and dimensions slightly shorter overall than the Metrodome.
9. While the new stadium is nice, Twins fans should be just as excited about having their best double-play combination in years, after trading for J.J. Hardy and signing Orlando Hudson as a free agent. While both have their flaws -- Hardy had a miserable 2009 after hitting 50 homers in 2007-08, and Hudson doesn't have the range he once did -- it's about time the Twins excise the middle-infield slop they've been playing this decade, in the form of guys who can't hit (Alexi Casilla), can't field (Brendan Harris), can't get on base (Luis Rivas, Cristian Guzman) or were OK but traded for Delmon Young (Jason Bartlett).
10. Is Joe Mauer's power for real? As awesome as Mauer was in 2009, let's not forget he hit 29 homers the previous three seasons combined.
11. Two underrated players that will help make the Twins' offense one of the best in the AL: Jason Kubel (the quietest 100-RBI season in the majors in 2009) and Denard Span (terrific leadoff man who posted a .392 on-base percentage and runs aggressively on the bases).
12. Justin Verlander's fastball. The top fastballs for starting pitchers in 2009, as measured by velocity (from fangraphs.com):
Ubaldo Jimenez, Rockies: 96.1 mph
Justin Verlander, Tigers: 95.6
Josh Johnson, Marlins: 95.1
Edwin Jackson, Tigers (now with Diamondbacks): 94.5
A.J. Burnett, Yankees: 94.2
13. Jonathan Broxton's fastball. It's big. (Fastest among relievers, according to fangraphs.)
14. Jonathan Broxton's waistline. It's pretty big, too.
15. Is this the year Matt Kemp makes The Leap? What does The Leap mean? Who knows. But it sounds insightful. Maybe it means a guy who was platooned in 2007, then posted a .799 OPS in 2008 and then an .842 OPS in 2009 is ready to take another step forward at age 25. (Some would say he already made a nice step forward after being photographed vacationing with Rihanna in Cabo during the offseason. Others would say instead of dating Rihanna, he should have been working on hitting right-handed pitchers better. If Kemp does that, we're talking All-Star and top-10 MVP candidate.)
16. By the way, if you haven't been following the divorce proceedings of the McCourts, ex-Dodgers CEO Jamie (married to owner Frank) recently asked for $1 million a month because she has seven mortgages and "deserves to live a comfortable lifestyle." Well, yes, when you put it that way! Six residences? Uncomfortable. Seven? Comfortable.
17. Clayton Kershaw. One of the most electric young pitchers in the game to watch. If you're not a Dodgers fan, he's the type of pitcher you need to make sure you see a few times a year. His fastball ranked behind only CC Sabathia's as the hardest in the game last year among left-handed starters. He mixes in a curveball and an occasional slider. He just turned 22, so the Dodgers handled him with kid gloves a year ago (less than six innings per start) as he allowed the fewest hits per innings in the NL while ranking fifth in ERA and K's per nine. He also was wild (91 walks). If he cuts down on the free passes and gets extended for longer outings, he could contend for the Cy Young Award.
18. Brad Ausmus. Everybody's favorite backup catcher just won't go away!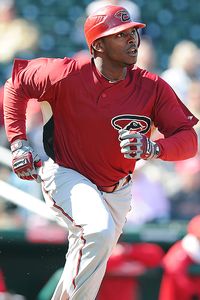 Lisa Blumenfeld/Getty ImagesJustin Upton will lead the National League in home runs this season. Don't forget you read it here first.
19. Justin Upton. Boom! Your 2010 NL home run champion.
20. B.J. Upton. No matter the excuses or injuries, this is not the trend line you want to see from a young player: .894 OPS in 2007, .784 in 2008, .686 in 2009. His walks declined from 97 in '08 to 57 in '09. Top prospect Desmond Jennings is breathing down his neck. He's still young enough (25) to outgrow his mistakes and figure out what kind of hitter he's going to be, but the Rays need a much better year from him.
21. David Price and Jeff Niemann. Both pitchers have the ability and stuff to improve in their second season in the bigs. If they do, Tampa Bay can compete with New York and Boston.
22. Joe Maddon's glasses.
23. Ozzie Guillen's tweets.
24. Jake Peavy in the American League. The 2007 NL Cy Young winner goes from probably the best pitchers' park in baseball (San Diego's Petco Park) to one of the toughest (Chicago's U.S. Cellular Field). On the other hand, he will get to face the Royals five or six times.
25. How will Alex Rios fare with the White Sox? He hit .247 last season, .199 with Chicago after Kenny Williams inexplicably picked him up on waivers. He's going to make $9.7 million in 2010 and more than $62 million through 2015.
26. Here are three more players with awful contracts you will enjoy watching unless they're on your team:
Vernon Wells, Blue Jays: $10 million in 2010, with upgrades to $21 million from 2012-14. Did we mention he has a full no-trade clause?
Alfonso Soriano, Cubs: $18 million a year through 2014. But at least he's finally learned to take a walk and hasn't lost any speed as he's aged. Oh, wait, that's not the case at all.
Oliver Perez, Mets: $12 million a year in 2010-11. In Omar Minaya's defense, Perez was coming off a year in which he posted a 4.22 ERA and led the NL in walks.
27. Geovany Soto. The 2008 NL Rookie of the Year after hitting 23 home runs, the catcher showed up in 2009 looking like he ate a piano, tested positive for marijuana at the World Baseball Classic and then hit .218. He had a worse year than Frank McCourt's accountant. But Soto showed up at camp this year weighing about 40 pounds less and eating vegetables instead of brownies. Will he regain his stroke as well?
28. That little glove wag that Ryan Dempster performs during his delivery.
29. Carlos Zambrano hitting.
30. The Cubs' offense. It sank from 855 runs in 2008 (first in the NL) to 707 runs last season (10th in the NL). And they addressed this by … well, they brought in Marlon Byrd to play center field. Congrats, Cubs fans, yet another right-handed hitter!
31. Joey Votto. The sweet-swinging Canadian ranked fifth in the NL in batting average, fourth in on-base percentage and fifth in slugging. Could he lead a surprise playoff run for the Reds?
32. Yes, we said "playoff run" and "Reds" in the same sentence. Why not? Jay Bruce will be better. Drew Stubbs should be a vast improvement over the abomination that was Willy Taveras a year ago. Scott Rolen will be here all season. Orlando Cabrera isn't great, until you compare him to Paul Janish. Homer Bailey may have finally figured it out. Mike Leake, last year's first-round pick, has been named the team's No. 5 starter -- meaning he will skip the minor leagues completely. And …
[+] Enlarge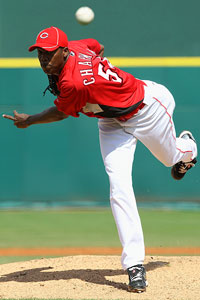 Christian Petersen/Getty ImagesAroldis Chapman starts the season in Triple-A, but we still expect him to make an impact in Cincinnati.
33. Cuban left-hander Aroldis Chapman and his nasty slider may be ready to contribute sooner than many predicted.
34. Please, no Dusty Baker jokes here.
35. Mark McGwire as hitting coach. Sure, hitting coaches are overrated. But it's pretty cool to see him back in uniform. It's like 1998 all over again. And by that I mean Tony La Russa looks exactly like he did in 1998.
36. Chris Carpenter and Adam Wainwright, the best 1-2 punch in the National League.
37. Colby Rasmus. He struggled at times as a rookie and needs to improve against lefties (.160), but he has All-Star potential for the Cards.
38. But he's not the best young center fielder in the NL Central. That title belongs to Andrew McCutchen, who makes the Pirates … well, let's not kid ourselves here, they're still going to be hard to watch.
39. One more nice thing to say about the Pirates: They committed the fewest errors in the major leagues last season! So, umm, it's worth watching to see if they can do that again.
40. A third nice thing to say about the Pirates: They had more quality starts last season than either the Phillies or Dodgers, who both made the playoffs. So maybe this year they can have even more quality starts and miss the playoffs again.
41. As for the Astros, it's actually difficult to say something nice about them right now. Lance Berkman is still here, and Wandy Rodriguez is one of the best pitchers you don't know about unless you play fantasy baseball, and maybe you like the hill in center field or the old rainbow uniforms or Cesar Cedeno or Charlie Kerfeld's glasses from the '86 playoffs …
42. Keep an eye on the Athletics' attempts to move to San Jose. Contrary to popular belief, San Francisco does not "own" territorial rights to San Jose. Major League Baseball regulates territorial rights, and those can be overturned. (Most likely with some sort of payout, such as was given to Baltimore owner Peter Angelos when the Expos moved to Washington.)
43. How will Ben Sheets rebound from injury (hopefully better than the spring training start in which he allowed 10 runs and didn't retire a batter) and which team will he be pitching for Aug. 1?
44. How will Justin Duchscherer rebound from injury?
45. Brett Anderson. Hey, a rotation with Sheets, Duchscherer and Anderson could be pretty good. After averaging 95 wins per season from 2000-06, the A's have endured three consecutive losing years.
46. The A's are just one team following the "defense is the new OBP" mantra. An outfield of Rajai Davis, Coco Crisp and Ryan Sweeney may be the best defensive unit since the '85 Bears. It may also fail to hit 20 home runs combined.
[+] Enlarge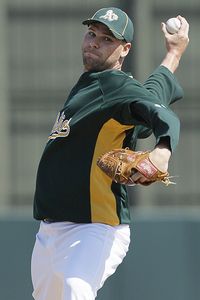 AP Photo/Jeff ChiuBen Sheets begins his first season with the Athletics. But we doubt he'll end the year with them.
47. Which is why we predict Ben Sheets will be pitching for the Minnesota Twins on Aug. 1.
48. Five reasons Seattle will win the AL West:
Franklin Gutierrez is the best defensive center fielder in baseball.
Ichiro will rap out 200-plus hits for a remarkable 10th consecutive season and edge Joe Mauer for the AL batting crown.
Cliff Lee will rebound from his abdominal strain and combine with King Felix to win 38 games.
Ken Griffey Jr. will help keep a healthy Milton Bradley loose in the clubhouse, and he'll return to his 2008 form, when he led the AL in OPS.
David Aardsma will repeat his excellent 2009, and Mark Lowe and Brandon League will prove to be capable setup men.
49. Five reasons Seattle will not win the AL West:
Even Gutierrez and slick-fielding shortstop Jack Wilson won't be able to make a rotation that includes Ian Snell, Ryan Rowland-Smith, Jason Vargas and Doug Fister look good.
Ichiro will rap out 200-plus hits for a remarkable 10th consecutive season, edge Joe Mauer for the AL batting crown -- and score a measly 88 runs again like last season.
Cliff Lee will battle minor injuries all season and go 9-14 with a 4.47 ERA.
Milton Bradley will admit "I've never liked Starbucks coffee," say he thinks Oklahoma City deserves an NBA franchise, complain about the rain, call Ichiro "overrated" and demand a trade when his average plummets to .250.
David Aardsma will pitch like every other season in his career, meaning not very well.
50. By the way, Franklin Gutierrez really is Willie Mays-esque out there. Fangraphs.com measured his UZR (Ultimate Zone Rating) as plus-29.1 last season, meaning he saved 29 runs more than the average center fielder. Their data goes back to 2002; here are the other center fielders who saved 20-plus runs in a season:
2007: Coco Crisp, Red Sox, 24.4
2007: Andruw Jones, Braves, 21.7
2005: Andruw Jones, Braves, 30.0
2004: Andruw Jones, Braves, 26.5
2004: Corey Patterson, Cubs, 24.6
2003: Andruw Jones, Braves, 20.9
2002: Darin Erstad, Angels, 23.2
2002: Andruw Jones, Braves, 22.6
51. Andruw Jones … man, it's hard to say that a guy who won 10 Gold Gloves and has 388 home runs has had a disappointing career, but he sure left us wanting more, didn't he? (By the way, enjoy, White Sox fans!)
52. Paul Lukas' annual Uni Watch preview.
53. The smell of the grass, the crack of the bat, the cry of Yankees fans already complaining about their bullpen.
54. Joe Posnanski's first 3,000-word diatribe on the ineptitude of Yuniesky Betancourt. Projected date: April 28.
55. Joe Posnanski's first 3,000-word diatribe on the ineptitude of Jose Guillen. Projected date: May 21.
56. Who will light it up in April, get tons of publicity, be the reason for a million dumb fantasy trades and then slowly slide back to his normal numbers, only everyone will continue to think he had a great season, while the guy who hits .365 in July won't get any attention?
57. Example from 2009: Raul Ibanez hit .359 with seven homers in April (and hit 10 more in May). He ended up with a career-high 34 homers, but his final .272/.347/.552 marks were pretty much in line with his recent seasons. He showed a little more power, but it was actually the lowest average of his career since he was a part-time player in 2000.
[+] Enlarge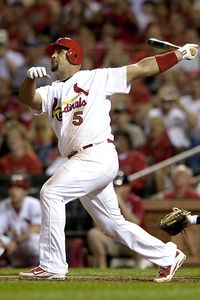 Scott Rovak/US PresswireAlbert Pujols has a chance to win his fourth MVP award in just his 10th season in the major leagues.
58. Albert Pujols aims for his third consecutive MVP award and fourth of his career. The only player to win three in a row? Barry Bonds (who won four, from 2001-04). The only player with more than three in his career? Barry Bonds (seven).
59. Alex Rodriguez can also win his fourth MVP award.
60. A-Rod has 13 career 100-RBI seasons, a record he shares with Babe Ruth, Lou Gehrig and Jimmie Foxx.
61. A-Rod has 13 career 100-run seasons (he fell short last season for the first time in his career). Hank Aaron holds the record with 15.
62. Tim Lincecum goes for his third consecutive Cy Young Award. The only pitchers to win three in a row: Randy Johnson (1999-2002) and Greg Maddux (1992-95). By the way, not including relievers or shortened seasons, Lincecum's 15 victories in 2009 were the fewest ever for a Cy Young winner.
63. Comeback No. 1 to watch: Brandon Webb. The 2006 Cy Young winner and 2007 and 2008 runner-up made just one start last season. Webb begins the season on the DL for Arizona.
64. Comeback No. 2 to watch: Grady Sizemore. The Cleveland center fielder was one of the AL's best all-around players from 2006-08, but battled elbow and abdominal injuries last season and hit .248 before being shut down after 106 games.
65. Comeback No. 3 to watch: Braves right-hander Tim Hudson made seven late-season starts last year after returning from Tommy John surgery. If he makes 30 starts and resembles his old self (3.49 career ERA), Atlanta could challenge Philadelphia in the NL East.
66. And that's in part due to 20-year-old rookie stud Jason Heyward, who probably doesn't need an introduction at this point. Let's put it this way: While some have compared the 6-foot-5 right fielder to Darryl Strawberry (more because of the height than the swing, however), Braves manager Bobby Cox had this to say: "There's a little sound off the bat. His line drives are kind of like ol' Hank Aaron's sound."
67. Speaking of Bobby Cox, he's retiring after the season. One of the main reasons he'll end up in Cooperstown: putting faith in young players like Jason Heyward. (And not a bad final rookie to break in before retirement.)
68. Jason Heyward's projection from Baseball Prospectus: .274/.344/.462, 19 home runs.
69. But keep an eye on right-hander Jair Jurrjens, Atlanta's fine young righty who has battled shoulder inflammation during spring training.
70. Jeff Francoeur is now patrolling right field for the Mets. And while he hit .311 in 75 games with New York last year, expect a regression more in line with his career average of .271. And that's just one reason the Mets won't break .500. Here are 10 more:
Carlos Beltran starts the year on the disabled list.
Mets first basemen combined for 16 homers in 2009, second-worst in the majors. And the same names (Daniel Murphy, Fernando Tatis were brought back).
Oliver Perez "won" a spot in the rotation with a spring ERA of 8.66.
Luis Castillo rated as the worst defensive second baseman in the majors in 2009.
Rod Barajas is the starting catcher. While he brings "veteran leadership" and "game-calling ability" and "intangibles we don't even know about," he also brings a .258 OBP from 2009 with Toronto. That's not a misprint.
Francisco Rodriguez isn't a dominant closer. Among the 26 players with 20-plus saves in 2009, he ranked 18th in ERA.
Jason Bay ranked as one of the worst defensive left fielders in the game.
Your Opening Day lineup includes Alex Cora hitting leadoff, Mike Jacobs hitting fourth (in front of $66 million man Jason Bay) and Gary Matthews Jr. hitting sixth. Gary Matthews Jr.? Really, Gary Matthews Jr.?
David Wright may regain his power stroke. Or he may not.
Mr. Met recently called in to WFAN demanding a trade.
71. So yes, look for GM Omar Minaya and manager Jerry Manuel to be the first to lose their jobs.
72. Will Jimmy Rollins get on base more for the Phillies? Philadelphia leadoff hitters (mostly Rollins) posted the lowest OBP in the majors in 2009 (.294).
73. Will Franklin Gutierrez be an effective No. 3 hitter for Seattle, hitting behind jackrabbits Ichiro and Chone Figgins? Last year, Seattle's No. 3 hitters had the 28th-lowest OPS in the majors and drove in just 78 runs. Manager Don Wakamatsu originally planned to have Casey Kotchman hit third but announced Gutierrez will bat there on Opening Day. "I want to take some of the pressure off Kotch," Wakamatsu said, "and I think there are some adjustments that we are still looking to make with him."
74. From the true stat department: Kansas City's cleanup hitters "hit" a combined .211/.280/.315 in 2009, with just 13 home runs and 71 RBIs. In other words, just hitting Willie Bloomquist there would have been more effective.
[+] Enlarge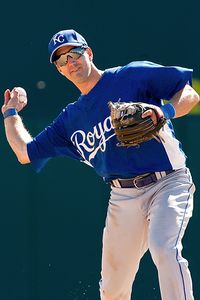 Chris Morrison/US PresswireYou know you'd pay good money to watch Willie Bloomquist play.
75. Willie Bloomquist.
76. Prince Fielder.
77. Prince Fielder's celebration after hitting a game-winning home run.
78. Prince Fielder's McDonald's commercial from 1992.
79. Ryan Braun. Here's all you need to know about Braun: He ranked eighth in the majors with 25 infield hits last season, alongside a bunch of guys who run really fast. This is a guy who plays hard all the time.
80. If Braun can continue to increase his walk rate (it's gone from 5.9 percent to 6.3 to 8.1), he's ready to move into MVP candidate status.
81. Miguel Cairo. Yes, he still has a job, making the Reds' Opening Day roster despite not being close to major league quality since 2004. Mommies and daddies, make your kid a utility infielder!
82. By the way, Cairo is now one of two remaining original Devil Rays; Randy Winn is the other.
83. Evan Longoria and Ryan Zimmerman picking it at third base.
84. One of the most underrated stat categories that nobody pays attention to: grounded into double plays, aka the Jim Rice Award. (This is not an award you want to win). Your 2009 leaders:
Miguel Tejada, 29
Yadier Molina, 27
Evan Longoria, 27
Kevin Kouzmanoff, 25
Jose Lopez, 25
Mike Lowell, 24
Albert Pujols, 23
Adrian Gonzalez, 23
85. Will Adrian Gonzalez be traded if the Padres fall out of the pennant race? Wait, we mean when.
86. Outfielder/first baseman Kyle Blanks and right-hander Mat Latos, two youngsters worth watching on the Padres.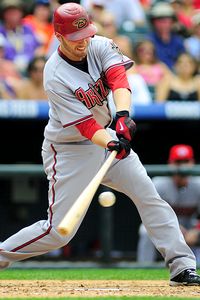 Dustin Bradford/Icon SMIMark Reynolds will get his cuts this season. Whether or not he makes contact is another matter entirely.
87. Can Mark Reynolds break his major league record of 223 strikeouts? Or is that number kind of like DiMaggio's 56?
88. Nick Punto, starting third baseman for your Minnesota Twins! (And right when you were ready to pick the Twins to win the division.)
89. Wait, we haven't mentioned Kung Fu Panda, yet? Pablo Sandoval may or may not be a few pounds lighter than last season, but the chunky Giants third baseman is a switch-hitting machine who proves yet again that hand-eye coordination doesn't have a whole lot to do with consuming vegetables, whole grains and skim milk.
90. Ron Washington, umm … making the right choices … you know, like, how he uses his bullpen, particularly flame-throwing Neftali Feliz.
91. Elvis Andrus, the Rangers' defensive whiz at shortstop. He was a terrific as a 20-year-old rookie and could blossom into an All-Star this season.
92. The young Orioles -- Matt Wieters, Brian Matusz, Adam Jones and Nolan Reimold -- who finally make Baltimore a team on the rise. Too bad they play in baseball's toughest division.
93. What will happen in interleague play? In 2009, the AL won 137-114 (down from a 149-103 advantage in 2008), its sixth consecutive season with the edge (including a 154-98 margin in 2006).
94. Will Pedro Martinez sign with anybody?
95. When will Stephen Strasburg his make his big league debut?
96. Can Rick Porcello and Max Scherzer back up Justin Verlander to form a dominant top-three rotation for the Tigers?
97. Hanley Ramirez, the best player in baseball not named "Pujols."
98. OK, OK; the Red Sox turn to defense. Will Big Papi hit like he did in the second half of 2009? What was wrong with Jonathan Papelbon last season? Can Jon Lester win the Cy Young, etc, etc., etc.
99. Will Mark Teixeira win the MVP? Will all those innings eat at CC? Can A.J. Burnett and Andy Pettitte both stay healthy? Joba Chamberlain goes to the bullpen. No Johnny Damon, etc., etc., etc.
100. Finally … watch for this: The Red Sox win the East, the Rays edge the Yankees on the final day of the season to win the wild card, the Twins and Angels repeat as division winners, the Red Sox advance to the World Series behind their big three of Jon Lester, Josh Beckett and John Lackey. The Phillies take the East, the Braves win the wild card and the Cardinals and Rockies win division titles. Roy Halladay pitches the Phillies into the World Series, but the Red Sox win in seven games behind World Series MVP Lester, who outduels Halladay 2-1 in Game 7.
David Schoenfield is a senior deputy editor for ESPN.com.