By David Schoenfield
Page 2

Theory popularized by: Most teams outside of Philadelphia.
The numbers (examining the 52 Super Bowl teams since 1978)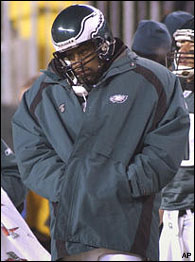 Donovan McNabb and the Eagles have lost three straight NFC title games -- two at home.
28 of 52 Super Bowl teams had home-field advantage as the No. 1 seed.
Another six won conference titles on their home field after the higher seed lost earlier in the playoffs.
Total Super Bowl teams with home-field advantage in conference title game: 34 of 52 (65.4%)

Only 11 teams have won a conference title game on the road over a team with better record ('79 Rams over Tampa Bay, '85 Patriots over Miami, '86 Broncos over Cleveland, '88 49ers over Chicago, '90 Giants over San Francisco, '92 Cowboys over San Francisco, '94 Chargers over Pittsburgh, '98 Falcons over Minnesota, '99 Titans over Jacksonville, '01 Patriots over Pittsburgh, '03 Panthers over Philadelphia).

Historically, home field has been vital, although six teams have lost a conference title game on their home turf since 1998.

Theory applied to 2004 playoff teams
Seemingly good news for the Steelers and Eagles, except ... Steelers and Eagles fans know all too well about losing at home. Pittsburgh lost AFC title games in '94, '97 and '01 on its home field, while Philadelphia lost the last two NFC title games at home.

Verdict: