Page 2 staff
We're not here to analyze, scout, predict, project or proclaim Derek Jeter a "winner." We're here to Second Guess. Hey, isn't that half the fun of baseball's postseason?
Tuesday, October 19
Eric Neel: Curt Schilling was very emotional after tonight's game, tearily thanking God and suggesting he thought his performance was pretty miraculous. How good was he tonight? Or more to the point, let's second guess his performance: where do you put this effort on your list of most memorable starts of all time?
Royce Webb: It was not one of the greatest postseason starts we've seen. Not even one of Schilling's greatest postseason starts. But it was dramatic, and necessary, and that makes it memorable. I'm tired of hearing about Willis Reed, but if we're still talking about him three decades later, that tells you what a dramatic performance on a huge stage can mean to people. This wasn't great, but it was meaningful, and memorable.
David Schoenfield: I know Red Sox Nation is pumped right now. I know they want to put this start up there as one of the most memorable Red Sox moments ever. But, for Schilling's start to become a baseball classic, with a long-lasting legacy, the Sox need to win Game 7. (Of course, we remember Fisk's homer, even though the Sox lost Game 7.)
Royce: Yep. History and sports are results-oriented. Gotta win. That said, right now, for one night, this was special.
Eric: You're right, Royce. The quality of the start itself was less than dominant. But the circumstances, the road traveled to get to that start, from where Schilling was after Game 1, from where the Sox were after Game 3, was pretty special.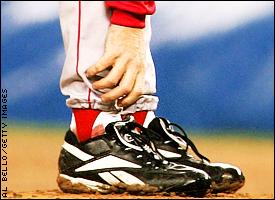 Getty Images
The famous bloody sock.
Everything depends on Game 7, but even if they lose Game 7, I think we're talking about maybe the one and only non-clinching start that goes in the pantheon, because this is the first time a team has ever come from 0-3 to 3-3.
Royce: That will be a nice trivia question if Boston loses tomorrow. Sorry, Curt.
Eric: Yeah, it'll be a trivia question, but a remembered one. Red Sox Nation, the country full of the longest, most painfully detailed memories in all the world, will make sure of that.
Royce: Amazingly, it's not the best or even the most epic playoff pitching performance by a Boston pitcher in the last few years. Even though this is the Yankees, and even though history is at stake, this comes in right below the six no-hit innings by Pedro in relief in Game 5 of the '99 ALDS.
Eric: Agreed, the Pedro start was more spectacular in terms of crazy, unhittable stuff, and it had what this had, in that Pedro looked like a physical impossibility. The difference, though, is that this was a Yankees game, right? And don't even get me started on the rain, and the storm troopers, and whatnot...
ONE FINE DAY
It might be hard to believe -- but we've got another Sox-Yanks Game 7 on our hands. And this one could change everything.
David:
Even if the Sox somehow pull out Game 7, the fact that it occurred in Game 6 will hurt its legacy (outside of Boston anyway). For starters, you gotta go with Jack Morris, 10 innings in Game 7 of the '91 Series, and Koufax, 2-0 shutout in Game 7 in the '65 World Series -- on two days' rest. Lolich, in '68, winning Game 7 on two days' rest, his third win of the Series. Maybe they didn't have torn ankle tendons, but they did occur in the World Series.
Eric: Sure, D, any Series game trumps this in terms of legacy. And there are some other LCS games that trump it too, I think. How about Orel against the Mets in 88?
David: Which Hershiser game against the Mets? The three starts or the relief appearance? Now, that's when men were men.
Eric: That's what I'm talking about!
Another thing that makes Schilling's start feel so memorable tonight is that it's very unlikely we're going to have any kind of a memorable pitching effort Wednesday; at least not on the same order; because guys are going to go one and two innings and get out of there, I think.
David: And I don't think any of them will be pitching with a blood stain near their ankle.
Royce: I believe it will be very well-remembered. I believe it was an outstanding performance. I was on the edge of my seat with every pitch. That said, I think it's hard to get too excited about it in some ways, especially compared to something like Koufax or Pedro, because it's an ankle. It's not fair, but that just doesn't seem as serious, especially considering that he was pitching a few days ago.
Eric: Koufax was spectacular, I'm sure, and Morris was a horse, but in those cases it's the guys, the warriors in the arena, we remember, whereas, as you suggest, maybe tonight it's the wild night Schilling and the Sox stayed alive.
Royce: I mean, basically he got shot up and pitched on a very sore ankle. Anyone who's played with an injury knows that feeling. It hurts, but you play. And along with that, I have a hard time thinking of this as "courageous." The intestinal fortitude seemed fairly garden variety. I think it was what he accomplished that counts. It's the pitching performance, not the guts, that count. The Sox and their fans just want to win. What do they care about courage, moral and otherwise? They'll take a swinging bunt by Manny if that's what it takes.
Eric: Yeah, but you can bet they'll say it's one seriously courageous swinging bunt, brother.
Royce: As for Game 7? That's easy. Sox win. I mean, isn't that why we've come this far? If this series were going to be about dashed hopes in Red Sox Nation, it would have ended already. I don't believe in momentum in baseball &
David: And I would suggest neither team has momentum. After all, momentum is only as good your next day's starting pitcher.
Royce: .. but the way the Sox are going to knock the ball around the yard tomorrow night may make me a believer. The Yankees are just looking for a tent to fold.
Eric: All right, here it is: Sox. Big.
David: Big, huh, E? Ortiz goes yard a couple times? Manny knocks in his first runs of the series? Damon actually gets the ball out the infield?
Eric: Big. It's settled by the fourth or fifth.
David: How can anything be settled when the Sox have no pitching left? Odds are, realistically, considering Lowe really wasn't any good this year, and neither was Wakefield, that it's Yankee big.
Eric: Lowe gives them three solid (I mean shaky, but solid), Wake pitches the rest of the way, giving up four runs, but it doesn't matter because the Sox have scored 11.
Royce: It will resemble Game 7 of the 1985 World Series. Someone on the Yankees' side will get thrown out of the game. Tim McCarver will use the word "remarkable" more than Fox shows Bruno Kirby -- I mean, Terry Francona -- in the Sox dugout.
David: Realistically, I think they start Lowe and hope for four or five innings. Wakefield is a wild card; if they thought he could go more than a couple innings, he'd be the starter. So maybe he has two innings in him. That leaves two from Timlin and then Foulke comes on and strikes out Jeter with two on to preserve a 6-5 win.
Eric: Yeah, Dave, like "realistically" has anything to do with this series.
Previous editions of Second Guessing
Oct. 18: ALCS Game 5 as it happened
Oct. 17: First-guessing NLCS Game 5
Oct. 16: Another Scrap Iron stinker
Oct. 14: Another Scrap Iron stinker
Oct. 13: The ALCS & NLCS are already over
Oct. 12: Yankees get the better of the Red Sox
Oct. 11: Phil Garner got away with one
Oct. 10: Phil Garner wears the dunce cap
Oct. 9: Ten things on Twins-Yankees
Oct. 8: Angels decide to go with Jarrod Washburn
Oct. 7: Did Bobby Cox play too much Small Ball?
Oct. 6: Ron Gardenhire leaves in Joe Nathan