Page 2 staff
We're not here to analyze, scout, predict, project or proclaim Derek Jeter a "winner." (Well, not this season, anyway; not any longer.) We're here to Second Guess. Hey, isn't that half the fun of baseball's postseason? And even though the ink hasn't dried on Game 7 of the NLCS yet, we're already Second Guessing the way the World Series will go.
Thursday, October 21

Eric Neel: Great end to the NLCS, D. Man, I'm going to miss Carlos Beltran. Thank goodness we have Albert Pujols to look forward to. I'm psyched. In fact, I'm so psyched that I'll go out on this limb: The Series is going to be better than the ALCS between the Sox and Yanks was.
David Schoenfield: I'll miss Carlos as well. And I'm looking forward to Albert the Great squaring off against Mr. Ortiz for postseason bragging rights. But the only way the World Series could have topped the ALCS would have been Clemens vs. Pedro in Game 7 at Fenway Park.
Eric: Yeah, Pedro and Clemens would have been sweet, but I think you're thinking of younger versions of both men.
You want reasons? I've got reasons. For starters, this series will be better because the Cards play defense. All over the diamond. Spectacular stuff. Did you see the catch Edmonds made Thursday? Amazing stuff. And more amazing because it's almost routine for him and for this team to make plays like that. The Sox/Yanks series was full of drama, but it was rough around the edges, brother, rough like clumsy, rough like botched.
David: You want pretty? Go watch "Desperate Housewives." You want gritty, unpredictable, Billy Crystal weeping baseball? We had that in the ALCS. I love the diving catches. But I won't love Buck and McCarver applauding La Russa's four bunts and five pitching changes per game as "beautiful baseball."
Eric: Agreed on the small ball. It puts me to sleep and shrinks big innings like the shriveled heads of apple dolls. But I will say, of all the guys doing it, at least La Russa is the guy willing to think squeeze. Loved that.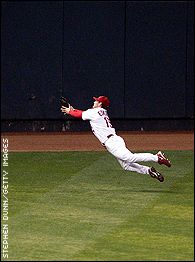 A golden glove in center field.
David: I'll give you the squeeze. Now, that's a productive out even I can appreciate.
Eric: You want another reason? I've got another one. Monster Mash middles of the order. The Yanks could hit, right, but their guys, with the exception of Sheff (who disappeared around the third inning of Game 3 of the ALCS, I think), are all twiggy; not a one of them puts the fear of God in you. Contrast that to this series, where one half of the inning is Pujols, Rolen, Edmonds and the other half features Manny backed by El Papi. Look out, brother. The pitchers best be wearing hard hats.
David: I understand what you're saying. But what made the ALCS so interesting is that you felt, at any time, that either lineup could explode, because both went nine deep. There was never a chance to head to the fridge or take a bathroom break. You might have missed three runs while you were refilling your coffee cup.
The Cardinals' 2 through 5 is a terrifying Murderers Row, but with Renteria struggling in the postseason, Sanders an easy K and Matheny worthless, I have a feeling Boston pitchers will eat up that bottom half of the order.
Eric: Sanders is a 20+ guy again this year. You're slighting him a bit. And you're giving the Sox' pen, before Foulke anyway, way, way too much credit. And as for the nine deep thing. Really? Jeter made Renteria look like a silver slugger in the postseason. Bill Mueller? Miguel Cairo? Mark Bellhorn for most of the series? The ALCS games were so dramatic, and so incredibly long, in part because guys weren't producing.
David: Yes, the pen is shaky, but let me toss this out to you: great World Series are usually defined by great performances from starting pitchers. Beckett in '03, Johnson in '01, Schilling vs. Clemens in Game 7 in '01, Morris in '91 ... those tend to be the games we remember, which is why I was hoping for Clemens and Oswalt to make it. The Cards are a great team -- but I don't think they have the starting pitchers to contain the Boston offense.
I guess what I'm saying is the higher-scoring the games, the more likely they aren't close. We're might see a bunch of 8-4, 7-3 games that won't be memorable. Of course, they could be 10-9 battles of attrition ...
Eric: I see what you're saying, and I think you're right, this is going to be a different sort of great World Series. Because it's very unlikely we'll get a dominant pitching performance out of either team. I'm not sure that would have changed much if Houston had made it. Clemens was on full rest tonight and he was hardly dominant and Oswalt hasn't looked right in weeks. The St. Louis staff doesn't wow anybody. But you know, they tend to stay in ballgames, even against really good offenses like Houston's.
David: I'll grant you this -- I think it's the best World Series matchup since, well, geez ... 1995 was terrific with a dominant Indians team and a Braves team before we stopped caring about them ... 1991 had the two last-to-first Cinderella stories with Minnesota and Atlanta (and turned out to be the best World Series ever). But as anticipated as this matchup is, it will be hard to match the seven-game drama of the ALCS.
Eric: One reason the Series has to be better than the ALCS is that it's the next chapter in the Sox story. It's the story that calls up '86 and '75; it's the story that continues the saga or closes the book on 1918.
David: Well, that's true. Do you think they have to win in memorable fashion, say Pedro winning a thrilling Game 7 or Papi hitting a walkoff homer to win it (don't bet against that!), for this to top the ALCS? Or do the Sox just need to win, even if it's in 4 or 5 games without much tension?
Eric: It's got to be memorable, I think. I mean, look, I know I'm stretching things to say the Series can or will be better than what we've just seen, but what I want to get out there is this: the ALCS was in part dramatic because it was so ragged ... tons of guys left on base, tons of bad pitching, etc. ... and the NLCS was played at a very high level and was almost as dramatic, missing out really, on only the history element. Which leads me to think that the Cards, who are maybe a little bit of the second fiddle here, are going to provide some great baseball; and the Sox, who are riding a tremendous wave of demon-killing euphoria, are going to bring it, too, and I think we're in for some very good times.
David: I'm coming around, your poetry is starting to sway me. And you know what else should make this a great World Series is the contrast in styles. St. Louis not only plays the Willie and Brooks defense you mentioned earlier, but they play a more classic NL-style of ball with the bunts, hit and runs and so on. And we all know the style the Sox play -- Dave Roberts' pinch-running appearances being the exception. I like that contrast of styles.
Eric: Styles make fights; that's the oldest of old-school preview wisdom.
David: And I can't wait to see how La Russa reacts the first time Pedro buzzes Phat Albert with a high-and-tight heater. When was the last time the World Series had a bench-clearing brawl? Let me put it on record that I'm already second guessing La Russa's overreaction to that.
Eric: Good call. We should lay odds on a La Russa-Francona cage match. Terry's not as strong, I'd say, but he's got better lateral movement.
And there are stories on the pitching side, even without an obvious candidate to be this year's Josh Beckett. On the Cardinals' end of things, can these no-namers keep doing things just well enough to give their heavy hitters a chance to win? In Boston, can Schilling keep dipping into the well? Will Pedro be Pedro?
And let's not forget the superstar at the peak of their powers element: We get Pujols performing as a straight-up legend in this postseason. We also get Manny and Papi, who just keep slapping balls all over the joint. If it had been the Yanks in the Series (and this was one of things I didn't enjoy about the ALCS, actually), we'd just be looking at a bunch of guys we know far too well doing what we already know they can do. I like watching guys emerge. That's what made the NLCS so great; we were treated to the postseason coming-out parties of Beltran, Pujols, Rolen, and the deeply underappreciated Jim Edmonds.
David: You know what the Series is like? Baseball was in a bit of a funk in the early '70s, as the NFL was taking off with Monday Night Football, the increasing popularity of the Super Bowl and baseball's old-school management style that didn't know how to promote the game.
Anyway, there were some great World Series in the early '70s, which nobody remembers. This one is like 1972: Charlie Finley's Moustache Gang -- a bunch of wild and crazy guys like Reggie and Tenace and Rudi and Vida and Catfish and Rollie, with big hair, big 'staches and big heart. They played the Big Red Machine, who, like the Cardinals, were sort of old-school, no hair, matching uniforms (and certainly layers of pine tar, dirt, grease and tobacco globs on their batting helmets), and lots and lots and lots of slugging. That '72 Series went 7 games. The guys with facial hair won (hint: I'm going with the Sox). People have forgotten that World Series. But I don't think they'll forget this one.
Eric: That's a great call. I was thinking of the Big Red Machine, too. They didn't have any real horses on the mound, really. And right, they can't forget this one, because this one features the Sox, and it'll either continue the curse or end it, and either way, it becomes an indelible part of the record books and memory banks.
And we've traded the Bronx Zoo for the Cardinal Red, and we've kept Red Sox Nation. On balance, that's an upgrade in terms of fan factor. The Cards' fans are smart baseball fans and they're fiercely loyal, and in both parks we're going to be treated to some real home field advantage action. Yanks fans are rabid, too, of course, but they're also well-fed, after years and years of winning. They lack the hunger we'll see in the eyes of every grandpa, momma, and youngster in the two parks in this series.
Previous editions of Second Guessing
Oct. 20: Curt Schilling's legacy
Oct. 19: ALCS Game 6 as it happened
Oct. 18: ALCS Game 5 as it happened
Oct. 17: First-guessing NLCS Game 5
Oct. 16: Another Scrap Iron stinker Oct. 14: Another Scrap Iron stinker
Oct. 13: The ALCS & NLCS are already over
Oct. 12: Yankees get the better of the Red Sox
Oct. 11: Phil Garner got away with one
Oct. 10: Phil Garner wears the dunce cap
Oct. 9: Ten things on Twins-Yankees
Oct. 8: Angels decide to go with Jarrod Washburn
Oct. 7: Did Bobby Cox play too much Small Ball?
Oct. 6: Ron Gardenhire leaves in Joe Nathan