Page 2 staff
We're not here to analyze, scout, predict, project or proclaim Derek Jeter a "winner." (Well, not this season, anyway; not any longer.) We're here to Second Guess. Hey, isn't that half the fun of baseball's postseason? So let's Second Guessing the World Series.
Tuesday, October 26

David Schoenfield: Well, Eric, I think Pedro gave birth to his first son today -- the St. Louis Cardinals. Can we now say, with a big postseason victory, that he has cemented his reputation as one of baseball's all-time greats?
Eric Neel: I don't know, D. There will still be doubters, I'm sure. His overall postseason numbers aren't spectacular. This is the first time he's really come up big in a Big game. But I hope this starts people going back the other way on Pedro. I hope it's reason to remember his insane relief appearance against Cleveland in '99. I hope it's reason to remember that he has been a spectacular, historically great, pitcher the last seven years -- 13 complete games and four shutouts in Montreal in 1997, with a 1.90 ERA over 241 innings; 23-4 in 1999, with a 2.07 ERA and 313 strikeouts; 1.74 ERA in 2000; ERAs in the 2s and winning percentages in the 700s and 800s each of the last three years, even while he's battled injuries.
There was too much loose-lipped, boneheaded chatter after the "Yankees are my Daddy" thing, too much talk about Pedro like he was just a "good" pitcher. The guy's been extraordinary. An all-time great. We've been lucky to see him pitch. That's the best part of tonight's game, in my mind. He deserved a night like he had tonight, on this stage, against this lineup, on the road.
David: I'm with you. I remember seeing Pedro in a game at Fenway in 2000, during his absolute peak of domination. Hitters had no chance. Games were over before they began. During that four-year stretch from 1997 through 2000, he was as good as any pitcher who ever stood on a mound.
And watching tonight, I'm reminded of Bob Gibson. With apologies to Gibson, his 1.12 ERA season in '68 wasn't as good as those prime Pedro years, once you adjust for the better hitting in Pedro's era. But Gibson had those World Series games to cement his legacy. And now -- no, Pedro isn't 7-1 career in the Really Big games, but at least he's 1-0.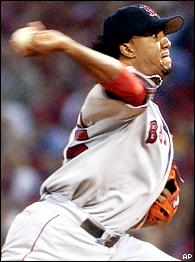 AP
The Mets not only will get an ace in Pedro Martinez but also a moody, ego-driven personality.
Eric: And as entertaining, too. The guy makes baseball fun. He challenges hitters. He never backs down. His body, all short and wiry, is an unlikely package of dominance.
The Gibson comparison is a stretch, of course, but it isn't crazy, if only for this reason: Like Gibby, Pedro brings attitude and nastiness, and the nerve to say what he's thinking. I loved the "Daddy" quote, myself, because it was straight up. And I loved the way he hasn't run from it. He said, "They're whupping me right now," and it ain't nothing but a thing. Like Gibson, Pedro's faith in himself never fails, and I love that.
And let's just say this: If this is Pedro's last start for Boston, he did the Nation right, right as rain, and not just tonight, but every night. The idea that he was in any way intimidated by the Yanks struck me as weak from the get-go. To me, he was the one guy you could be sure, no matter how things went, didn't get spooked by them.
David: And I'm glad for this reason: if the Sox win, Schilling and his bloody ankle will become mythical; deservedly so. But Pedro got that one last game to remind Red Sox fans of seven years of myth-making. And speaking of myths, I heard this myth that Scott Rolen was an MVP candidate this year. You know what I'm second guessing? His checked-swing, weak grounder infield on a 2-0 count in the seventh inning. How do you check-swing on a 2-0 count?
Eric: Rolen hasn't been right most of the postseason. The calf's hindered him, I'm sure. He made a lot of hard outs the first couple of games, but Game 3 was, as you say, kind of weak. Here's my thing, though, I was thinking of this watching La Russa answer postgame questions about what was going wrong: We're talking about three games. Only three games. Yeah, the middle of the Cards order, especially Rolen and Edmonds, has been weaker than usual, but that's going to happen from time to time, especially facing a pitcher as smart as Schilling one night, and as nasty as Pedro was the next night. What I'm saying is, there's no reason to think Rolen and Edmonds can't get off in Game 4.
David: E, I know you're an optimist, I know you're tired of all this sloppy fielding and sloppy baserunning and Jeannie's ever-changing hairdos, I know you want this Series to get some drama, some excitement, maybe even a Game 7 back at Fenway. But I have to second guess you if you think that's a possibility. D-Lowe does the job tomorrow. Series over. And then we can start talking about the Curse of Keith Hernandez in St. Louis (look it up).
Eric: I am an optimist, and a baseball lover, and I do wish the Series would have drama, and would continue. Heck, I think they ought to do it like the old days, and play like the best seven out of 13 or something. Mostly, I want it to continue because these last couple of games, even with all the Boston history that hangs on them, have been a flat follow-up to two great championship series, have been unworthy of the biggest of big stages. But I'm no fool, I know it's not likely the Cards will come back to tie or win this series. Though, if what little I know of statistical probability is right, I don't think it's any less likely just because Boston did it to the Yanks last week.
Anyway, let's just start here: Derek Lowe's Greatest American Hero start is all used up. He doesn't scare the Cards' hitters when he takes the mound Wednesday, and he shouldn't. And let's add this, too: If there is such a thing as pressing, and I don't know if there is, but if there is, it sure won't be the Cards who are pressing. It'll be the guys playing for a century of longing and a Nation full of losers looking to get over.
David: Wow, that's a bold statement. You of all people, being a great admirer of Dave Roberts, should have realized that the dead 300-pound Bambino was lifted from the backs of the Nation when Roberts stole second base back in Game 4 of the ALCS. Since then, it's been all Sox -- oh yeah, they've tied a record with seven straight postseason wins. Oh yeah, 20 of the 25 previous teams which were down 0-3 couldn't wait to get out to their fishing holes soon enough and lost Game 4. Oh yeah, who's starting for the Cardinals in Game 4? Jason Marquis? Woody Williams on short rest? They may as well trot out Gibson; he's probably their best hope.
Eric: You're absolutely right, D. Seven straight is great. And the Sox won 10 straight at one point this season, so eight would be no surprise now. That's my only point, really, is that there might still be a little surprise left in these playoffs. Just a little one, maybe. Yeah, Marquis is no world-beater, and neither is Williams, but maybe they'll be good enough to get to Isringhausen (and note to La Russa, we're talking about Isringhausen in the sixth if need be). Probably not. But Francona's woefully underused Dave Roberts since that great steal in Game 4 of the ALCS, and it wouldn't be crazy to see the baseball gods make him pay for that, if only for a game or two. Let's say it happens. Let's say the Cards win one. Then they get Wake in Game 5. Seems hittable, doesn't he? Then Schilling can't go in Game 6. Then ... who knows?
If you're a Sox fan, you want this over as soon as possible, sure, but if you're a baseball fan, and even if you're happy for Boston, don't you want to see some wrinkles before it's all over? Don't you think the death of a curse deserves that much? I mean, think about the sweeps we've seen in the last couple of decades -- A's over Giants in 1989 (even with an earthquake it was a completely forgettable yawner), Reds over A's in 1990 (huge upset, but who cared, then or now). I'm not rooting against Boston. I'm just rooting for some decent baseball from here on out; some baseball that doesn't include three-error nights for the third baseman, and boner baserunning moves by the pitchers, and stuff. That's all.
Without a counterpunch, and we've seen no real counterpunch from the Cards, the things Schilling and Pedro have done aren't as resonant and stirring as they might otherwise be. So I'm rooting for the counterpunch now, even if it's not enough to win the fight, even if it's just enough to let the top dog know they've been in a fight. I'm looking for the Cards, who've put up crooked numbers all season, to hit back, to pull a Pirates circa 1979, to channel the yanks of '96, to mimic, in some small way, the Red Sox of last week. It's too much to ask for, but if this postseason has taught us nothing else, it's taught us to want, to almost expect, more than we could possibly ask for.
Previous editions of Second Guessing
Oct. 24: World Series, Game 2
Oct. 23: World Series, Game 1
Oct. 21: World Series preview
Oct. 20: Damons and Demons
Oct. 19: Curt Schilling's legacy
Oct. 18: ALCS Game 5 as it happened
Oct. 17: First-guessing NLCS Game 5
Oct. 16: Another Scrap Iron stinker
Oct. 14: Another Scrap Iron stinker
Oct. 13: The ALCS & NLCS are already over
Oct. 12: Yankees get the better of the Red Sox
Oct. 11: Phil Garner got away with one
Oct. 10: Phil Garner wears the dunce cap
Oct. 9: Ten things on Twins-Yankees
Oct. 8: Angels decide to go with Jarrod Washburn
Oct. 7: Did Bobby Cox play too much Small Ball?
Oct. 6: Ron Gardenhire leaves in Joe Nathan