Page 2
Tuesday, October 4
Editor's note: By popular demand of fans, skeptics, Red Sox Nation, retirees, and people who love to mock other people, Second Guessing returns for more October baseball. This year, we've enlisted ESPN.com baseball columnist Rob Neyer to join the Page 2 crew of critics.
David Schoenfield: Welcome aboard, Rob. I told you before the game I would have started Shawn Chacon and his hot hand (one run allowed in his final three starts) instead of Mike Mussina (who has a better postseason track record than people realize, with a 3.14 career ERA entering the game, but was awful his last start and fighting a sore elbow). But Moose did the job, so I'll give him props, if not necessarily Joe Torre. But you think John Lackey should have started over Colon?
Rob Neyer: Heck yeah.
Colon settled down after his early troubles, and considering how well Mussina and the bullpen pitched, it almost certainly wouldn't have mattered who started for the Angels. Here's the thing, though ... Lackey is pretty obviously the best pitcher on the staff right now. He finished the season with a (slightly) lower ERA than Colon and a higher strikeout rate, and he allowed half as many homers as Colon (26-13). Oh, and here's the clincher: by all accounts, Colon has a sore back. When you're facing perhaps the best-hitting team in the majors, don't you want your best starter to be in the position to start twice, if the series lasts that long?
This is just one more example of a manager fetishizing wins at the expense of flat common sense.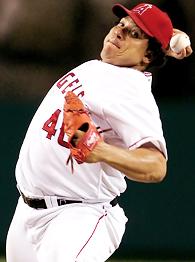 Bartolo Colon struggled early in Game 1, giving up four runs in the first two innings to the Yankees.
David: Well, Colon starting over Lackey doesn't bother me that much, although you do wonder if his back was a little stiff there in the first inning. But here's what does bother me: that move stinks of one of those "he got us here and I'm not going to change things now" types of moves that managers make in the postseason, moves that invariably help lose playoff series.
Here are two decisions that bothered me in this game:
1) Al Leiter. First of all, with his 5.49 ERA and 104 baserunners allowed in 62 innings as a Yankee, Al didn't help the Yankees get anywhere. But there he was, pitching in the sixth and seventh innings of a 4-0 game. I don't care if he got his two batters out. He should be nothing more than a mop-up man. If Torre really thinks Leiter can be used in key situations, that thinking will backfire on him at some point this postseason.
2) Darin Erstad. Of course, all Al had to do was get out the Angels' No. 5 hitter, the great and glorious Erstad (614 OPS vs. lefties this season, and not a whole lot better vs. righties, for the grand sum of $8.25 million). I won't rant against Mr. Erstad, since I know how you feel about him, but if Mike Scioscia thinks he's going to win a playoff series hitting Erstad fifth, he's drunk on pasta.
Fifth? Tell me again why everyone was picking the Angels.
Rob: Really, it's this simple: if you're running the Angels and you're serious about winning, you can't let Erstad face a left-handed pitcher in a key situation.
Or rather, if you're smart about winning, you can't let Erstad face a lefty in a key situation. He's just an awful hitter, but he's essentially worthless against southpaws. So no, I don't have a problem with using Leiter in that situation (though it's hard to believe that Leiter's actually above Felix Rodriguez on the depth chart). Bring in a lefty, and you've neutralized Erstad.
And of course you're right; if Erstad absolutely, positively must be in the lineup, they could at least bat him a little lower. On the other hand, with a right-handed starter and Steve Finley and Orlando Cabrera also in the lineup, there are only so many bottom-of-the-order slots to go around. Should Scioscia have pinch-hit for Erstad in the sixth, with Guerrero on first base and the Angels down four runs?
I would say yes. Use Robb Quinlan, hope for a bomb, and then use Casey Kotchman at first base.
David: It seems crazy, you're right, but you have to hit for Erstad. You have to try and get some baserunners off Leiter while you have the chance. Use Quinlan. Heck, use Jose Molina (.306 BA and five HRs in just 62 ABs vs. lefties this year). After all, the Angels have three catchers on the roster, so you may as well use the third Molina to pinch-hit.
The Angels' bench, in fact, has a big, gaping hole. The easiest thing to find should be a righty masher to hit lefties. The Angels don't have one, even though it was clear two months ago that you don't really want Erstad or Finley hitting against lefties in an important situation, and that two of your main bench players -- Jeff DaVanon and Kotchman, don't really play against lefties.
So -- shockingly! -- there actually is a place for Al Leiter in this series.
So I will hedge my comment from two graphs ago and second-guess my original second-guessing of Torre.
And the more I look at this series -- I don't see how the Angels will win. But maybe you disagree.
Rob: But Quinlan is a righty masher. In his career, he's batting .322/.371/.542 against left-handed pitchers. And while that's over the course of only 177 at-bats, it's pretty obvious that Quinlan is significantly better than Erstad against lefties.
David: But it's DARIN ERSTAD! He once hit a home run in the World Series with a broken hand!!!
Rob: You know I don't have much patience with complaints against modern baseball, mostly because I happen to think that baseball today is, in most ways, better than it's ever been. But you know, I can't help but think that an old-time manager, whether John McGraw or Casey Stengel or Earl Weaver, wouldn't hesitate to pinch-hit for a hitter like Erstad. Today, I think, too many managers are afraid of offending their millionaires. Maybe they don't have a choice, what with the players having as much power as they do. But I know if I were an Angels fan, I'd be awfully upset about seeing Erstad hitting against lefties. Feelings be damned.
Are the Angels done? They've certainly still got a shot, because John Lackey's capable of shutting down just about anybody. But if you figure Randy Johnson will be tough in Game 3 at the Stadium, then the Yanks have to win just one of the other three games (if there are three others). And that seems eminently do-able.