These seven found a way to work in sports
This article appeared in the Aug. 13 issue of ESPN The Magazine.
You don't need a 90-mph fastball or a 40-inch vertical to get a job in sports. These seven ordinary folks took a different path to the ballpark.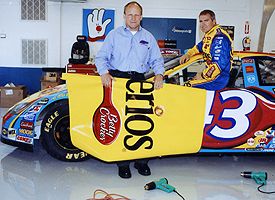 Andrew Hetherington for ESPN The Magazine
SAM BASS, 45, NASCAR ARTIST
The Gig:
As NASCAR's first officially licensed artist, Bass "is the go-to guy for paint schemes," says Petty Enterprises driver Bobby Labonte. In addition to inking skins for 14 drivers this season -- including Labonte and Jeff Gordon -- Bass creates NASCAR-themed posters and prints and has designed the Charlotte Motor Speedway program cover since 1985.
The Path: His career truly began at age 7, when Bass attended his first NASCAR race and was inspired to run home and redesign all the hoods on his Hot Wheels collection. Armed with that drive and a BFA from Virginia Commonwealth University, he moved to Charlotte -- the mecca of motorsports -- in 1984. His student portfolio earned Bass the program cover job, giving him track access and a meeting with childhood hero Bobby Allison, who liked Bass' drawings. And when Allison sped to victory in the 1988 Daytona 500 with a freshly painted ride designed by Bass, a new kind of NASCAR star was born.
The Payoff: Bass reels in $150,000 a year (thanks in part to 15-hour workdays). But the real perk is realizing a boyhood dream and creating such iconic designs as Gordon's original Rainbow Warrior car. "Being a NASCAR artist is the only profession I've ever really sought," Bass says. "I'm just glad it worked out."
--Anna K. Clemmons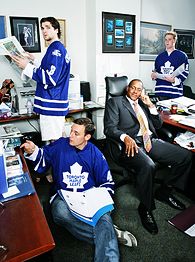 Peter Yang for ESPN The Magazine
IAN CLARKE, 46, CHIEF FINANCIAL OFFICER, MAPLE LEAF SPORTS & ENTERTAINMENT LTD
The Gig:
As CFO, Clarke not only keeps the books for Canada's biggest sports company, he also spearheads Maple Leaf's search for new business opportunities -- thanks to his involvement in the purchase of both the Raptors and the Air Canada Centre in 1998. Plus, he signs the paychecks with all those zeroes for Maple Leafs like Carlo Colaiacovo, Matt Stajan and Kyle Wellwood.
The Path: Clarke grew up in Montreal idolizing Bobby Orr and wearing a Bruins sweater in street hockey games. Still, it took a bit of luck to break into the NHL. In 1990 one of his accounting firm's clients (Maple Leaf Gardens) needed a controller. Clarke went on loan and never came back.
The Payoff: Clarke will talk only ballpark figures when it comes to money (he makes "six figures"), but he's happy to dish on the joys of his job. "I like it best when the teams are in the playoffs -- the energy, the vibe. It goes through your veins and your bones." And, eventually, his checkbook.
--Dale Brauner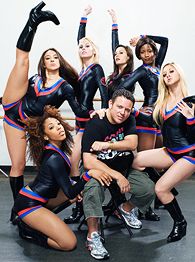 Peter Yang for ESPN The Magazine
JAMIE PARRISH, 37, CHEER CHOREOGRAPHER
The Gig:
Parrish designs dance team and cheer routines for a living, and he's in constant motion. From June through August alone, he has 42 high school, college and pro jobs scheduled, ranging from the UNC cheerleading team to the Knicks City Dancers.
The Path: As a U. of South Carolina cheerleader from 1988 to 1991, Parrish took a shot at creating a routine, and the team embraced his moves. That led Parrish to pursue postcollege stints choreographing for Atlanta-area high schools and NCAA camps before starting his own team, the Georgia All-Stars, which won the 2006 World Cheerleading Championships. Throw in halftime-show work at four bowl games, and it's easy to see why top talent agency Bloc South signed Parrish to a representation deal last year. He is the agency's first cheer choreographer.
The Payoff: Parrish travels to as many as four cities a week, but it's worth it: He earns a $2,500 day rate and banked $230,000 last year, plus he cops swanky hotel rooms on his client's dime and scores all-access tickets to games. "I don't live in reality," Parrish admits. No kidding.
--Anna K. Clemmons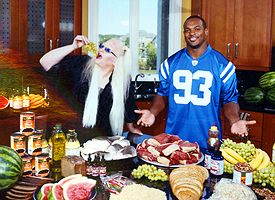 Andrew Hetherington for ESPN The Magazine
SARI MELLMAN, 55, NUTRITION COUNSELOR
The Gig:
Mellman uses blood analysis to determine which foods the body metabolizes best. Her unusual approach to healthy eating attracts more than 150 athletes, including Dwight Freeney, Grant Hill and Oscar de la Hoya, all of who swear by it. "It helps me heal fast because my body is always getting the right foods," Freeney says.
The Path: A 1979 car crash left Mellman rehabbing neck and balance problems for four years before she was turned on to nutrition. The aspiring lawyer had found a new passion -- and a new career. Mellman ended up at a lab, where she focused on the relationship between blood, food and the immune system. Convinced she'd found the path to health nirvana, she started her own business in 1990, then branched into sports in 1997 after meeting Dolphins strength coach John Gamble through clients. He was so happy with his trial run on her diet that he sent eight players to her. Mellman's business has grown by word of mouth ever since.
The Payoff: After Freeney signed a $72 million contract this summer, his mom told Mellman, "Dwight wouldn't have achieved this success without you." If that's not enough of a testament, consider this: Clients fork over between $2,600 and $6,000 per session with her.
--Dale Brauner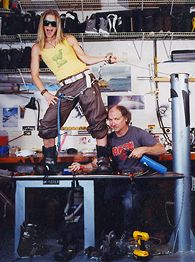 Andrew Hetherington for ESPN The Magazine
CHRIS DOYLE, 45, SENIOR PRODUCT DEVELOPMENT SPECIALIST, BURTON SNOWBOARDS
The Gig:
Doyle creates prototypes of boards, boots and bindings for the gear company. "He is the wizard," says Olympic gold medal snowboarder Hannah Teter. "I come up with ideas, and Doyle makes them a little more sweet." Like when Teter tested new boots and said she needed to lace them quicker, leading Doyle to modify Burton's new Speed Zone boot technology -- it uses two simple cords to let riders easily tighten specific areas of a boot.
The Path: In December 1985, Doyle was a junior accountant at a New York investment firm when the first snowflakes of the season fell. The avid boarder resigned on the spot, bolting for a repairman job at a Vermont ski shop. Soon he was sharpening edges, waxing boards and fixing bindings at snowboarding events, building a rep as the sport's Mr. Fix It. Burton noticed, and he joined their team in 1996.
The Payoff: $55,000 a year isn't I-Banker dough, but free clothes, gear and test runs with Teter more than compensate. "Being at a contest is what I live for," Doyle says. "It's much better than sitting in an office all day."
--Dan Galvin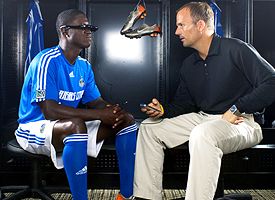 Peter Yang for ESPN The Magazine
TREVOR MOAWAD, 34, DIRECTOR OF PERFORMANCE, MENTAL CONDITIONING, IMG
The Gig:
Moawad uses visualization techniques to boost athletes' self-esteem. His "hype sheets" -- posters of positive quotes about an athlete from coaches, teammates and media -- remind slumping jocks what it feels like to be on top. And 3-D video goggles help them literally see what a great performance looks like. Satisfied customers include U.S. soccer stars Eddie Johnson and Freddy Adu, 49ers QB Alex Smith and 28 other NFL first-round picks.
The Path: Moawad was born to inspire; dad Bob co-authored "Chicken Soup for the Soul." A two-sport athlete at Occidental College, Moawad's first motivational gigs were teaching and coaching at high schools in L.A. and Florida. When he met his IMG predecessor at a coaching conference in 1999, Moawad scored a summer internship at the talent agency that turned into a full-time job offer two weeks later.
The Payoff: The $100,000 salary doesn't hurt, but Moawad's greatest thrill comes from refueling fallen stars like Johnson, who came to him during the offseason after scoring just two goals last summer. After seven months with Moawad, he leads MLS this season with 12 goals in 11 games.
--Dan Galvin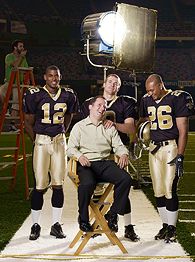 Misha Gravenor for ESPN The Magazine
ANDREW COHEN, 35, GROUP DIRECTOR, VISA PARTNERSHIP MARKETING
The Gig:
Cohen helps identify and sign the right jocks to rep Visa in its ad campaigns. "You don't want an athlete who has problems managing money to endorse a credit card," he says. Recent adventures included booking Saints Drew Brees, Marques Colston and Deuce McAllister for a commercial shoot and planning an event at the MLS All-Star Game in Denver to sign up new check card customers.
The Path: Cohen graduated from Cornell in 1994 with a marketing degree and joined the Momentum agency, where he rose to senior VP. The agency's clients included the NBA, but marketing the league didn't hold a candle to Visa's sports portfolio. Cohen joined the credit card giant in 2004.
The Payoff: He makes more than $100,000, but if anyone can say it's not about the money, it's Cohen. A lifelong sports nut, his desk is a memorabilia shrine -- an autographed Willie Mays baseball from the All-Star Game, a photo with Pats owner Bob Kraft at Gillette Stadium, a football that Rex Grossman signed at an NFL draft party. The highlight? Traveling to Super Bowl XL to watch his beloved Steelers in person for the first time.
--Dale Brauner